Langkawi Taxis
Taxis are the most convenient and popular mode of public transport in Langkawi. However they also turn out to be quite expensive if you plan to use the taxi service frequently. A short 15 minutes drive can easily cost you RM18. The taxis in Langkawi do not run on meters. 
There are fixed fares between places. While I have seen no such printed charts (except at the airport taxi counter) that tell you clearly the rates between two points, the taxi drivers all seem to know them by heart and will tell you the fare immediately once you tell them where you want to go. 
Our Taxi in Langkawi. Driver Hesham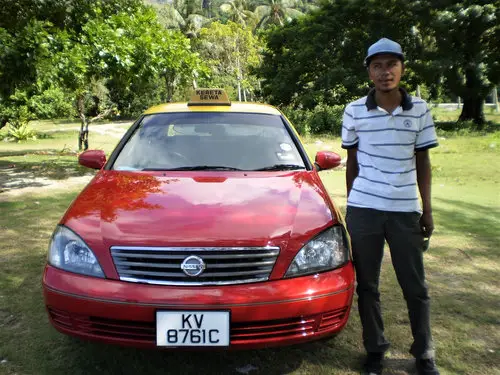 There are plenty of taxis available all across the island and all of them are air-conditioned. While most of the taxi drivers in Langkawi are men, there are also a few women drivers. While there are proper taxi stands in places like the airport and Kuah Jetty where most of the visitors arrive, you can also find taxis parked at the corners of the roads or even stop them if you see one going empty. 
Note that due to the small size of Langkawi, a maximum point to point driving time does not exceed 40 minutes unless you go in circles or drive up a mountain. North to South maximum distance by crows fly is 25kms and east to west is little more. 
Langkawi Taxi Fares & Rates
Taxi fares vary depending on the capacity of the vehicle. The most popular and the frequently available taxis are the ones with capacity of up to 4 passengers. There are also larger taxis (although much fewer) that have capacity of up to 6, and some up to 8 and even up to 10. 
The fare of 6-passenger taxi is 50% more than the standard 4-passenger taxis while 8-passenger taxi fare will be 100% more. So to take an example, if fare of a 4-passenger taxi is RM18 between two places, it would be RM27 for a 6-passenger taxi and RM36 for an 8-passenger taxi. 
Here are some sample fares of 4-passenger taxis between several places in Langkawi for you to get some idea about the taxi rates: 
Between Pantai Cenang beach area and the airport: RM18 
Between Pantai Tengah beach area and airport: RM20 
Between airport and Kuah Town/Jetty: RM24 
Between airport and Pantai Kok (Harbor Park, Barau Bay, Berjaya Resort): RM24 
Between airport and Cable Car, Oriental Village: RM24 
Between airport and Tanjung Rhu: RM30 
Between airport and Kilim Jetty/ Wild Life Park: RM35 
Between airport and Datai Bay Area: RM60 
Between Pantai Cenang and the top of Gunung Raya: RM50 
Between Kuah Town/Jetty and Pantai Cenang/Tengah/airport: RM24 
Between Kuah Town/Jetty and Mutiara Burau Bay/Berjaya Resort: RM36 
Between Kuah Town/Jetty and Harbor Park/Cable Car: RM36 
Note: From 11pm at night until 7am in the morning, you will need to pay an additional surcharge of 50% over and above the normal taxi fare. So for example a normal fare of RM18 will become RM27 during this period.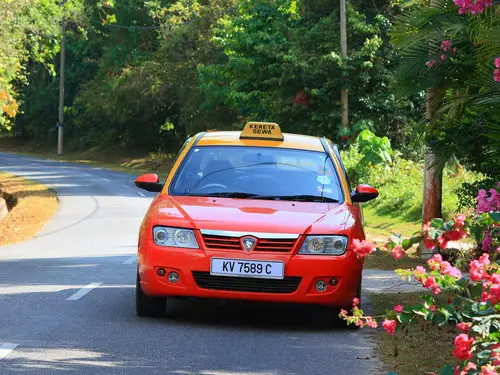 Photo: dmytrok, flickr, cc by-nd 2.0 
Taxi Capacity and Riding Norms
A standard sedan taxi (like in the picture above) can accommodate up to 4 passengers (one in front and three at the back) plus the driver. However for comfort, up to 2 passengers at the rear is right. All should put on the seat belts including the passengers in the rear seat. 
The rear seat belt norm has come into force recently and there are police checks that take place on the roads to impose the new regulation. During our last trip and on the way from the airport to Pantai Cenang, we were stopped for a brief check by the police officers on the road. 
They politely ask you to put on the belts if you haven't done so, and give a stern stare at the driver and even exchange harsh words for not having ensured the seat belt policy with the passengers. 
Who owns the taxi?
In many cases the drivers do not own the vehicles and rather drive a vehicle that belongs to an agency or some other owner, and make a daily wage from the fares they receive from the passengers. They need to give back a minimum amount to the owner out of their daily income. 
But in some cases, the drivers do own their own vehicles. I am told that a new five seater Nissan make taxi costs about RM75,000 in the island. The taxi drivers who own their own taxis get bank loans and pay off the loan in about 15 years. They prefer to finally make an asset by paying a part of their income to the bank rather than giving it to the agency. 
Hiring/Reserving a Taxi in Langkawi
You can always charter a taxi in Langkawi by the hour. If you are planning to visit several tourist places in the island for half or full day, it can be a great idea to reserve a taxi rather than taking a private car from the hotel which would be far more expensive. If you can find the right driver, he can be a great tour guide as well and you will get that service free. 
The hourly rate for taxi (for up to four persons capacity) is RM25 and you will need to hire for minimum of 4 hours (i.e. for RM100). You can then travel for any distance or cover any number of points you want during the time you book the taxi. The only areas that do not come under the hourly rates are Datai area and Gunung Raya (mountain top). They are considered far or at elevation that requires additional charge. In fact one way taxi rate to The Datai Resort or Gunung Raya is RM60. 
I have seen most of the taxi drivers relentlessly drive without questions when you ask them to take you to various places of interest around the island. Actually fuel (or gas) is quite cheap in Langkawi and therefore the drivers really do not worry much about the cost of the fuel. However, you will need to charter or reserve the taxi for a minimum of four hours. 
You can either reserve a taxi by approaching a taxi driver on the spot (in most cases the drivers agree) or ask him to pick you up at a specific time from your hotel. They do not charge any extra for the pick up service, even though your hotel might be at some distance. 
TIP (while hiring a taxi by the hour) 
1. You should tell the taxi driver in advance the places you want to visit. They can plan out and optimize the routes in a way so that you don't end up wasting time going back and forth, and taking longer routes. 
2. Try to take a taxi whose driver is an owner of the taxi. An owner always keeps his own taxi in a good condition. The agency taxis driven by hired drivers are usually not in very good condition. 
3. Tell the driver in advance that you may need to stretch your time beyond your planned hours so that he does not plan other trips during the day. If you are not familiar with the island, you can not exactly predict how much time you will need at the places you visit. For example, on some days you may find long ticketing queues at the cable car and the waiting time can easily exceed an hour. 
4. It is always advisable to book a taxi while visiting some places like the Cable Car/Oriental village, Batik Village etc. While there are taxis available there, during the rush time you won't find any. 
Taxi ride-hailing through mobile app
Update May 2017: Uber and GrabCar taxi services have been introduced in the island. You can now use your smart phone, use their app and hail a taxi for any point-to-point transfers. This has negatively impacted the earnings of the regular taxi drivers. Note that Grab Car service is cheaper than the taxis! 
Update 2019: Uber in Langkawi has been taken over by Grabcar, so you can now call only Grabcar through their mobile app. However there are not many of them in the island yet, so you may not always get one at your location when you need. 
Update May 2022: InDriver is now available in Langkawi. You can download the app from Google Play Store or Apple AppStore. Once a customer asks for taxi through the app, it sends an offer to the nearby taxi drivers who can choose to accept or decline or make a counter offer for the ride. The customer is then shown several options to choose from based on price, vehicle make & model, driver ratings, etc. There are over 250 taxis in Langkawi presently registered with InDriver. This number is expected to go up with time. 
Further Information
Langkawi Taxi Association 
13, Bangunan Cempaka kuah, 07000 Langkawi, Kedah Darul Aman  
Office : 604-9663975, Cell:  019 4370619 
Airport : 604-955 1800 
Related Articles
Visitors' Reviews/Comments
Narendra Arora (May 2018) 
Used GRAB taxi service extensively over the 4 days. Very convenient and reasonable. 
Rolf Ramseyer  (September 2016) 
When arriving at Langkawi by cruise ship (Mein Schiff 1) on December 31, 2016, around 09:00, can we leave the ship and then just finding a taxi which brings us to Oriental Village? I mean, probably many others like to do the same. Or, do we have to book a taxi in advance? Is it possible without booking it for 4 hours? 
We only like to go to the Oriental Village, from there with the Cable Car (with Express Lane) to the Top, then spending some time at the Oriental Village before going back to the ship. 
We are not interested in a guided tour offered by TUI Cruises and we are not interested in a Langkawi tour. Living in Thailand, we have seen enough temples, beaches, etc. around South East Asia. Thank you very much for your answer and kind regards. 
Raj (langkawi-insight.com) September 2016 
Hello, Taxis are usually available outside the cruise dock. In case not available, walk towards Tengah and then Cenang, you should find one. Takes about 20 minutes to reach Cenang by walk, but you won't likely need to walk that far. You can stop an empty taxi on the road. Yes point to point taxi ride is quite doable. However Cable Car/ Oriental Village being a popular tourist site, taxis may not be readily available and may require a wait while returning. 
Peter (September 2015) 
Two things - Is the 4hr taxi hire a fixed price RM100 a regulated price or is bartering required to get to this price? Will my  English language be understood ?  We are not familiar with Malay. 
Raj (langkawi-insight.com) September 2015 
Hi, while the hourly taxi rate is not regulated, this is the usual fare which most will quote. However some (like Langkawi Taxi Service) quotes higher price mainly due to the quality of drivers, their ability as better guides, communication skills etc. If you take a taxi from the stand or flag down one on the street, the only things the driver and you may understand would be the names of the places... rest of the communication is likely to be on sign language. I tend to forget my English when I am there at the island for long. But eventually one can manage :) 
Maryanne (June 2015) 
Hi, I was looking at your website as I require return transfers and saw you had information for Taxis. I will be travelling with a Baby (9 months) and there will be 2 adults also. Do we require a special car seat? Do the Taxis have a special car seat? We need to go to the Berjaya Resort. Please advise. Thanks, 
Raj (langkawi-insight.com) June 2015 
Hi, taxis in Langkawi don't have special seats for babies. 
Claerwen (June 2014) 
Hi Raj, Tks for sharing so many wonderful info on Langkawi.. was really informative! Will be travelling to Langkawi this year end via the Royal Carribbean Cruise & would liked to visit the Langkawi Cable Car. Understand we'll be docking at the Star Cruise Terminal & was wondering if it'd be easy to get a taxi from there & how much would it cost? Is it safe as well & are there any reliable taxi companies we can look out for & do we need to pre-book? Many tks! 
Raj (langkawi-insight.com) June 2014 
Hi, You will get taxis outside the cruise terminal. It'll take about 35-40 minutes to reach Cable car and will cost about RM35 one way. Consider hiring a taxi by hour - rate RM25 per hour (minimum 4 hours). You can then visit more places and keep the taxi with you. Getting a taxi back from Cable Car is not always easy. 
Claerwen (June 2014) 
Hi Raj, Tks for the info! How can we go about hiring the cab by hour & is payment required first? Also, we could be spending quite some time at the Cable Car so would the cab driver be back at the given time to pick us up then? Tks again! Claerwen 
Raj (langkawi-insight.com) June 2014 
Booking a taxi by hour is same as reserving the taxi. It'll wait wherever you go. You can pay at the end but you should tell the driver in advance how many hours you want to book.