Getting Around Langkawi - Transport
Although Langkawi is small (the main island being only about 320 sq kms), you will need a road transport to explore the island or visit the attractions. The road network of Langkawi is considered quite good and reach out to almost all corners of the island. There are two kinds of roads - the main roads that connect the main places of the island and the side roads that take you to the nooks and crannies. 
The main roads are wide and very well maintained. However the side roads can be really narrow and get muddy when it rains. From north to south, the road distance would be about 30kms and from East to west little more. So the maximum driving time between two points in the island never exceeds 40 minutes.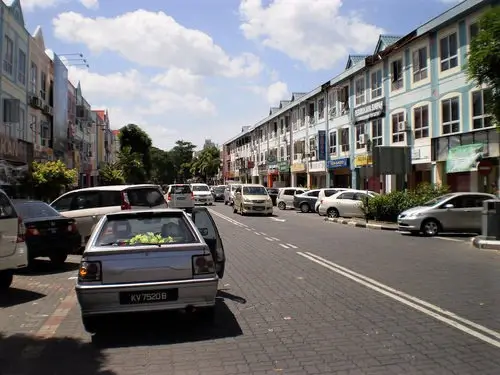 In Malay Language, a road is called 'Jalan' and therefore all road names in the isalnd are prefixed by this word. So what are the options of getting around the island and which are the best local transports? Let's look into each one of the options available: 
Taxis
Taxis are available in abundance and they are the most popular and convenient transport in the island. However the flip side is, they are quite expensive compared to the other modes. A 15 minutes ride on a taxi can cost you RM18. But you get taxis almost everywhere - at the airport, ferry terminal, main tourist places, several taxi stands, and you can also stop a vacant taxi on the road and get in.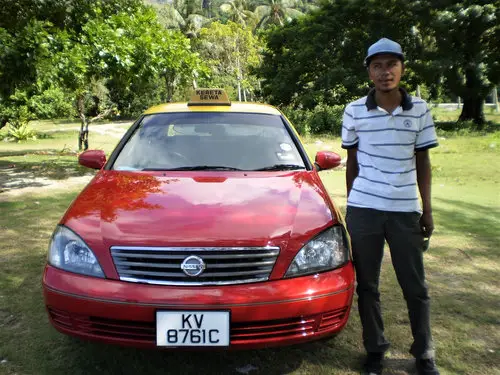 Check out
Langkawi Taxis
to know about the service, fares, rules and reserving a taxi for tours. 
Car Rentals
This is another great option if you know driving and can manage Left Hand Drive. If you plan to tour around the island, a car rental can be much more economical than a taxi. Driving in Langkawi is also easy and the roads are scarcely populated. There are plenty of car rentals available in the island. 
Check out
Langkawi Car & Motorbike Rentals
to know the do's & don'ts while driving or riding in Langkawi, the best and most reliable rental companies, rental rates etc. 
Buses
Bus service is very limited in Langkawi and the bus stops are very limited too... it's not a great idea for tourists to plan visits by buses because the bus timings are not geared for tourists. There is a bus stand near Bayview Hotel in Kuah (Jalan Pandak Mayah, Pusat Bandar Kuah). The buses run from the Kuah Jetty to the town center. There is also bus service to Pantai Cenang.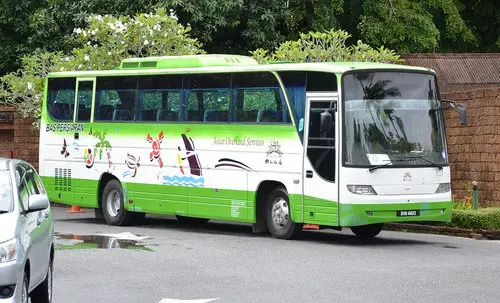 Photo: Simon_sees, flickr, cc by 2,0 
Motorbikes, Scooters & Bicycle Rentals
You can rent two wheelers in the island. Scooters and motorbikes usually come for RM25-40 a day depending on number of days you are renting whereas a bicycle rental would be about RM15 a day. You are required to wear a helmet by law and it is provided by the rental agency. 
You will also need a valid two wheeler license for renting scooters, motorbikes and even mopeds. Your own country's license should be fine. There is hardly any checking for the licenses by the police unless you meet with an accident. There is a small security deposit taken by most rental agencies.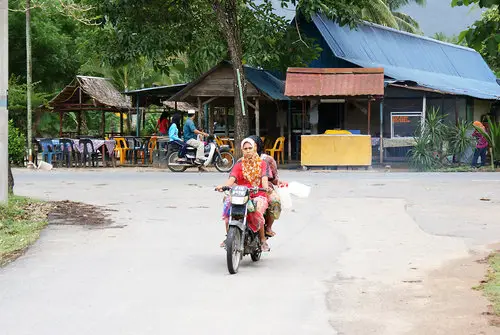 Photo: Alex L., flickr, cc by 2.0 
If you are coming by ferry, there are plenty of kiosks outside the jetty offering Motorbikes, Scooters and Mopeds. There are also many agencies in Pantai Cenang along the road and other popular tourist places. The T-Shop in Pantai Tengah also rents scooters & bikes. 
If you plan to stay for several weeks and looking for cheap Motorbike/Scooter rentals in Langkawi, then you can try Hoe Sin Motor located just outside Kuah Town (Phone: 04 966 8358). Their rate is RM220 a month or RM140 for 2 weeks. You can also bargain with other agencies if you plan to rent for long. 
However do check out if the Motorbike/Scooter has proper permit, otherwise you will not be able to claim any insurance in case of damages. Also I would strongly recommend that you take insurance coverage (usually RM 8-10 per day). Accidents in two wheelers are quite common in the island. 
Great roads & places to drive around
If you just plan to enjoy the nature, see Langkawi's country side and explore some of the hidden attractions that are otherwise difficult to locate, there are several out of the way and great roads to drive around in Langkawi. Check out
Langkawi Roads & Places to Drive Around
to know about them. 
Langkawi Driving & Road Safety Tips
Try to avoid the side roads in Langkawi while driving a car. They are sometimes really narrow and can get quite muddy as well slippery after it rains. 
Animals, particularly buffaloes often cross the roads from the open farm lands from either side of the roads. 
Avoid driving at night. You won't easily find breakdown services during the night time. 
Check your the tyres before renting a car or motorbike. If the tyres are bald (i.e. have no threads to grip the road properly) then ask for another vehicle. When it rains (which is common in Langkawi), your car or motorbike can skid badly during a sharp turn throwing it out of control. 
If you are coming from a country that drives on the right, then stick a big left pointing arrow on the dash board that will always remind you that you should drive here keeping to the left side of the road. Be careful particularly during a turn or while getting into a circle to stay on the left side. 
If you are riding a bike, stay to the far left of the road so that the traffic from behind can pass by unhindered. 
Explore the different areas of Langkawi
Different parts of the island offer different and unique treasures. So before you set out to explore the island, get a good hold on the main areas or places of Langkawi and find out what are the attractions, activities, shopping opportunities, restaurants & nightlife in such areas. 
Langkawi Itinerary & Day-wise Plans
How do you plan your days in Langkawi. You might be visiting on a short vacation but there are so many things to see and do. If you have just 2 or 3 days or even shorter, you should plan your stay in the island in a way which is different from a longer stay.
Langkawi Itinerary
discusses about all such options. 
Related Articles
Visitors' Reviews/Comments
Share your experience or stories.