Car & Motorbike Rentals in Langkawi
What To Expect
There are plenty of car rentals available in Langkawi. If you are a visitor or a tourist, you are likely to be coming to Langkawi either by air or by a ferry. Right at the arrival hall of the airport there are several car rental booths in a row and the staff there will be wooing you to look into their rental offers. 
Similarly once you come out of the ferry dock (i.e. outside the main jetty at the Kuah town) there will be many rental agencies touting their cars or motorbikes to you and you can even bargain the rates. 
Apart from these, you can always visit one of the many local tour operators or travel agencies near your hotel and get a car or bike on rent. There are plenty of them in Pantai Cenang, Tengah, Kuah Town and other places. So there is really no need to book a rental car or bike in advance. 
Langkawi Country Road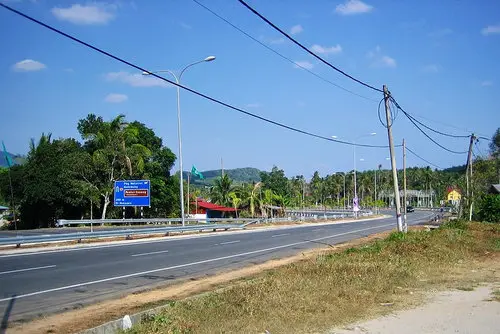 Photo: Khalzuri Yazid, flickr, cc by-sa 2.0 
However the rates can vary depending on the season. During the high season (December through May), the rental rates can increase substantially. 
Those who travel to Langkawi regularly from nearby places like Kuala Perlis and Kuala Kedah by ferry, sometimes book the rental car at the other end and pick it up after reaching Langkawi and thus saving the haggling time with the car rental agencies. 
Is it wise to rent a car in Langkawi?
So is it worth taking a car rental in Langkawi in the first place when the taxi service in the island is so good? From all my experience over the last many years, I can say one thing... car rental in Langkawi is great if you are comfortable with left hand drive and also a bit familiar with the island. Fuel is cheap (less that RM2 per liter) and you can drive around merrily in the island without much cost incurred 
If you are planning to comb the island and drive frequently, a car rental can be far cheaper than a taxi. A short ride on a taxi (about 15 minutes) can easily cost you RM18. Moreover, what can be more romantic than self driving a car along the lovely scenic coast line, stopping on the way wherever you want, relaxing as you enjoy the views and the nature? All what you need to do is fill up the tank and get going, and finally return the car with the same level of fuel when you started.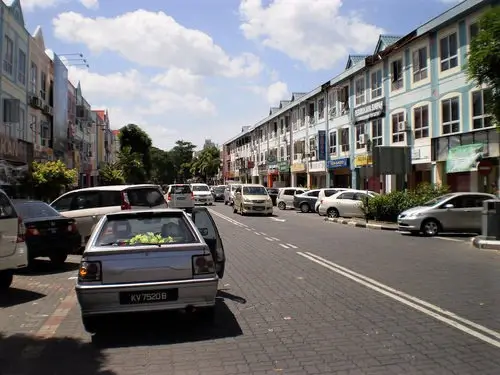 However, if you are a tourist having come to Langkawi for the first time on a short vacation and not used to the left hand drive at all, consider a
Taxi Service
. Why?? Most will say car rental is the way to go in Langkawi. Well I agree that it's not difficult to drive in the island because the population is scarce in most places except in few areas like Kuah Town. However, if you are coming from a country like the U.S where you follow right hand drive, you will need to give yourself some time to adapt to Lankawi's left hand drive road norms. 
Normally while driving along a broad main road with dividers, this won't be a problem. But when you get into a circle or need to take a sudden turn, that's when the confusion takes place. Here right side is the wrong side, and the left side is the correct side.  
You also need to be careful about the other shaky drivers on the road, as many tourists take up cars on rent without much thought even though they are first time in the island. And don't be surprised if you suddenly see some one is driving down towards you along the wrong side. I don't want to scare you, but I have seen it happening while I was driving myself. 
So you need to be careful to avert such situations arising out of others mistakes. Taxi drivers here are veterans and can anticipate such situations very quickly. You should also be very careful about side roads getting muddy when it rains. They can get real slippery. 
Despite scarcity of population, road accidents in the island are not rare. A third consideration while renting a car is whether you are sure you can find your destinations quickly and correctly. Unless you have done a thorough job with the road map and understand the side roads of Langkawi well enough, you may end up going in circles to find the place you want to visit. 
Many attractions in the island can only be reached through side roads. Unless you have planned out the route well enough, you can end up wasting a lot of time. Taxi drivers on the other hand know every place by their finger tips and can help you get to places at ease. 
About Rental Companies In Langkawi
One thing I shall strongly recommend is not to take a rental car or bike from an unknown shady operator just because you want to save a few bucks. It's really not worth it and can get you into serious trouble should things start going wrong. There are many roadside agencies in Langkawi who are not licensed and offer cars that have no drive permits. 
In case of any accidents, insurance will not work on such cars or bikes although the rental agency might have told you otherwise. In such cases, you will end up paying for the entire damages both ways... the owner of the vehicle you collided with will not spare you nor will the rental agency. 
So whenever you go in for car or two-wheeler rentals, check out if they are licensed and if the vehicle has a valid driving permit. In case of cars, there should be a permit sticker pasted on the windshield. Secondly check out the insurance papers thoroughly. As per the standard terms of car insurance in Langkawi, the insured is not covered for the first RM2000. Which means for damages up to RM2,000, you will need to pay up, beyond which insurance claims can be made. Bike insurance too has similar terms (although the coverage may vary). There are several well known car & scooter rental agencies who provide coverage even for this initial gap by charging slightly higher rental rates. 
Another thing with the shady operators, their cars & bikes are often old and unmaintained. If caught during police checks on the road, you may get into trouble as you would be required to produce all the papers including permits. 
So net to net, always go for a reputed car or bike rental company in Langkawi. 
Best Car Rental Companies
All the car rentals at the airport arrival hall are licensed. However do check out the permits and other papers. NOTE: You will require a valid driving license from your own country to rent a car or scooter. Officially you also need an international driving permit, but nobody seems to care for that in Langkawi. Most rental companies would require that the age of the driver between 23 and 70 to rent the car. 
Here are some well known local car rental companies in the island: 
Kasina Car Rental 
They have branches in several places in Malaysia including in Langkawi. Their fleet in Langkawi includes Super Economy to Economy, SUV and MPVs. They also rent vans (10 seaters).  
Contacts 
No. 3 & 4, Sun Mall, Jalan Teluk Baru, Pantai Tengah, Mukim kedawang, 07000 Langkawi. 
Phone: 04 - 955 5999, 955 3771; Email: Email:
[email protected]
; Website: kasina.com.my 
They have a booth at the arrival hall of the Langkawi Airport as well. 
Counter No C11 , Arrival Hall, Terminal Building 
EZ Car Rental Langkawi 
This is a local company run by the island resident Captain Rosly Ahmad. He is a trustworthy and friendly man and many tourists have had pleasant experience dealing with him and driving his cars. This is a budget car rental and you can expect to get rates substantially lower than the big names. However high season rates are higher than the low season rates. Rosly offers a range of cars including 4, 5, 6, 7 and even 10 passenger vehicles of various makes including Saga, Kia, Honda, Toyota etc. 
Contacts 
No. 11 Kompleks Eb Adina, Pekan Baru Baron, Langkawi 
Envomarine Car Rental 
They have a fleet of over 100 vehicles ranging from economical, midsize, SUV to luxury models. All their cars have air-conditioning and audio players. They offer 24-hours breakdown service. One of their advantages is they are located near the Langkawi Airport between Kuah town and Pantai Cenang. They also offer free pick up and drop off service at most of the hotels in the island. 
Contacts 
264 Lubuk Setul Village, (Near Airport) Padang Matsirat, Langkawi Kedah 
Phone: +60 49552988; Email: adm
[email protected]
; Website:www.envomarine.com/rezeasy.html 
Big Thumb Rent a Car Ventures 
They have operations in Langkawi, Penang and Kuala Lumpur. Their office in Langkawi is in Kuah. They offer a range of vehicles of various makes (both manual and automatic) including Nissan, Toyota, Honda, Suzuki, Perodua, Proton, Volkswagen etc. 
Contacts 
No. 89 Langkawi Mall, Jalan Kelibang MK Kuah, 07000 Pulau Langkawi 
Phone: +60 4-618 0152; Email :
[email protected]
; Website: www.i1rentcar.com/langkawi/ 
Best Scooter & Bike Rental Companies
Scooter rentals are more popular in Langkawi than motorbike rentals. However motorbikes are also available for rent in several places. If your hotel is in Pantai Cenang or Pantai Tengah area, you can find a number of outlets located along the main road. You can also check with your hotel or guesthouse... many hotels and guesthouses offer scooters on rent. The hotel rates are usually higher than what you may get from outside. NOTE: Scooter or Bike rentals are not available at the airport... only car rentals. 
For renting motorbikes in Pantai Tengah, you can consider the T-Shoppe (located opposite to Holiday Villa). They have plenty of scooters and bikes. 
In Kuah Town, a popular place is outside the ferry terminal (Kuah Jetty). Few scooter rentals are located next to the ferry ticket booking counter. They are not the cheapest but very convenient for those arriving by ferry. Rates differ between the rental outlets here. 
Hoe Sin Motors in Kuah offers one of the lowest rates in Langkawi for motorbike and scooter rents (Phone: +604 966 8358, Address: No. 11-B & 12-B, Jalan Padang Gaong, Taman Mas, Langkawi, Kuah). 
If you are staying at Pantai Kok area, a good place to rent scooter or moped would be from the couple of rental outlets located at the junction of the roads Jalan Telok Barau (#113) and Jalan Telaga Tujuh (#272). However if you are staying at Berjaya Resort, they too rent scooters but in higher rates (condition of the scooters are better though). 
Indicative Rental Rates
The rate depends on the number of days you are renting the car or 2-wheeler. More the number of days you rent, the rate becomes lesser. Also note that if you do not plan to use the car for a full day (particularly on the last day of your stay in the island), you can ask for a discount for that day. Some agencies also offer hourly rate for such adjustment. When you rent the vehicle for several days and you end up exceeding the time limit by couple of hours or so, you can talk to the agency and they usually wont charge for the extra hours. 
Agencies ask for a security deposit (about RM100 to RM200 for cars) and payment of the rentals up front. Security deposit is given back if there are no damages to the vehicle when you return it. 
Local rental companies usually increase the rental rates by 30-40% during the high season (October through May) and also during school & public holidays. 
Here are approximate rates (per day) that you may expect from bona fide car renal agencies that operate in Langkawi. Rates do not include fuel or insurance. 
Daily rates for cars
Proton Saga (Manual): RM120 
Proton Saga (Auto): RM140 
Perodua Myvi (Manual): RM130 
Perodua Myvi (Auto): RM140 
Toyota Vios (Auto): RM190 
Toyota Rush (SUV, Auto): RM230 
Toyota Innova (MPV, Auto): RM280 
Toyota Hiace (10 Seater, Manual): RM270 
Daily rates for bikes & scooters
It usually starts from RM30 per day. For longer period like a month, it could be around RM300. Some companies and hotels charge higher per-day rates. 
Petrol/Gas Stations in Langkawi
Petrol is quite cheap in Langkawi. The rate is roughly RM1.9 per liter. If you are given a car with full tank of petrol, then you are supposed to return it with a full tank. There are several petrol stations in Langkawi (about 15 of them) scattered across the island. 
The one closest to the Airport is Petronas in Padang Matsirat, which is just a few minutes drive. Plot 2, Lot 228, Jalan Padang Matsirat, 07100, Langkawi. Phone: 04-9552888. If you are coming by a ferry and taking a rental car, there is a petrol station in Kuah town close by - 51, Jalan Kelibang, Langkawi Mall, Kuah Langkawi, 07000. Phone: 04-9661168. 
Related Articles
Visitors' Reviews/Comments
Renna (April 2017) 
Do we need an international license to rent a car? or enough with passport? 
Raj (langkawi-insight.com) April 2017 
Carry your passport and your local driving license. 
Sammy (May 2015) 
Took a car from Envomarine Car Rental. the experience was good. their personnel are professonal and friendly, and their vehicles are clean and new. Everything was good at the handling of the car to us and the quick sign off. Will use them again as they even upgraded our vehicle without any extra charge 
Cheng (April 2015) 
Dear Raj, Thank you for spending your valuable time in reading our emails and giving comments. I would like to ask is there GPS installed in the rental car to travel around Langkawi? Thank you. 
Raj (langkawi-insight.com) April 2015 
No, not in usual rental cars. You can however ask for one at extra cost. 
Esa Vitikainen (January 2014) 
Had a Chery Tiggo SUV from Envomarine for a week in December. Left us on the road 3 times. Always the same fuse burning and killing ignition. No manual, no spare fuse, not even after a request, nothing to do but to wait for their service guy (=owner?). Actually, never met that service guy as we always had to rush forward with taxi and they delivered the unlucky car ready for us after our commitments. They were very helpful and sorry and paid the taxis even without receipt and in few hours always delivered the car (last time another car by our request), but it is hard to understand not having a manual and spares when there is a known problem. Tried to negotiate settlement worth 2 days' rent (these incidents occurred in 2 days), only got less than one.