Pantai Cenang Area Guide Langkawi
From tourism perspective, Pantai Cenang is undoubtedly the main hub of Langkawi and is the most developed western coastal area in the whole of Malaysia. However everything here revolves around the beautiful long curved stretch of white sands known as the
Pantai Cenang Beach
that overlooks the turquoise blue waters of Andaman sea and the many islands little offshore. The beach is fringed with coconut and casuarina trees that further add to its beauty. 
So as expected, there are large number of hotels and resorts, mostly budget and mid-range that have come up in this area. There are of course several upscale resorts here as well. Many of these hotels are lined up one after the other along the beach with barely any space in between them. 
Although Pantai Cenang area has the largest concentration of hotels, this is the first area to get filled up during the high season. The demand here is the highest, albeit for the lovely beach and view of the ocean, and many water activities. It takes only about 15 minutes to reach Pantai Cenang area from the Langkawi International Airport. 
Pantai Cenang Beach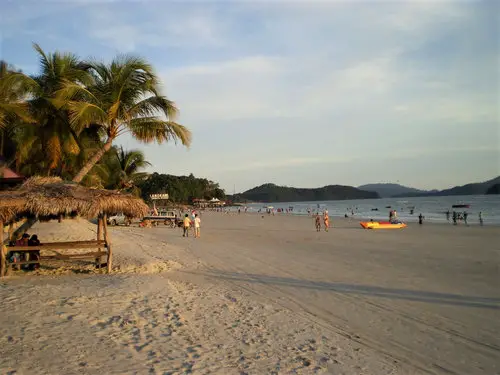 There are number of home stays and guesthouses that too have come up in the area but a little in the interior (although walkable from the beach). These are mainly meant for back packers. These accommodations are usually on the opposite side of Jalan Pantai Cenang Road that runs parallel to the beach. 
As you walk along the road, you will see numerous shops of all kinds and restaurants lined up on both sides. The road comes alive after dark when tourists and residents all flock to this place for shopping, eating and drinking. There is also a duty free shopping center here called Zon at the southern end of Pantai Cenang. 
There are many tour operators along the road and also on the beach offering all kinds of water sport activities as well as island and boat tours. You will find kiosks every 50-yards or so on the beach offering Jet Ski, Banana Boating, parasailing and
Island Hopping Boat Tours
all through the day time. They generally close by 7pm. 
The restaurants here generally open at noon and operate till late night. Even during the low season, I have found many restaurants open until mid night. During high season, most of them remain open until 2am. There are one or two specialized breakfast eateries and bakeries here that open earlier and close early. The shops too open late in the morning. Until about 10am the roads here look deserted. So life here starts late and retires late. 
The Road Jalan Pantai Cenang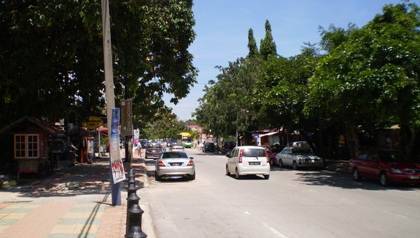 There are all kinds of restaurants offering wide choice of food including Malay cuisine, Asian & Indian, Chinese, Italian and Continental. However, Seafood seems to be the most popular here as boards saying 'Ikan Bakar' (meaning grilled fish) are put up in front of many restaurants and many display fresh fish & seafood that you can choose from and ask them to grill. 
The nightlife continues until late hours in Pantai Cenang area. Other than many restaurants and bars on the road, there are several beach bars on the Pantai Cenang beach itself, some of them compliment the experience with music and even jam sessions that carries on till the wee hours. Several on-beach restaurants offer candle lit dinner with drinks right next to the waters. Surprisingly, many of them are inexpensive. 
The area is also full of Spas including Fish Spas with offerings at reasonable rates. Most of them are lined up along the Jalan Pantai Cenang Road. However, there are not too many tourist attractions or sightseeing places in this area. Underwater World is located at the southern end of Pantai Cenang and showcases numerous fish, marine life, birds and animals. There are few other attractions like Laman Padi (rice field and museum) etc. 
The road is also full of juice bars, travel agencies offering rental cars and tourist information, as well as fruit stalls. Most shops here also sell beer at a cheap rate, and many restaurants (not the high-end ones though) allow you to carry your own drinks and have it while you dine there. 
Update June 2017: There has been construction work going on in Pantai Cenang for the past several months. This is being done for the overall facelift of the area. The main road has been made one way for the vehicles (towards south ... i.e. towards Underwater World). 
Location Map of Pantai Cenang Area 
Explore Pantai Cenang
Check out the following to know more about the place and all its offerings: 
Hotels in Pantai Cenang
: Large number of budget and mid-scale hotels, and also several upscale luxury resorts. The area also has many motels, inns & guesthouses. 
Top Restaurants in Pantai Cenang
: Numerous restaurants of all types including Chinese, seafood, Malaysian, Indian, Italian and lot more. There are specialized breakfast eateries and bakeries as well, and also a Mc Donald franchise at the end. 
Nightlife in Pantai Cenang
: Several bars, pubs and beach bars, some conducting jam sessions on the beach and others playing reggae and live bands. 
Shopping in Pantai Cenang
: The main road is crammed with shops on both sides selling all kinds of items including clothes, souvenir & gifts, accessories, and even fruits & juices. A weekly night market is held in the area. A duty free shopping center is located at the southern end. 
Related Articles
Visitors' Reviews/Comments
Share your experience or stories.