Pantai Cenang Shopping
You ask any tourist about the prime reasons they prefer Pantai Cenang as their vacation venue in Langkawi. The first universal reason is of course the beach. The second often sways between food and shopping. As you stroll along the sidewalks of Jalan Pantai Cenang (the main street here) which runs parallel and close to the beach, you will find numerous shops and restaurants lined up on both sides. 
And in the evenings when the lights come on, they start glittering in full colors. And most of these shops are either gift & souvenir shops selling dress materials, shorts & beach wears, caps & hats, small crafts, T-shirts etc and the others are convenience shops, jewelry stores and such. Another reason these shops are quite popular because the area is only 10 minutes drive from the airport, 20 minutes from Kuah town and less than 5 minutes from Pantai Tengah where many other hotels are located. 
Shops in Pantai Cenang, Langkawi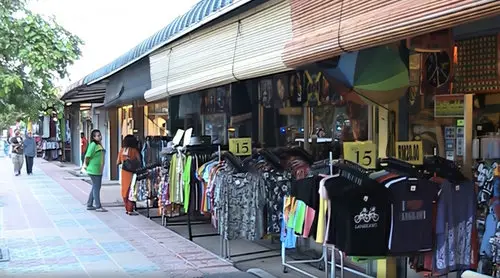 At the southern end of the Pantai Cenang next to the Underwater World, there are couple of large Duty free shopping centers that sell many different items including liquor & wine, tobacco, perfumes, chocolates, bags etc at attractive prices.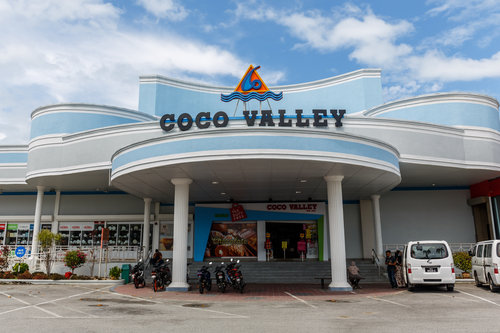 Photo: Tan Wen Sen, Shutterstock 
Well, if you walk along the main street of Pantai Cenang (which is a really a pleasure walk in the evening when the sun stops beating down), you will probably be a bit confused which stores to try out, there are so many of them. Here is a quick guide for you to choose the ones for deeper exploration. You may just decide to pass by the others as an onlooker. 
Cenang Mall
The latest landmark and the center of attraction has been the Cenang Mall. This two storey large shopping complex has come up right on the main street (Jalan Pantai Cenang) having provision for 42 shops, several restaurants, elevators & escalators. There are 24 hours KFC and Starbucks in the mall. Starbucks takes a huge space at the ground flow on the left and just above that is Old Town White Coffee.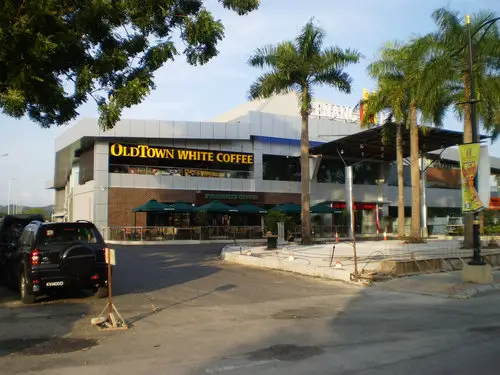 On the right is Wakaba Japanese restaurant in the upper floor. There is a Supermarket inside. At the back side there is a store selling cheap beer (only RM2.50 for a can of Heineken). There is also a chocolate store. So overall this mall is meant for comfortable shopping and has been increasingly attracting tourists. There is a Maybank there with 24-hour ATM. 
Paradise Craft
A store having large stock of handicrafts, stones, jewelry and lot of other stuffs. A great buy here would be the white bags that have 'I Love Langkawi' imprinted on them. There are bags of different sizes. It's air-conditioned inside.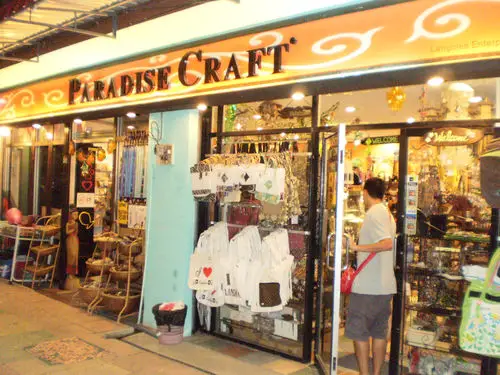 Boutique shop in a bus
Izman conceived this idea in 2012 to have a handicraft boutique shop in a bus. Then everyone thought it was a crazy idea. But now he is well on his way to great success having created the mobile store. You will see this bus on the road Jalan Pantai Cenang selling handicraft items, accessories, baby accessories and even clothing. Most items are hand crafted personally by Izman's Canadian wife. They also promote Malaysian batik art to islanders and tourists. 
Total Shoppe
This is a typical gift & souvenir shop located right next to Malibest Resort, and at the heart of Pantai Cenang. It sells various items including clothes, T-shirts, beach wears, crafts etc. Good varieties of swimming suits and they are quite competitively priced.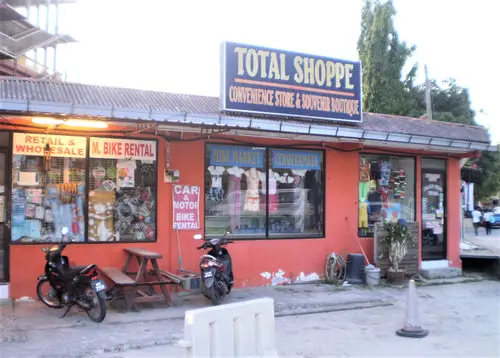 Open Hours: 11am – 11pm  
Phone: +6019 479 0282  
Exodus Zone
Selling lots of knick knacks including bags, hats & caps, ladies shorts, handmade sandals ... and all for very reasonable prices.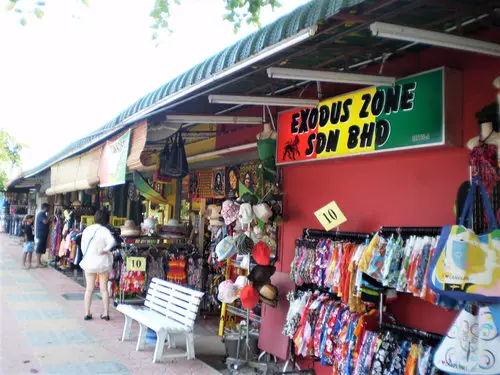 Open Hours: 11am – 11pm  
Location: No. 3, Baron Walk, Jalan Pantai Cenang, Phone: (604) 955 7511 
Temoyong Night Market
This is the night market that sets up in Pantai Cenang on every Thursday. The night market is held in different places on each day of the week. If you are staying overnight in Pantai Cenang on a Thursday, then don't miss this country bazaar type of market hedls at the Temoyong village close by. Although the night market is well known for a range of cheap local food, the vendors also set up stalls to sell clothes, souvenirs & gifts and even cheap electronic items & watches. Check out
Langkawi Night Market
to know more. 
Bread Story
(Bakery) 

Nice air conditioned bakery serving varieties of bakery items. The bread item with sausages and cream on top is my favorite. You can eat here or get your stuffs packed to take away. Overall nice ambience and good fast food.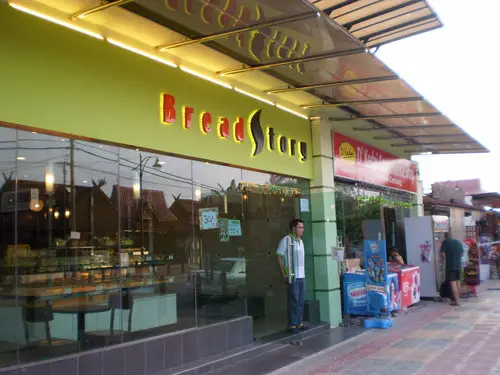 Busana
Ladies bags, shorts, sunglasses etc. Not much collections though.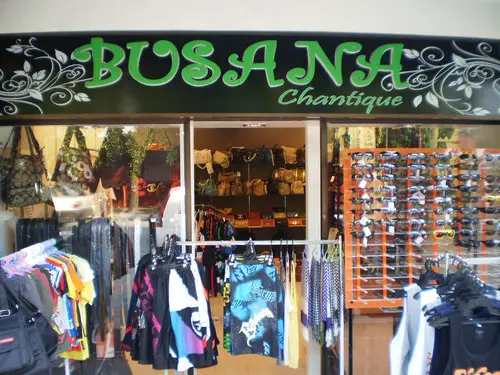 Book Shop
If you have run out of your stock of reading books, this is a place you can try. This was a cell phone shop earlier and has been converted into a book shop recently. Apart from new books, you will get used books as well in different languages, mostly novels & thrillers. The owner is quite friendly and cooperative.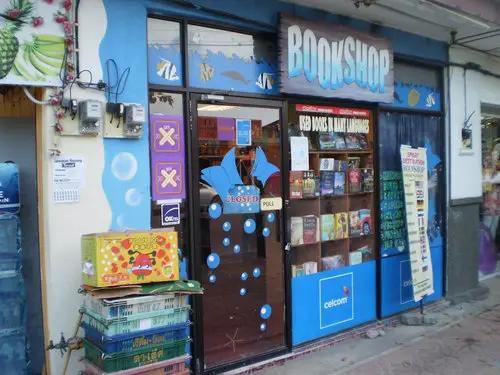 Fruit Store
This is a cool store. Not only does it sell fresh fruits, but also mineral water bottles and can beer. You will find all kinds of beer brands here including Carlsberg, Tiger, Heineken etc and beer is cheap. You can pick up a few cans and have it while you dine in one of the restaurants on the opposite side of the road. Some of the restaurants here do allow you to walk in with your own beer because they themselves don't serve drinks.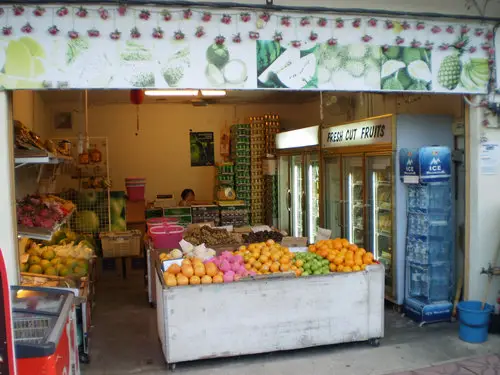 T-Shoppe
This is a shop that caters to daily needs of tourists and keeps almost everything starting from after shaves, tooth pastes to even T-shirts. You will find it further down from Mali Best Resort towards north and on the right.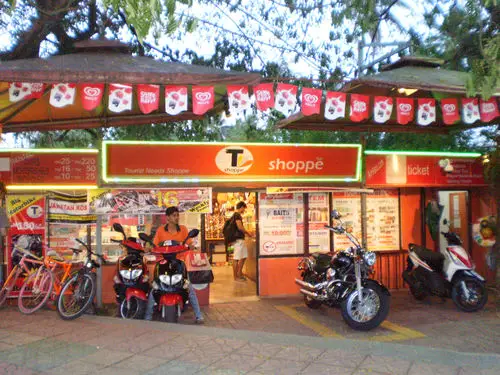 Related Articles
Visitors' Reviews/Comments
Fiona Sequerah (June 2016) 
We stopped by at Durian King, a shop which sells fresh durian and processed durian products. The shop is run by a Chinese gentleman and when we enquired about the price of fresh durian known as Mau Sang, he clearly told us the price Was RM50 per kg. Both my husband and I heard this. We did not question him further and we accepted this price as  Mau Sang is sold for approx'. RM45 per kg in Kuala Lumpur. The durian we ate weighed 1.03 kg (according to his weighing scale). Hence, the price he said Was RM53 for that durian which had only 6 seeds in it. 
When We finished eating, and wanted to pay him RM53 he told us that the price was RM83 instead. We did not make any mistake with the initial price. He is dishonest and unscrupulous and took advantage to increase the price after we had finished the durian. Please look into this complaint as other tourists should not get cheated like this in future. We hope you will take action against this scoundrel and investigate his dishonest business tactics.