Langkawi Local Food & Outlets
Langkawi is full of restaurants particularly in Kuah town & Pantai Cenang offering all kinds of local food & beverages. However when you look into the inside story and try to figure out where islanders prefer to go for buying local food or eating, you will often find that locals use several other options rather than going only to restaurants. Because restaurants in Langkawi can be expensive, particularly the ones that offer genuine authentic Malaysian cuisine in a relatively good and comfortable environment.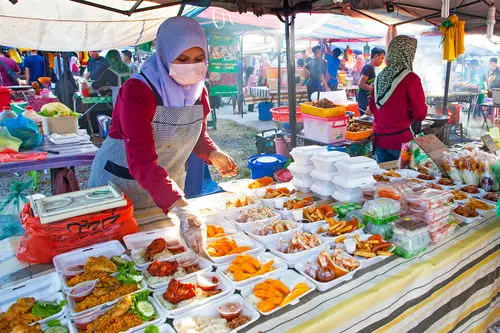 Photo: Alexandra Lande, Shutterstock 
On the other hand a local night market sets up every day at different places in the island which is best known for take away cheap Malay food. Many locals and Expats also eat the food on site while standing and having a chat with each other. It's not only about food here, it's also the great friendly ambience. 
Another locals' favorite are the Kuih Stalls that can be found in several places in the island. They sell delicious hand made snacks, cakes, cookies and other local fares. 
Langkawi Local Food
Let's first look into which are the top local dishes that should be in your priority list. Note that the local Malay food can be quite spicy and they use all kinds of local herbs & plants to get the flavors and unique aroma in their preparations. 
In Langkawi the Malaysian food comprises of a combination of different ethnic cuisine including Malay, Indian & Chinese preparations, and in some cases you will also get fusion dishes like the Nyonya which is a combination of Malay and Chinese preparations. 
But if you want to go for authentic Malay food in Langkawi, here are the ones to try first: 
1) Nasi Dagang: This is essentially a brunch or a lunch item. Rice steamed in coconut milk is served with spicy fish curry and includes other items like boiled eggs, fried coconuts and pickles. 
2) Nasi Kandar: Another favorite local dish where steamed rice is served with several different curries of different flavors along with one or more of items like fried chicken pieces, beef cubes, fish, mutton, shrimps, squids and such. 
3) Nasi Lemak: Another must have. Rice soaked in coconut cream & steamed and often served on banana or pandan leaf. Aroma is the main focus. It has roasted peanuts, boiled eggs, cucumber pieces and dried small anchovies (sambal ikan billis) in it. You can accompany it with chicken or beef 'rendang' where the meat is cooked in rich coconut milk & curry.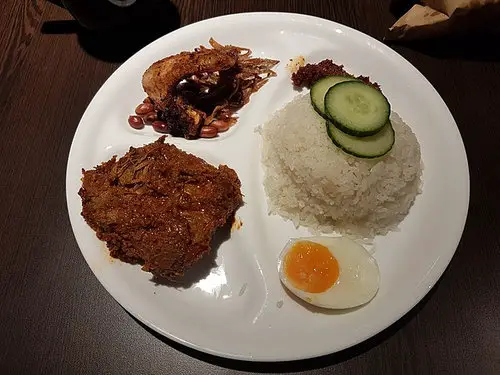 Photo: Misaochan2, cc by 4.0 
4) Nasi Ayam: Also known as Chicken Rice where rice is prepared in chicken stock and served with roasted or deep fried chicken. 
5) Ikan Bakar: Ikan means fish, and Ikan Bakar in Malay literally means burnt fish. Grilled or Barbecued fish served with a spicy sauce. While grilling, they marinate the fish with spices and while serving, often served on banana leaves. Other than fish, seafood and stingrays (Ikan Pari) are also used as variations. 
6) Malaysian Satay: Barbecued meat on sticks. They mix turmeric to give it the color. Served usually with peanut sauce. 
A stall selling Satay and other local food in Langkawi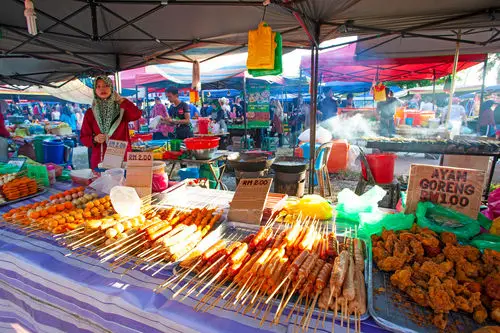 Photo: Alexandra Lande, Shutterstock 
7) Roti Canai: A thin flat pancake which is prepared using wheat flour, oil/butter, and then fried on an iron plate. It is then served with dahl and fish or chicken curry. There are other variations, for example Roti Telur would have eggs, Roti Pisang would have bananas etc. This is a locals' favorite for breakfast and lunch. 
8) Char Kuay Teo: Rice noodles stir fried with prawns, eggs, bean sprouts etc. A great favorite of the locals and is considered a typical hawkers food. 
9) Kai Fan: The dish is also known as chicken rice. Actually a similar preparation is done with different kinds of meat including pork, beef, duck etc. But the most popular one in the island remains as steamed rice served with chicken. First the chicken is marinated with different spices and herbs. It is then roasted until crispy golden brown. The rice is separately cooked with the chicken stock and served with chicken along with cucumber pieces. Delicious.. 
If you like to taste Nyonya (Malay & Chinese fusion) food, then try out some of the following dishes. Note that most of the Nyonya dishes would make use of ingredients like coconut milk, lemon grass, turmeric, chilies, sambal etc. Such dishes have resulted after the Chines traders settled down in Malacca and started adapting to the Malay ways of living. Here are some of the great Nyonya dishes: 
1) Acar Ikan: Small fried fishes dipped in pickle (mix of tamarind, oil & garlic). 
2) Acar Awak: Several different types of vegetables prepared in Pickle. 
3) Asam Pedas: Fish curry prepared with pineapple pieces. 
4) Chili Crab: Crab is stir fired with various ingredients like chilies, lemon grass, turmeric, belacan, onions, garlic, tomato etc. Can be quite spicy. 
And there are of course many local sweets, cakes, dessert and snack items known as Kuih food that are available at several stalls in the island, offering you a great flavor of local food. 
Where to eat or buy local food in Langkawi
There are two ways you can try out authentic local food in Langkjawi. Either go to a well known restaurant nearby that serves Malay food, which is the way many tourists do. Or go to places where the locals mostly go themselves to get good cheap food like in the night market (which sets up at different places in the island depending on the day of the week) or kuih stalls (local stalls selling local snacks). 
This is like a country market or bazaar which is held on each day at a different place in Langkawi. Vendors and villagers set up temporary stalls selling a wide range of local food and many other items like trinkets, souvenirs, clothes etc. This is a great meeting place for the locals, tourists and expats. The food is prepared and offered piping hot at really cheap prices. The atmosphere is friendly and will give you a great flavor of local market ambience.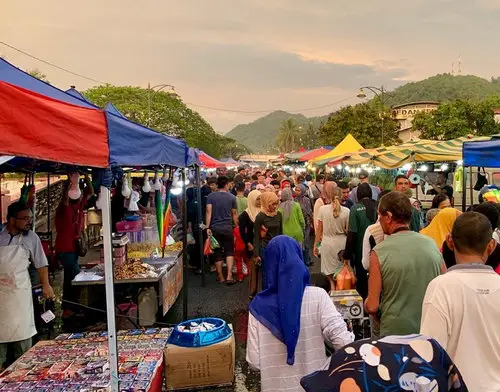 Photo: Langkawi Trips (facebook) 
One of the best here is Bin Zaimudin family's Murtabak Din stall. The son himself prepares the hot food. Try out the wrap which is prepared with bread filled with meat curry and eggs, folded and fried in generous portions of oil on a hot pan right in front of you. Few other great local fares to try at the night market are the fried chicken legs, nasi lemak served with pea flowers etc. 
Local Restaurants
Seafood out of all stands out when it comes to preparations and local popularity. While there are numerous restaurants that serve seafood and other Malay dishes, there are few that stand out from the rest. One of them is the
Wonderland Restaurant
located in Kuah and set up in a lush garden setting. The open sided restaurant is run by the manager Michael Khor and you can't fault him when it comes to friendly service. Try out the fresh grouper marinated with ginger, or the beef rendang with red chili, or the squids served with curry leaves and shrimp paste.... absolutely delicious. 
Another great local restaurant is
Siti Fatimah
at the outskirts of Kuah serving buffet style meals... more than 50 varieties and it's real cheap (just RM12 per person). Try out the ikan bakar, the beef curry and begedil potato patties... with warm hospitality and good service, this is a great value for money. 
If you are craving for byriani (specially made fragrant rice served with meat... a typical Indian/Pakistani dish), then visit Mumbai Palace at Pantai Cenang and the House of Lamb at Kuala Teriang. 
However the list of restaurants serving good local Malay food in Langkawi are endless and many have their great signature dishes that are better than the rest. visit
Top Langkawi Restaurants
and check out the first section that details the ones serving great Malay food to know about all the nice restaurants (both budget or upscale) serving genuine Malay cuisine. 
If you are rather looking to buy or eat great local food really cheap the way islanders mostly do, then you should be looking at the following section. 
Kuih or Kueh food items are very popular with the locals in the island. They are essentially dessert items, cakes, cookies and snacks. They are either steamed or fried and made of various ingredients depending on its type including rice flour, wheat flour, coconut, sugar, pandan and so on. The cakes look very colorful while the cookies are hot favorites during the festival times. Several stalls in the island sell freshly prepared kuih food. Know about the items that are favorite to the locals, how they are prepared and where to get them. 
Related Articles
Visitors' Reviews/Comments