Kuah Area Guide, Langkawi
Kuah town is the capital of Langkawi and the administrative headquarter. This is the main hub in the island for duty free shopping. The
Kuah Jetty
here also serves as the main ferry terminal for ferries/boats that ply between Langkawi and other nearby places. So if you are visiting Langkawi by ferry, then this is the place where you will most likely disembark. 
Kuah is located at the south eastern edge of Langkawi and facing the water area. But there are no beaches here (except for one next to the CHOGM Park, not suitable for swimming though). Although there are several tourist attractions like the Eagle Square on the water front, you won't get any sandy stretch on the coast line here. For that, you need to visit the western and northern end of the island. 
However the view of the water area from places like Eagle Square is wonderful. You see many sail boats passing by as well as cruise ships, and large mountains at a distance looming on the small islands.  
Other attractions in Kuah town includes lovely parklands like Lagenda and CHOGM parks, Al Hana mosque etc. There are several Spas here that you can indulge in. The Gunung Raya Golf Course is also nearby. 
Kuah Town, Langkawi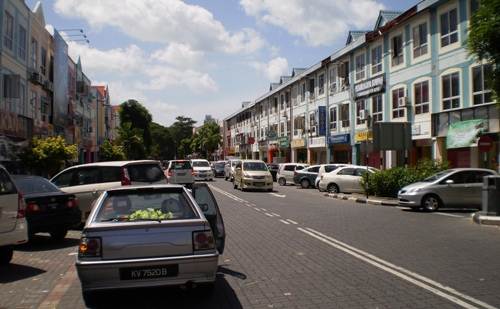 I had to stop my car on the middle of the road to take this picture 
But the real attraction in Kuah is its large concentration of duty free shopping centers. Virtually everywhere in Kuah town you will find duty free shops & malls, and many different shopping complexes.  
Some of the major ones includes Langkawi Fair at the town center, Jetty Point complex at the Kuah Jetty, Saga Shopping Center, Coco Valley and so on. You will get shops selling virtually everything that you are looking for - electronic goods, chocolates, dress materials, souvenir & gift items, accessories, bags, sunglasses, liquour & tobacoo, ... the list is endless. All these comparatively at a cheaper price than what you get at the airport. 
Large number of restaurants have popped up all across Kuah. You will get budget, mid range and fine dining restaurants here offering many different cuisine including Thai, Arabic, Chinese, seafood, local Malay dishes and more. Kuah town is one of the few places in the island where you get all the well known international franchise food chains like Mc Donalds (at Langkawi Fair Shopping Mall), Kentucky Chicken (near Kuah Jetty) and so on. 
And there are large number of hotels in Kuah both for budget and luxury travelers. Westin, one of the top five star resorts of the island is located in Kuah. Kuah also has several inns and motels for the back packers. For nightlife, the area has numerous bars and lounges that stay open till late hours. Royal Langkawi Yacht Club for example offers couple of excellent lounges like Captain's Deck and Charlie's Place on the water front. 
So if you want to stay at the center of bustling activities in the island, and plan your vacation around shopping, eating and drinking, then Kuah town can be a great place to stay. It also works out very convenient for those who come here and go back by ferry. This is one place where you will find public buses (although not a very regular service). However you get abundant taxis to reach out to any other place in the island. It takes about 25 minutes to reach Kuah town from the airport and the fare is RM24. Fare for Pantai Cenang is RM24, and to Pantai Kok / Burau Bay area (for Cable Car ride) is RM36. 
Location Map of Kuah, Langkawi 
Explore Kuah
Check out the following to know more about the place and all its offerings: 
Hotels in Kuah
: The place has several hotels of all range including top luxury resorts. 
Top Restaurants in Kuah
: Many options including Malay, Seafood, Thai, Chinese, Pakistani, Arabic and also fast food stuff like Mc Donald, Kentucy Fried Chicken and such. 
Nightlife in Kuah
: Several lounges, bars and cafes that operate till late night hours. 
Shopping in Kuah
: Plenty of duty free shopping opportunities. There are large complexes and malls full of all kinds of shops. And there are many other great stores in Kuah town on both sides of the roads. 
Related Articles
Visitors' Reviews/Comments
Share your experience or stories.