Nightlife in Kuah, Langkawi
Although Kuah is the capital and commercial hub of Langkawi and also the main center for shopping & dining, strangely when it comes to Nightlife, the options are limited. It seems that the entire energy for wee hour nightlife drifts towards Pantai Cenang and Tengah.  
In Kuah, although there are some bars and lounges, you won't find many open till late hours. Here it's mostly about going over to a restaurant & bar and having a nice evening on a cold beer before it's time for bed. 
Having said that, there do exist some nice nightlife options in Kuah for the real energetic. There are some pubs and lounges that either show live sports on wide LCD screens or offer live bands and remain open till late. 
Here are some of our most favorite ones in Kuah area: 
(Mid-Range, Pub & Restaurant) 
It serves great coffee, beer and food ... that is how I could summarize this place, and it serves them till late hours every night. If you want to have a cool evening with a beer, chat with the local patrons of the pub and watch sports channels on wide satellite TV, then this is a great place to visit. It also serves a range of Malay & Western cuisine with daily specials. 
(Upscale, Bar & Restaurant, Malay & International Food) 
Part of the Langkawi Royal Yahct Club, this is a favorite place for the yachters and the locals. The best part of the bar is its wonderful view of the Kuah harbor & Marina, and watching the sunset while having a cocktail. The menu is quite elaborate and food is nice too. They have a well stocked bar with spirits, beer, wine and many other drinks. 
Captain's Deck Waterfront Restaurant
(Upscale, Bar & Restaurant, Malay & International Food) 
This is also located in the main building of the Royal Langkawi Yacht Club. The restaurant is built like a bow of a ship that juts into the harbor. So as you would imagine, the view of the harbor and the marina from the open balcony is just magnificent. 
Captain's Deck Watrerfront Restaurant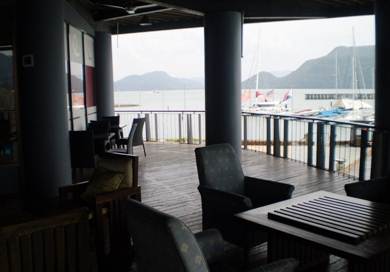 While this is a restaurant, they also have a full bar service. You can dine inside or in the open roof covered balcony. The cuisine is Malay and International, and quite popular with the locals and the yachties. 
Address: Royal Langkawi Yacht Club 
Jalan Dato Syed Omar, 07000, Kuah, Langkawi. 
Phone: +604 966 4078; Fax: +604 966 5078 
(Upscale, KTV Lounge) 
Located inside the Bayview Hotel at the heart of the town, this is a lounge with resident live band playing old rocks, pops, reggae and even old hits till late hours. You can take a drink and get immersed in the music or meet up some of the many locals who trickle in at late hours. There are also Karaoke rooms in case you feel like singing yourself. 
Langkawi Sunshine Restaurant
(Mid-Range, Chinese & Thai Food) 
You will come here essentially for the cheap beer. A can of Tiger beer is just RM2.50, can't get any cheaper than that in Kuah. But the restaurant also serves nice food. The ambience inside is like a normal coffee house with plastic chairs & tables, waiters are friendly and the atmosphere quite casual. The menu is quite elaborate. 
Some of the great dishes to try would be Bitter Gourd Venison Black Pepper Hor Fun (RM 28), deep fried tofu (RM 12), Tom Yam Bihun (RM 38), and even Pork Ribs (RM 30). Looking at the price you will say that the food is quite pricey for its standard and I agree. As I said before, we come here mainly for beer and then accompany that with some nice Chinese snacks. 
Open Hours: 10am till late  
Address: Corner of Jalan Pandak Mayah 6 
Nautilus Bar & Grill
(Upscale, Seafood) 
This elegant bar is located inside the Bella Vista Hotel. It has both indoor and outdoor seating. You can sit under the starry sky and enjoy drinks till late at night. They serve nice seafood which are available ala-carte and barbecued. A resident live band plays music and adds to the overall ambience of the bar. Many locals patronize the place. 
Open Hours: 12noon till late. 
Address: Bella Vista Resort, Persiaran Mutiara, Dagangan Kelana Mas, 07000 Kuah  
Phone: +604 966 2800  
On every Wednesday and Saturday, a local night market sets up in Kuah town. It's like a country market where many local vendors and villagers set up stalls selling all kinds of small items and Malay food. You will find many locals and expats thronging the place for cheap take away food and also to have a friendly chat with each other. It's a great place to spend an evening and get a feel of the local vibe. The food is cheap and great as well. 
Related Articles
Visitors' Reviews/Comments
Share your experience.