Langkawi Duty Free Shopping
Since the time in 1987 when Langkawi acquired the duty free status, tourists from other parts of Malaysia and overseas countries have been pouring in to Langkawi. Where else will you find an island destination which offers beautiful sandy beaches, turquoise blue waters, lovely scenery and all that coupled with opportunities for great duty free shopping?? 
There are couple of things to note while doing duty free shopping in Langkawi. First, although Langkawi is a duty free island, all stores or shopping centers do not offer items at duty free prices. There are designated stores and shopping centers for that, but there are plenty of such stores & shopping centers in the island. While most of them are located in Kuah, some of them are also available in other places of the island. If you are serious about doing duty free shopping, you should plan a visit to Kuah Town for at least half a day. 
Jetty Point Shopping Center, Kuah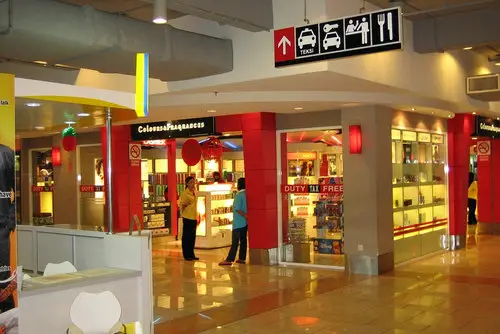 Photo: Khalzuri Yazid, flcikr, cc by-sa 2.0 
Second, not all duty free stores are cheap. Some shopping centers like the Jetty Point Shopping Complex located near the Kuah Jetty offers items at prices higher than some others although it is duty free. Similarly at the airport, the prices are comparatively higher than what you get in the town. For some reasons, the basic prices of the items here are kept high. So you will need to carefully choose the shopping centers/stores if you want to buy stuffs cheap. 
One more thing before I dive into what are the best duty free buys and stores in Langkawi. Note that you are allowed to buy duty free stuffs as soon as you land in Langkawi. For example you can buy Alcohol from the airport duty free shops or elsewhere whenever you land, and continue to buy and consume that during your stay in the island (subject to conditions). But how much you can take back home will depend on the customs restrictions in your own home country. 
Popular duty free items in Langkawi
Although there wide range of items available in the island that are offered at duty free prices, the most value for price and the popular ones are limited to few items. And they are: 
Chocolates ... prices are about 30-40% less compared to Kuala Lumpur and you will be spoiled looking at the varieties. Tip: Do check out for expiry dates. Sometimes very lucrative offers are given to clear off ones that are reaching shelf life. You can sometimes get offers like 'Buy 2 get 1 free', but check for dates. 
Inside Langkawi Saga Duty Free Mall, Kuah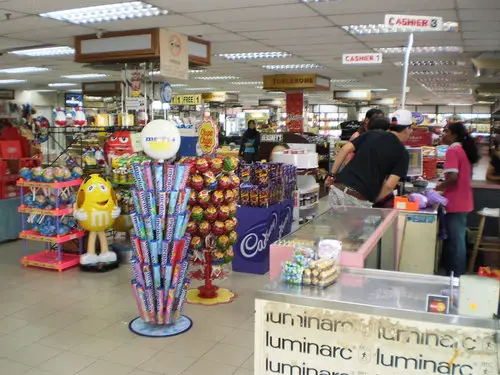 Liquor, Wine & Beer ... they are really cheap here. Tip: While buying liquor, if you pay in cash instead of credit card, many duty free stores would offer 10-12% discount on the printed price. So do check at the counter before paying. 
Cigarettes & Cigars ... much cheaper than in Kuala Lumpur. But don't buy from Langkawi airport. 
Perfumes of various brands. At some places you will get a range of designer fragrances from an array of brands. Lot cheaper than Kuala Lumpur. 
Cookingware & Cutlery items like pots, pans, cups & dishes etc. There is a wide array of brands Corelle, Luminarc, CoringWare, Visions, Pyrex, Acropal and La Gourmet and lot more. At some places you will find them really cheap. 
Bags & Suitcases ... if you plan to do lots of shopping in Langkawi and want to bring back lots of stuff back home, then it's a good idea to buy the extra luggage or suitcases in Langkawi.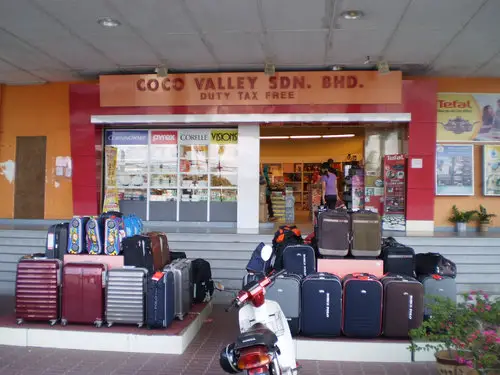 Some may be fake brands (like Polo etc), but they are still good and lasting, and very cheap. But you get genuine brands too at discounted prices. 
Sport shoes & wears ... lots of great brands like Nike & Adidas with great discounts! 
There are many other items like spa products, confectioneries, cameras & accessories, cosmetics, watches & electronics that are available in many different stores scattered across the town. As you take a walk around the town center, you will find them in plenty. 
Note that while entering the island, you can bring in almost anything and of any amount without paying duty or sales tax (except for some specified items like rubber, marble, anchovies and petroleum products). This is because Langkawi enjoys the Duty Free status. 
But there is really no need to bring stuff in. There are plenty of duty free shops around the island including at the airport where all these are available at a reasonably cheap prices. For consumption in the island, you can buy duty free items such as liquor, tobacco, perfume, cosmetics etc immediately after landing or entering Langkawi. 
But you can not of course carry unlimited stuff back home. How much you can take back home will depend on the customs duty regulations of your home country. 
Update August 2018: Prime Minister Tun Dr Mahathir Mohamad declared that tourists in Langkawi can now purchase duty free goods for a value of up to RM1,000 (previously this limit was RM500). However items such as liquor and cigarettes will follow guidelines as mentioned below. 
Limits on Duty Free Alcohol and Tobacco
In November 2016 the Customs Department introduced a new regulation in Langkawi that visitors could purchase up to 5 litters of liquor, 3 cases of beer and 3 cartons of cigarettes per month, and this too is subject to the condition that one stays in the island minimum for 48 hours. And of course one would have to be above 18 years of age. 
(Exception: You can purchase duty free alcohol in Langkawi if on a cruise that docks for less than 48 hours. Cruise ship holds your purchases until you leave the ship). 
The rule also stipulated that in order to take liquor and cigarettes out of Langkawi, one would need to purchase them only from the duty free stores at the airport and Jetty Point complex at Kuah, and not from any other store in the island. However as of now, this last condition seems to have been reverted because of the pressures from local business community. 
So you can now buy up to 5 liters of alcohol from any duty free store in Langkawi (there are 56 of them in Langkawi including one at the airport and one at Jetty Point). You must show your passport or MyKad ID card (in case of Malaysians) at the time of purchase. 
If you are travelling out of Langkawi to your home country or any other country... then how much of that 5 liter you can take back is determined by the duty free allowance set by your home country or the country you are visiting next. For example, India has a duty free allowance limit of up to 2 liters of alcohol and 100 cigarettes per person which you can carry back to India without paying any duty... any additional amount would attract customs duty in India. 
If you are leaving Langkawi to another place within Malaysia (for example Kuala Lumpur), then you can take up to 1liter of alcohol per person because that is the duty free allowance of Malaysia. 
However, if you are only transiting through KL airport to another country, the duty free limit of the destination country would apply and not of Malaysia. 
Update April 2019: Effective March 27, 2019 a new referendum has been passed and the restriction of purchasing alcohol and tobacco in Langkawi has been withdrawn... which means that now you can buy unlimited alcohol and tobacco in Langkawi from any of its 56 duty free stores and consume it in the island, and there is no need to show your MyKad ID Card or Passport. However the earlier restriction of taking alcohol and tobacco out of the island still applies. 
Duty Free Shopping in Kuah
Kuah is the capital of Langkawi and the major commercial hub. The main concentration of the duty free shops are in Kuah Town. There are about 20 shops and shopping complexes in the town that offer duty free items. They are all mostly within walking distances except for few. You will get all kinds of items here duty free including liquor & wine, tobacco, fragrances, chocolates, luggage & bags, clothes, kitchenware and lot more. 
Shops lined up in Kuah Town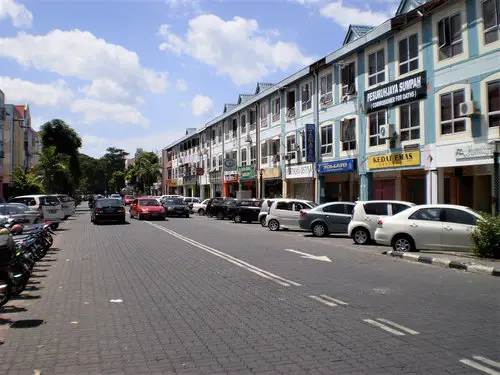 While there are large shopping centers in Kuah, there are also smaller independent stores selling specialized items like perfumes, spa products, dried fish, confectioneries etc.  
Check out
Shopping in Kua
to know about the top duty free stores and the shopping centers in Kuah town along with their top offerings, locations and contacts. 
Duty Free Shopping in Pantai Cenang
Pantai Cenang being the tourist hot spot, there are few duty free shopping centers that have come up in the area. If you are staying in Pantai Cenang and not to keen to take a taxi and head for Kuah town, then you will still be able to do some good duty free shopping here. Some items that you will get at great prices includes tobacco, liquor, chocolates, perfumes, luggage bags, select electronic goods etc.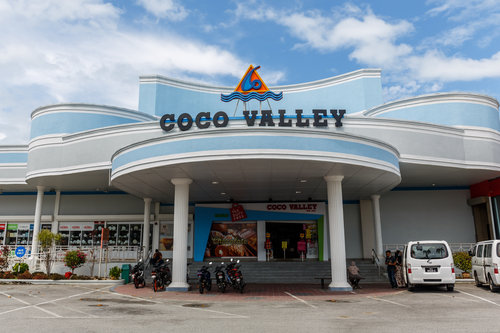 Photo: Tan Wen Sen, Shutterstock 
Duty Free Shopping at Langkawi Airport
If you did not find time for shopping while vacationing in Langkawi, you will have your last chances to get duty free items at the airport, if of course you are leaving the island by air. While arriving, you can also do your shopping at the airport after having landed. And the best part is, if you are already staying in the island, you always have free access to the duty free shopping hall of the Langkawi Airport.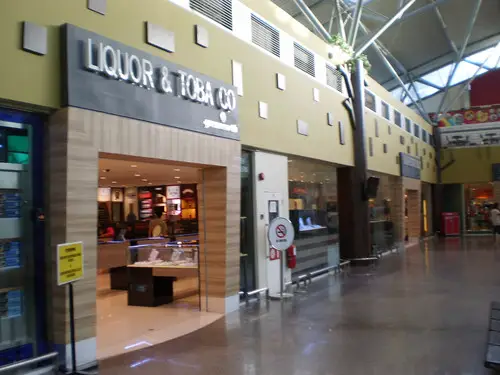 You can buy many great gift & souvenir items from here including the plaster of Paris made models of the reddish brown eagles of different shapes & sizes, key rings etc. There are several shops selling cosmetics, perfumes, sunglasses, clothes & T-Shirts from various brands, liquor & tobacco and variety of other stuff. 
Related Articles
Visitors' Reviews/Comments
Nick (Agust 2022) 
Hi there, I'm gonna visit Langkawi in this September but the problem is I'm not 100 percent sure either I can bring back the alcohol that is bought duty free shop inside Langkawi, not at the airport of Langkawi, to my country Japan. 
Although I know there's restriction how much I can bring back to my country, there's  almost no article explaining either we can take alcohol bought the duty free shops inside Langkawi, your explanation is appreciated very much. With best regards from Japan. 
Raj (langkawi-insight.com) August 2022 
Hello, You can bring back alcohol purchased in any duty-free shops on Langkawi island only in your checked-in baggage, you can not hand carry that unless you purchase it at the airport. 
Pat (December 2020) 
Hi, I am staying in Langkawi more than 48 hours. Just want to find out if you know about carry on luggage with duty free liquor is allowed? I am flying Air Asia to Penang. Thanks. 
Raj (langkawi-insight.com) December 2020 
Hi, Yes, it's allowed if you purchase the duty-free liquor at the airport. Sometimes they deliver the stuff to you at the flight and don't let you hand carry it through immigration/customs. 
Kevin (October 2020) 
If I buy Duty free Wines from Duty Free Shops inside Langkawi and not in the Airport, Can I self carry them into my Flight or Plane? Not Checking it into my Suitcase. Thanks 
Raj (langkawi-insight.com) October 2020 
No, you can't. You need to keep that into your checked-in baggage. If you want to hand carry, you need to buy the liquor from the airport's dutyfree store. 
Yip (October 2020) 
If I want to bring back more than 1 litre of alcohol to KL from Langkawi, can I just pay tax on the excess? How much is tax? Am flying into Subang airport KL. Appreciate your feedback. 
Raj (langkawi-insight.com) October 2020 
Yes, you can bring excess over the dutyfree limit of 1-litre of alcohol by paying duty/tax on the extra amount. You should declare the excess. The tax applicable for Malaysia for excess alcohol is 30% of the purchase value, so keep the receipt. 
Jordan wfk (August 2020) 
Hi, I am currently on outstation posting in Langkawi and I shall be back to KL once a month. So my question is, can I buy liquor and take it back to KL by flight? I am staying in company rented house and the company is registered in KL. 
Raj (langkawi-insight.com) August 2020 
Yes, as per duty-free limits of Malaysia, you can take back one liter of alcohol at a time. 
Nur (June 2020) 
Hello, If I want to make day trip to Langkawi (catch the earliest morning flight to Langkawi and the latest night flight out of Langkawi), will I be levied tax/duty on items that I buy from the duty free shops there? What if my purchases value does not exceed RM1000? I'm thinking to buy chocolates and kitchen items there. Thanks in advance. 
Raj (langkawi-insight.com) June 2020 
Hello, yes you can buy such duty-free items and bring back without paying duty provided the purchases are limited to RM1000. The minimum 48-hours limit is set for duty-free liquor and tobacco, and not for other items. 
Hitoka Achumi (November 2019) 
Hi Raj. Your blog has been very helpful and I'm having a great time here in Langkawi, thanks to your tips and informations! I have a question regarding liquor and perfume. I'm an Indian citizen. Will be flying back to Kuala Lumpur (4days stay) and return to India from KL. I wanted to know how much liquor I can bring from Langkawi to Kuala Lumpur? Thank you 
Raj (langkawi-insight.com) November 2019 
Hi, duty free limit within Malaysia for alcohol is 1 Liter and that's all what you can bring back to KL officially without declaring or paying duties. 
Ivan (September 2019) 
Hi, we are planning to go to Langkawi by car and taking Jetty in Alor Setar. We are planning to spend in Langkawi about 1 week and would like to bring alcohol and chocolate back to KL as we are working in KL, btw we are expats. So I'm just curious how many liters of Alcohol and how many kilo of Chocolate we (2 of us) can bring back if we are planning to go by car from KL to Langkawi and back? Please advise. 
Raj (langkawi-insight.com) September 2019 
Hi, the first guideline to remember is that you can purchase up to 1,000rm worth of duty free stuff per person while in Langkawi (carry your passport which is used to track duty free purchases). Officially Malaysia's duty free alcohol limit is 1 litre per person, so two of you can take back 2 litres. There is no such limits set for chocolates as long as you keep your total purchase of duty free stuffs within 1,000rm per person. 
Joshua Madhukar (August 2019) 
Is 48 hrs stay in Langkawi required to carry duty free liquor out of the island. I'll be landing in Langkawi on 02 Aug around 0930 pm and depart Langkawi on 05 Aug at 0900 hrs morning. My query is should I buy duty free alcohol immediately after landing on 02 Aug or if I buy from a duty free shop in town on 04 Aug, will I be allowed to carry it out of the island. Thanks. 
Raj (langkawi-insight.com) August 2019 
You can buy anytime during your stay in Langkawi. It's about stay time in the island and not the time past after you buy the alcohol. 
Santanu  Nag (July 2019) 
1. You have noted that shops usually prefer cash and offer 10-12% discount on cash purchase. Do they treat cash cards as cash and offer similar discount? 2. What do they prefer : Ringgit or USD ?  I am visiting lankawi in August , I shall be carrying $ cash card and Ringgit by way of cash. Your blog has been very useful for a first time traveller like me. Thank you very much. 
Raj (langkawi-insight.com) July 2019 
Cash card won't be treated as cash and may not be accepted in many retail outlets. They prefer ringgit but several of them can also accept US$ although they will work the conversion in their favor. 
Kavita (February 2019) 
Hi, I read your post and noted the requirement of a minimum 48 hours stay in Langkawi to buy duty free alcohol back to KL. We are staying in Langkawi for 3 nights then leaving for Koh Lipe for 3 nights before returning to Langkawi for 1 night. I wonder if I could purchase my alcohol on the second leg of my journey (1 night) as I have already stayed in Langkawi > 48 hours on the first leg? Would you have any advice on this? 
Raj (langkawi-insight.com) February 2019 
Hi, technically you are not eligible to bring alcohol from Langkawi on your second visit, because eligibility is considered based on your current visit and not your previous visits. 
Phuong Anh (January 2019) 
Can I ask if we can pay by RM at the duty free shops in Langkawi? 
Raj (langkawi-insight.com) January 2019 
Yes, of course. In fact RM is preferred. 
Masha (November 2018) 
I am going to visit Langkawi for 4days 3nights, from what I understood from ur explanation, does it mean that I can bring 5litres of alcohol back to KL? 
Raj (langkawi-insight.com) November 2018 
No, you can not. It is clearly mentioned that the amount is finally determined by the limit set by your home country where you are carrying the alcohol back to (in this case KL, Malaysia) . You can take back up to 1 liter while nationals of some other countries might be able to take back more to a maximum of 5 liters. 
Graeme (September 2018) 
Visiting Langkawi for a few hours on a cruise ship next month. An Australian, traveling to Australia where the duty free allowance is 2.25 litres per adult.  From what I have read, unless you are in Langkawi for more than 48 hours you are ineligible for the duty free alcohol concessions regardless of what your future destination is. Is this correct? 
Raj (langkawi-insight.com) September 2018 
Yes, the law it seems is directed to those who could take advantage of the duty free status of Langkawi and engage in trafficking liquors out of the island. Unfortunately tourists on a short term visits too come under this law. You can check with the customs at cruise port if exceptions can be made. 
Alex (August 2018) 
Hi, I'm Malaysian planning go Langkawi by Ferry from Alor Setar, would like to confirm by only by staying there min 24 hours only entitle me to bring alcohol and cigarettes out from the island ? What's the maximum unit of alcohol and cigarettes can be bring out ? 
Raj (langkawi-insight.com) August 2018 
Hi, you can bring 1 liter of alcohol and up to 200 cigarettes from Langkawi to KL without paying any duty (that's the duty free limit of Malaysia). However a minimum stay of 48 hours in Langkawi is required. So in your case, customs may charge applicable duty. 
Michelle (June 2018) 
1. May I know whether I'm allowed to buy alcohol and cigarettes from Langkawi and bring them over to Koh Lipe? If yes, what quantity is allowed? 2. When I leave Langkawi back to KL, how many hour do I need to be in Langkawi to purchase the duty free items? 3. I heard there are new regulation for purchase of alcohol/cigarettes in Langkawi, limited to a certain amount per person per day. What are the quantities? Thank you!! 
Raj (langkawi-insight.com) June 2018 
You can take alcohol and cigarettes to Koh Lipe and the limit to that is set by Thailand customs (which is 1 liter of alcohol and 200 cigarettes duty free). You can purchase alcohol in Langkawi as soon as you are there, but in order to carry it out of the island, you need to be in Langkawi for minimum 48 hours. You can purchase up to 5 liters of alcohol and 3 cartons of cigarettes per month ... you need to show your passport or mykad id card while purchasing.