Island Hopping Tour Langkawi
About Island Hopping Tour
Island Hopping is probably the most popular boat tour in Langkawi and also one of the cheapest ones. As the name of the tour suggests, you will hop between islands on a boat. The first tour usually starts at 9.00 in the morning and lasts for 3.5 to 4 hours including hotel transfers. Tours also take place in the afternoon. Because of its popularity, this tour is offered by virtually all tour operators, travel stalls and hotels in the island.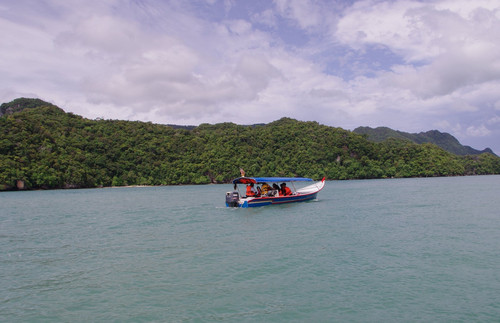 Photo: Emran Kassim, flickr, cc by 2.0 
Island Hopping Boat Tour covers spots that include visit to two wonderful scenic islands to the south of the main island of Langkawi and and eagle feeding in a water area near another island where you can watch the marvelous spectacle of many eagles swooping down from the sky to catch their prey on the water. 
The two islands offer plenty of activities including swimming in scenic fresh water lake, paddle boating, snorkeling from soft sandy beach, lounging and sunbathing, or just relaxing and enjoying the stunning scenery all around. The boat tours usually start from Teluk Baru Jetty located at the southern part of Pantai Tengah and near Resorts World or Star Cruise Jetty. So if you are staying at Pantai Tengah or Pantain Cenang areas, then taking this tour would be very convenient. 
There are large and small boats. The larger ones can accommodate some 20 persons and the smaller ones 8-10. The tour operators choose the boats according to the demand. 
Teluk Baru Jetty and the Tour Boats, Langkawi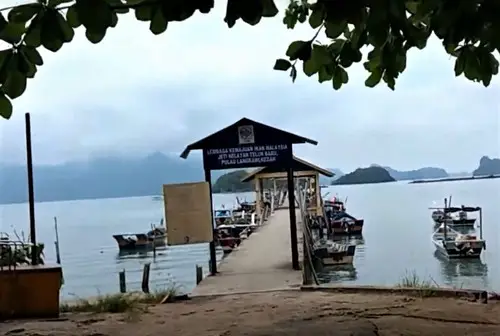 During high tourist season, you may find hundreds of tourists waiting at the jetty for their boats. All the Island Hopping tours mostly begin around the same time. You should apply and carry enough sun block lotion to avoid sun burns and also carry bottles of drinking water. 
Below are the spots covered under the Island Hopping Boat Tour of Langkawi (the sequence may be reversed by some operators): 
Pulau Dayang Bunting
This is the first island you will be visiting. It takes about 20 minutes to reach this fascinating island from Teluk Baru jetty. A total of 1 hour is given to you to spend here. This includes 10 to 12 minutes one-way walk up the long flight of stairs to go up the mountain and down from the other side to reach the wonderful Lake of the Pregnant Woman, and same way back. So come prepared for this nice trek and carry water bottles.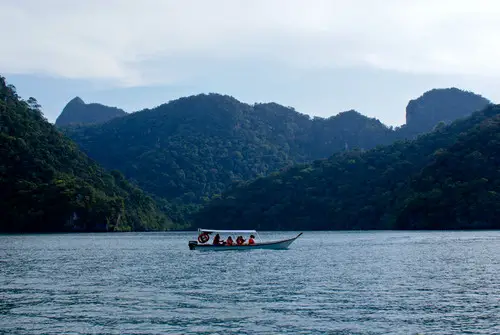 Photo: Metku, flickr, cc by 2.0 
This is a wonderful scenic fresh water lake surrounded by mountains that are covered with dense forests. The lake was formed when a large underwater cave collapsed many years back. You will also see large limestone formations. 
Pulau Dayang Bunting is part of UNESCO World Heritage Geoparks. Here you can indulge into several activities like swimming at the lake, solar paddle boating (at extra charge), natural catfish spa at designated areas to clean up dead cells from your feet, walk through the forest and see the Miracle Border where the lake is separated from the sea by a thin rocky ridge, or just lounge on the wooden planks next to the lake.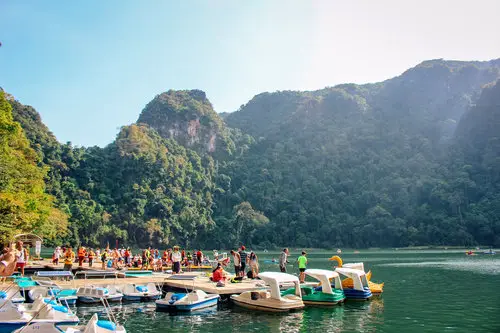 Pulau Dayang Bunting & The Lake. Photo: cktravels, shutterstock 
From the lake if you look at the mountains at the fringes, you can clearly see an outline of a woman lying on her back who is 6-7 months pregnant, and thus the name of the lake. 
There are paddle boats available here. Each has a capacity of 2 to 3 persons. If you do not plan to swim, then this is a good way of going around the lake and sightseeing. Paddle boat ride costs extra. 
Having enjoyed Dayang Bunting island and the lake for about 40 minutes, you will walk back to the island jetty to get back to your boat. The next stop is the island Pulau Singa Besar. 
Pulau Singa Besar
You come to this island to watch a fantastic natural show - the Eagle Feeding. The name of the island means "Island of Big Lions", although there are no lions here. The name was probably given for its shape. The water area here is surrounded by lush forests. You actually do not get off but remain seated on the boat while watching this spectacle. If you can come in the morning, you can see some 300 to 350 golden brown eagles swooping down from the sky and feeding on fish from the water area here. 
Red-Brown Eagle Feeding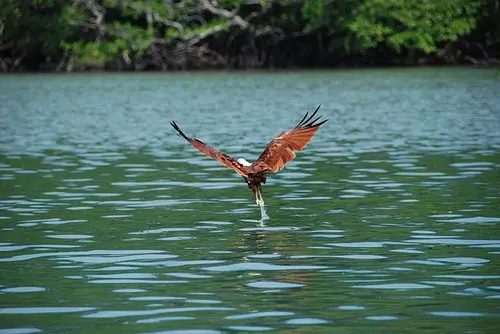 Photo: jetsun, cc by-sa 3.0 
When you come here as part of the Island Hopping tour, the boatman will stop the engine and throw some chicken pieces out into the water to invite the eagles. And in no time you will see eagles diving down just next to you and clawing up the chicken pieces and eating them as they soar into the sky. 
White-bellied eagle feeding, Langkawi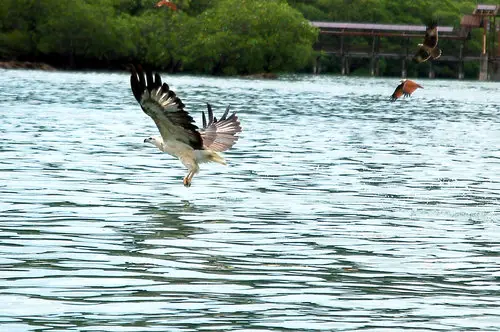 Photo: amrufm, flickr, cc by 2.0 
We saw some 50 to 60 eagles hovering around and diving for food. You see the sight for about 20 minutes before proceeding to the next stop - Pulau Beras Basah. 
Pulau Beras Basah
This island is the last stop in the tour. The name literally means "Island of wet rice". This is a picture perfect island with far reaching views of the sea and wonderful soft white sands. It's a great place for the beach lovers and swimmers. There is a stall that offers banana boating, jet skis, Parasailing etc (usually during the high season). You can also buy beer and some snacks. 
Jetty & Boats at Pulau Beras Basah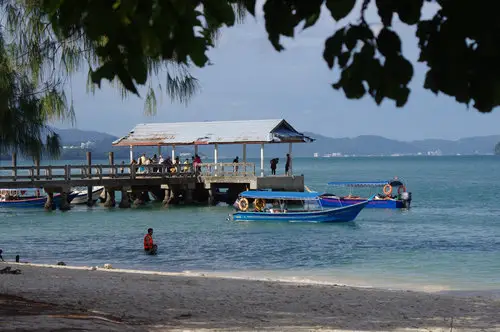 Photo: amrufm, flickr, cc by 2.0  
Get your snorkel gears if you love snorkeling. This is an excellent snorkeling spot and you will get to see lots of fish and colorful marine life. Sometimes due to the passing boats the water gets murky and the water visibility could drop to a meter or so. This is when snorkeling won't be ideal. 
Beach at Pulau Beras Basah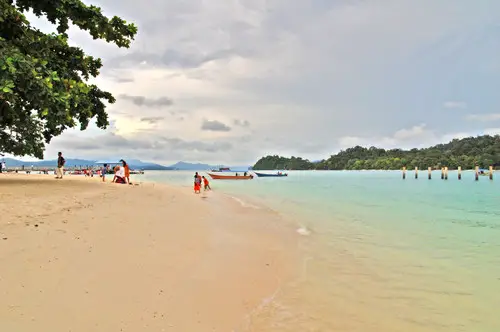 Photo: amrufm, flickr, cc by 2.0  
The island is an excellent place to relax. You will get about one hour here. So after a tiring day under scorching sun, if you just want to lounge and relax, find one of the many shady trees and enjoy the views as the gentle breeze flows. Otherwise take a stroll along the old pier at the island. 
Boat anchored at Pulau Beras Basah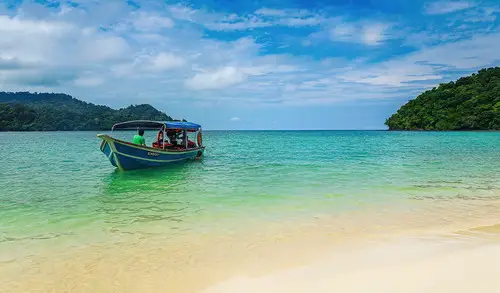 Photo: hams Nocete, flickr, cc by-sa 2.0 
I would suggest that you bring your own food and beach blanket if you plan to make a picnic here. Note that there are plenty of monkeys around who will be constantly targeting your food. So be careful and do not go near them or instigate them in any way. The monkeys often pull the rubbish out of the beans and make the area quite dirty. Due to heavy tourist flow, the island and the beach can get quite crowded at times. 
Monkey at Pulau Beras Basah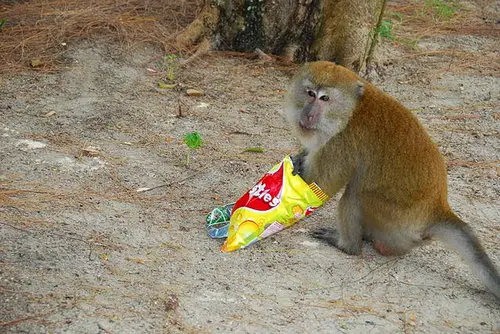 Photo: jetsun, cc by-sa 3.0 
After spending about an hour at Pulau Beras Basah, you will head back to the Teluk Baru Jetty. If you had booked the tour through an operator or hotel, then the vehicle should be waiting at Teluk Baru car park to drop you back to your hotel. Otherwise, you need to take a taxi. 
Island Hopping Tour Rates and How to Book
The rate for the Island Hopping tour varies from RM45 to RM55 per person depending on the season and also the tour operator. It is usually a shared group tour. If you book through your hotel, the rates are likely to be higher.  
There are also travel stalls in Pantai Cenang area offering Island Hopping Boat Tours. You will find plenty of them along the road Jalan Pantai Cenang. Usually hotel transfers (pickup and drop) in a mini van are included as part of the rate, provided you are put up in a nearby hotel like in Pantai Tengah or Cenang. But do verify this before booking. 
Alternatively you can directly go down to Teluk Baru Jetty (at Pantai Tengah) by a taxi. Next to the car park, there is a gazebo (Tourist Information Counter) where you can book the Island Hopping tour. If you are in a group of 8 or more, you can book a full boat and the per person rate would turn out to be cheaper. You need to then walk down to the Teluk Baru Jetty (a short distance away) and get onto the boat. You can also call the counter at Teluk Baru and make a booking in advance (Phone: 012-5735033, 4350274). 
Related Articles
Visitors' Reviews/Comments
Narendra Arora (May 2018) 
The attitude of boat company women at teluk baru for Island Hopping tour was not friendly and a bit rude. It would have been better to book the tour at Cenang instead of going there directly. 
Ayien Lin (April 2016) 
Hi, I'm going there at the end of July with group of 9 people... is it possible if we want just only one private boat for our group for island hoping? Thank you 
Raj (langkawi-insight.com, April 2016) 
Hi, yes possible. Just ask your tour operator to arrange one, or go down to Teluk Baru jetty and charter a boat. 
Vinod (March 2016) 
Hello sir, we are going to Langkawi on april 11th. 4 adults, 2 kids of 7 yrs and infant.. which is the best way or island hopping.. will they provide snorkelling gears and will there be assistants? 
Raj (langkawi-insight.com, March 2016) 
You need to carry your own snorkel gears if you are availing a standard island hopping tour from an operator. You can either go through one of the plenty operators in Pantai Cenang (they have stalls on the road), or go down to Teluk Baru jetty in Pantai Tengah and hop into a boat that operate on a sharing basis. There are usually no guides or assistants. Boat operator will drop you at the islands and wait to pick you up. You need to take care of your kids. 
Lin (October 2015) 
Hi Raj, I will be arriving at Langkawi airport at 830am and would like to know if there are any island hopping tours starting at 930am so that I can get to jetty on time from airport using taxi. If not, are there many island-hopping tours in the afternoon? And if yes, what time do the afternoon tours start and which jetty should I go to? I only have 1.5 days at Langkawi so hope to do island hopping tour, skybridge and Kuah town visit on day 1 and mangrove tour on the next day, before flying off at night. Please help. Thank you in advance. 
Raj (langkawi-insight.com, October 2015) 
Hi, Island Hopping boat tours leave from the Teluk Baru ferry Jetty at Pantai Tengah. There are no fixed times. The boats keep leaving from the Jetty usually from 9am onwards during the day time. So go down to the Jetty and either take a full boat or join a group. 
Hani (August 2015) 
Hello. My friends and I in a group of 10 people are going to Langkawi in early September. I would like to inquire if we can charter 1 boat on Saturday, 5th September 2015. I am asking because I do not know the maximum person per boat. Appreciate your reply soon. Thanks. 
Raj (langkawi-insight.com, August 2015) 
If you are looking for motorized boats for island hopping, mangrove tours etc, some boats can accommodate up to 10 persons. For sailing yachts, capacity can vary from 12 to 65 (or more) depending on size. You can charter a motorized boat or even a sailing yacht by the hour. 
Rinku Bali (August 2014) 
Dear Raj, You are a wonderful reservoir of knowledge. Do let me know if there is a possibility of doing the island hopping tour in the evening. This is because I have only 1.5 days in Langkawi and I would like to enjoy my hotel's beach in the morning. 
Raj (langkawi-insight.com, August 2014) 
Nope! Island Hopping takes place only during the day time. You can't get into the islands at night. 
Siew Guat (March 2014) 
Hi, We are interested in the Island Hopping Tour. However, we have some queries below: 
1) I'm bringing my parents to Langkawi,for holidays in mid March, they are about 70 - 75 years old & walk very slowly. My dad's leg easily get tired and needs wheelchair. Are they suitable for Island Hopping Tour? 
2)  We are a group of 6 adults, will the tour operator cater 1 boat by ourselves and how big is the boat? 
3) Where is the jetty where we depart for the Island Hopping Tour? 
4) Any recommendation on the Island Hopping tour operator and how much they charge per pax? 
5) Do we need to book the Island Hopping Tour 1 day in advance? 
We would appreciate your respond soonest. Thank You. 
Raj (langkawi-insight.com, March 2014) 
Hi, In my view you should not try the island hopping tour with your parents who have mobility problems. You can reserve a boat for your own group. The jetty is in Pantai Tengah near Awana Porto Malai Resorts. You need not book through a tour operator, and rather take a taxi, go down to the jetty and directly take a boat. Alternatively, you may book through an operator, but ensure they include hotel transfers. 
Ryan Tan (May 2013) 
Dear Sir, my wife and I would be arriving to Langkawi on the morning of May 7th Tuesday, via the cruise ship Costa Atlantica. We hope to join in the morning 9am shared package tour for island hopping, and might need arrangements (transportation) to be picked up and dropped off at the port. Can you tell me your recommendations on which tour operators can I engage in? 
Raj (langkawi-insight.com, May 2013) 
Island Hopping Tour is the most common and popular boat tours in Langkawi. There are lots of tour operators and agents along Pantai Cenang and Tengah who offer this tour at a per person rate of RM 35-50. You don't need to book this tour in advance. If you go through a formal and well established operator, it can easily cost you 4-5 times more. Your cruise ship is likely to dock at the Star Cruise Jetty near south western end of the island. All these island hopping boat tours leave from Teluk Baru Jetty which is located nearby. You can actually walk down to the jetty from your cruise terminal and hop into a boat. Alternatively take a short taxi ride to the jetty. There will be large number of boats there and you can't miss it. 
But if you are willing to pay more and get lot more comfort, food, transfers and personal care as you do island hopping, you can consider
Moondance Cruises
operated by Bill & Angelika. Their "Mystical Island Tours 3 in 1" offers swimming and fishing along with island hopping. Visit
Top Tour Boat Operators
to know about their offerings & contact info.