Langkawi Area Guide
This section will help you understand the main areas or places of interest in Langkawi and the highlights in each area including attractions, accommodations, dining, activities etc. If you are not familiar with the way the island and its landmarks are laid out, this section will guide you to understand that. 
It will help you decide on the place (i.e. the area) where you may like to stay depending on all its offerings and help you plan & explore the island during your vacation.  
But remember, Langkawi is not a single island. Although the main island (Pulau Langkawi) is where most tourists stay for vacationing, there are 98 other tiny islands in the Andaman sea that are also part of Langkawi. Only couple of those are inhabited and few others have tourist attractions and are reachable by boat. 
Here is a map of Langkawi that identifies the main areas. The
Langkawi Airport
is located in Padang Matsirat and the main
Ferry Jetty
is in Kuah town. Note that the area of the main island (Pulau Langkawi) which is the large white block on the map is only 370 square kilometers. It does not take more than 40 minutes to reach one end of the island from another by car. Click an area name on the map for details about the place or scroll down to get a synopsis of the place before you start exploring. 
Langkawi Map - Click an area to explore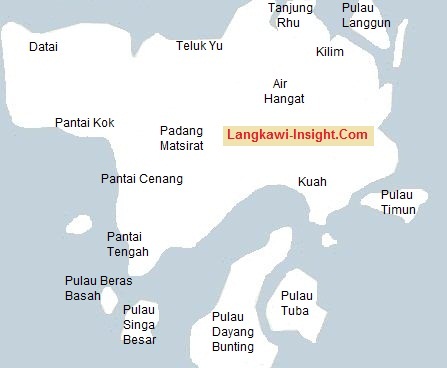 This is the Cenang beach area located on the western coast line of Langkawi and is the most popular tourist place in the island. Pantai Cenang Beach is a long curved stretch of white sands in a picturesque setting with emerald blue waters and overlooking several tiny islands and reefs. So expectedly this area has high density of hotels & resorts, many of which are lined up along the beach. Many water sport activities are offered here by the operators. The beach gets quite crowded during the high season. The area is also full of restaurants and shops of all types mostly located along Jalan Pantai Cenang road. 
Another beautiful beach area on the western coast line and just south of Pantai Cenang. The beach here is not as crowded as in Cenang. There are several good hotels and resorts here, as well as nice restaurants, but not as many shops as in Pantai Cenang area. The Cenang shops and restaurants are also mostly in walking distance from here. 
This is another great beach area on the western coast and north of Pantai Cenang. While there is a public beach here, this area is well known for a its great luxury resorts with private beaches. Several nice shops and restaurants are located at the Pardana Quay complex in Telaga harbor area and also in nearby Oriental Village. While this area is overall a little secluded, there are some great tourist attractions here including the famous Cable Car and Seven Wells waterfalls. There are no hotels or restaurants right on the public beach area though. 
This is the capital of Langkawi and hub of duty free shopping in the island. There are several duty free shopping centers here. Although several attractions here are on the waterfront, there is no beach in Kuah. The area is full of many great hotels and restaurants. The main ferry jetty is located in Kuah which is connected by waterway to Kuala Kedah and Kuala Perlis of western peninsular Malaysia and several other nearby islands including Penang. 
This is where the Langkawi International Airport is located. Although there is no beach here, the place has several great tourist attractions like tombs, batik art village, snake sanctuary etc as well as nice hotels and restaurants. It is convenient if you plan to stay close to the airport or some attractions of your choice. 
This area is located at the north western end of the main island and is one of the far off areas and desolate. This place is flanked with a few upscale luxury resorts with private beach access and great amenities. If you are planning for a vacation in exclusive luxury and romantic seclusion, this may be the place for you. There are also a few tourist attractions nearby including public beach, waterfalls,
Crocodile Adventureland
etc. 
This area is on the northern shoreline of Langkawi and is isolated from the crowd. Other than several beautiful public beaches, the area also has a few tourist attractions including Craft Complex, Glass Blowing Studio etc. There are couple of great luxury resorts here with private beaches, one of them ranked as number#1. There are not many public eateries here neither any proper shopping areas. A great attraction here is the boat tour for Kilim Geopark & Mangroves that you can avail from Tanjung Rhu beach area. 
This area is well know for some of the greatest tourist attractions like the Air Hangat Village with natural hot spring, boat tours for Kilim Geopark, museums, waterfalls, access to Langakwi's highest mountain Gunung Raya offering breathtaking views and more. However, there are not many hotels or restaurants here. 
This is the second largest of all the islands in Langkawi, largest of course being the main island pulay Langkawi. It is located off shore and south of the main island. Tourists visit this island as part of the Island Hopping boat tours offered by many tour operators. It takes only 20 minutes to reach the island by boat. Other than magnificent hillscapes, mangroves and rain forests, this island has a large fresh water lake known as the Lake of the Pregnant Woman which is great for swimming and boating. The island is steeped with legends. 
Visitors' Reviews/Comments
Eva Andersen (August 2018) 
Will visit Langkawi and Penang mid December and would be happy with some advice and suggestions to make my visit great.. Will visit Langkawi first and then stay app a 8-9 days. 
I am a 60+ solo traveller, very active and fit, love hiking, biking, snorkling, kayaking, nature, keen gardener, don't care for food and nightlife at all....too old for dorms and a light sleeper... It is my expression that Langkawi is so small that I can "cover" all the island by bike, foot and public transport....would it be safe on my own? Would it be an idea to stay  in two different places to see as much as possible? Or would one be ok? 
Could you suggest "a base" or maybe two with easy access to "everything" including a beach? And not too busy with "happy" tourists enjoying nightlife.... Hoping for a quick feed back, so that I can get things settled.. Daytours to nearby islands would be of interest as well ..if possible and within a budget. How do I get to Penang from Langkawi? 
Looking forward to a quick feed back so that I can get my visit settled...looking very much forward to it.. 
Raj (langkawi-insight.com) August 2018 
Langkawi is quite safe. If you like to cover the whole of the main island, then Kuah town would be a good location as a base (it is the commercial hub of the island). However there is no public beach nearby. Kuah town would be good for reaching out to the eastern, central and northern parts of Langkawi. 
Pantai Cenang (17kms from Kuah town) would be ideal for exploring the western and southern coast, but that's a typical touristy area and the public beach here is quite crowded. Snorkeling cruises leave from Kuah, and island hopping boat tours from Teluk Baru jetty at Pantai Tengah (quite close to Pantai Cenang). 
For nature tours, treks and kayaking... you would be better off going through an operator like Dev's Adventure Tours or Junglewala. You can get ferry from Kuah Jetty (in Kuah town) for Penang (takes around 2 hours 45 minutes)... check the timings at Langkawi Ferry Services website. 
Joseph (November 2015) 
Dear Raj, Myself, and my family including my wife and 3 children 14 & 12 years old are visiting Langkawi for 2 days 27 & 28th of November. Which area will be good for our stay, which is easy for 2 days sightseeing especially places which children would enjoy and at the same time economical. 
Raj (langkawi-insight.com) November 2015 
Pantai Cenang is the most popular place for tourists. Children love the beach here and all the watersport activities. There are numerous hotels and restaurants here of all types. Cenang is also conveniently located ... airport is about 15 minutes by taxi, Kuah town is about 20 minutes.