Crocodile Adventureland Langkawi
Known locally as Taman Buaya, the erstwhile Crocodile Farm (now renamed as Crocodile Adventureland) is located in Teluk Datai Bay area at the north western end of the island. The entire farm area is spread across some 20 acres of land area out of which about half the area is accessible to tourists and visitors. Remaining is where croc farming takes place. 
The farm is nestled in lush greenery with mountains at the backdrop. You will see one of the largest collections of Malaysian saltwater crocodiles in the farm of different species and sizes numbering over 1000 and comprising of both crocodiles and alligators (it's not easy to differentiate between the two types unless you are knowledgeable in the subject). 
Croc Education Center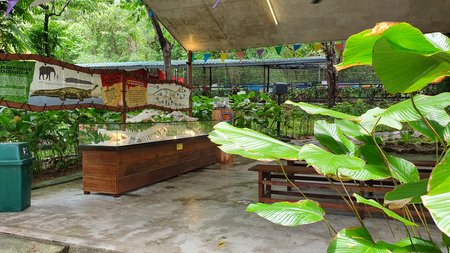 While many crocs have been imported, lots are bred & reproduced in the farm. The entire farm is divided into several sections or concretized ponds. There are placards at each section giving information about the crocodiles in that section. Some of the ponds are quite small and looking at the number of crocs kept there, you may feel a bit sad and wish larger space was given. 
Mating season is between December to January - males are more aggressive at these time fighting for the right to mate with females. Egg laying season is between February to August - female are more aggressive at these time protecting their eggs. 
Sections in the farm
As you enter, the first section (i.e. the Periodical Pond or Juvenile Crocodile Pond) area is where you will find many baby and juvenile crocodiles. Here you will find most of them sleeping with their mouths open or just relaxing. You can purchase pellets and feed the 2-3 year old crocs here. 
Juvenile Crocodile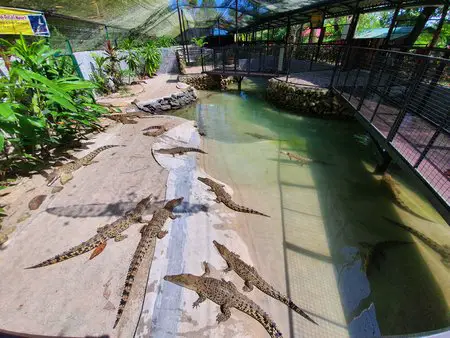 The Species Pond is where both crocodiles and alligators are kept together. A placard here explains how to differentiate between the two. Hooking Pond is an interesting place where you can witness the crocodiles jumping for food. And there are Show Ponds (A and B) where trainers perform stunts with crocodiles. Daily talk show with questions & answers takes place at Crocodile Education Center where you can also have a photo session with a 13ft crocodile. 
Bujang Lang Giant Croc Show (Show Pond A)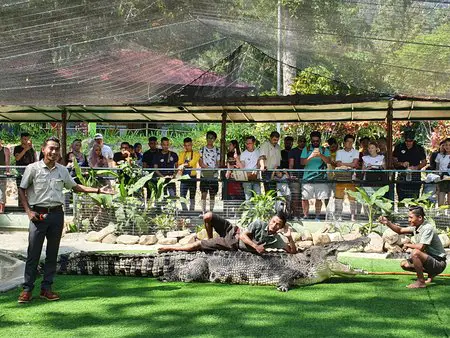 The Bridge Pond is the largest of all and is the most interesting one. There is an wooden bridge with covered roof that goes over the middle of the pond. Lots of large crocs are kept in this pond. As you walk over the bridge, you can see the deadly creatures right below you and some of them even looking up at you. A staff will surely warn you not to lean too much over the railings and take risks. 
Crocodile Feeding
An hourly feeding session takes place at this large Bridge pond. The trained staff would come to the grassy land next to the pond, blow the whistle and all crocodiles would start crawling up and converge towards him. It's some sight when you see him offering fishes on a stick at the large open mouths of the crocs who then snap it with their large jaws between the teeth. If you are with your family and children, they will surely enjoy this.... see the latest updates below. 
Crocodile Stunt Shows
Twice daily stunt shows take place at the Show Pond which probably is the main highlight of Crocodile Farm. While it may look cruel, the fact is most come here to enjoy this show. You will find a trained person wrestle with a large crocodile. Some times two men may even lift a croc. 
Aggressive & Thrilling Wild Croc Show (Show Pond B)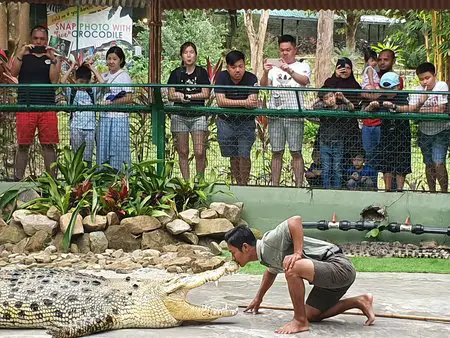 In another stunt, a man would insert his whole hand through the open mouth of the croc. In another show, one will pull the croc around in a circle by the tail. The stunt show lasts for about 20 minutes. 
Other Attractions
Another major attraction in the farm is the large croc known as Bujang Kawi which is said to be one of the largest in the world and weighs some 1,000 pounds. It belongs to a species called Porosus. But the sad part is this croc was born without teeth. Due to this handicap, it is kept in a separate pond area just next to the Bridge Pond. Despite its large size, it is not as aggressive as some of the other ones are. You will find a placard here giving a lot of information about this large crocodile and its species. 
Guinea (species pond)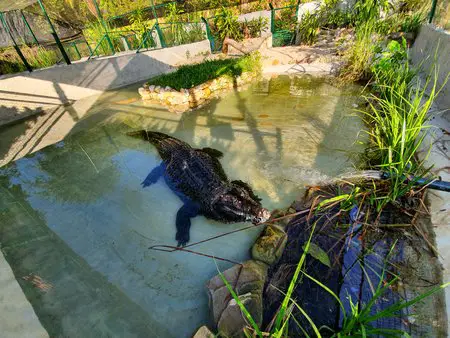 You can experience several other fun activities in the park such as Crocodile Fishing, Crocodile Handling and Tomistoma Pond. 
Visitors handling juvenile croc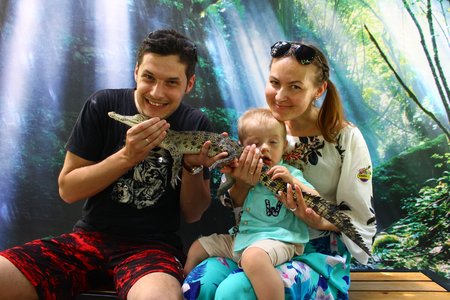 There is also a separate section for the handicapped crocodiles which have been born deformed and require special attention. Some have no tails, and one even has a hump. If you are not too keen, you may avoid this section as it may leave you with a sad feeling. 
Tailless Crocodile in Special Pond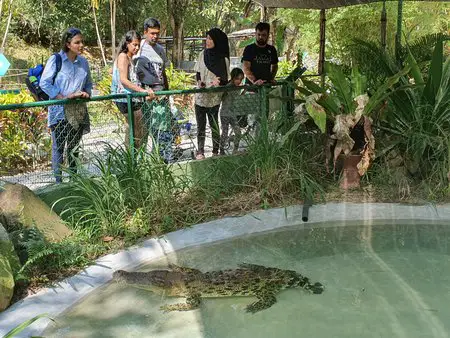 There is an exhibition center which displays pictures of many different types of crocs and their characteristics and also explains their complete life cycle. 
As I mentioned earlier, a large part of the farm is reserved for actual farming and harvesting the creatures. Unfortunate but true that crocodile meat as well as leather products made out of its skin are in high demand. 
Update June 2014 
1. The large toothless crocodile Bujang Kawi is no longer around.  He was "killed" by visitors who throw just about anything at him. Being a crocodile, he ate all that was thrown at him and during post-mortem, the staffs at the farm retrieved 3 tubs full of coins, plastic and even broken glass bottles inside his stomach. Now Bujang Lang, another large crocodile has replaced him for the shows. 
2. The crocodile feeding at the Bridge Pond is no longer carried out by staff walking inside the pond area. The fact is that some of the crocodiles have grown too big and aggressive, it has become very dangerous to do so. Feeding is now done at 2 feeding stations where the staffs stand behind a concrete wall about waist high to feed them chicken and fish. 
Velociraptor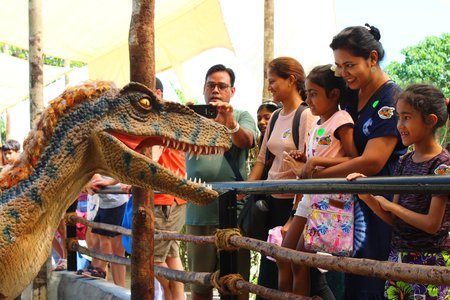 3. Visitors can even feed juvenile crocodiles buy purchasing a RM5/pack pellets sold at the ticketing counters. There are currently 2 juvenile croc feeding ponds and the management is currently working to set up another 2 ponds. The combo tickets include the juvenile croc food. 
4. The croc education center is open daily at 12pm and 3.30pm where there will be a talk show, obviously talking about crocodile and Q&A session. 
Show Timings
Crocodile Show - Bujang Lang (Venue: Show Pond A) - 11.15am, 2.45pm 
Crocodile Education Show (Venue: Show Pond B) - 10am, 3.45pm (also known as Thrilling & Aggressive Wild Croc Show) 
Jumping Crocs (Venue: Show Pond B, or Species Pond or Collosal Pond) - 10.30am, 5.30pm 
Crocodile Feeding (Venue: Bridge Pond) - 11.45am, 1.15pm, 3.15pm 
Dinosaur Encounter: 2pm 
The Legend of Sarcosuchus: 12noon, 4.30pm 
Facilities
There is a car parking area in front of the entrance. There is also a food & beverage kiosk inside. 
Food & Beverage Kiosk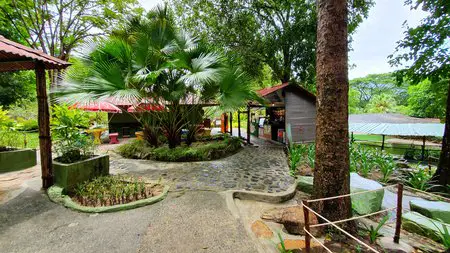 At the Croc Skin Product Shop near the entrance, you will find high quality products such as purses, bags, shoes etc made out of croc skin. They can be very expensive. For example a key chain with leather handle can be around RM150 and a handbag can cost up to RM35,000. 
There is also a Souvenir Shop in the premises. It sells crocodile themed souvenirs such as soft toys, fridge magnet etc. The frozen and dried croc meat together with gall bladder, kidney and eggs are said to have medicinal value in Chinese traditional medicine practice and are available here but the eggs availability are seasonal. 
Tickets
There are several combo tickets depending on the activities that you want to enjoy. The standard ticket (known as Adventure Combo) comprises of Admission, two packets of Juvenile Crocodile Food and you can enjoy the facilities, activities and the entertainment show available during your visit. 
Ticketing Counter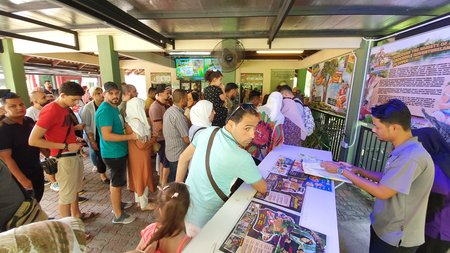 Adventure Combo Ticket Cost: 
Adult: RM30 for Malaysian Adults with Malaysian ID; RM45 for foreign tourist (Adults) 
Child (below 12 years): RM25 for Malaysian child; RM35 for child of a foreign tourist. 
You can purchase all tickets online from the official website: www.crocodileadventureland.com 
Open Hours
Open daily 9am to 6pm. 
Location & Contacts
Crocodile Farm is located in Datai Bay area at the north western end of the island and on the road Jalan Datai. It is at a short distance on the right once you enter Jalan Datai road from Jalan Teluk Yu. It is about 32kms from Kuah town, 7 minutes by car away from Perdana Quay and 10 minutes from Langkawi Cable Car (SkyCab). You can take a taxi or a rented car to come here. However keep the taxi waiting or else you may not get one on your return. 
Address: 
Crocodile Adentureland Langkawi 
Jalan Datai, Langkawi 07000, Malaysia. Phone: (604) 959 2559 
Road Map 
Related Articles
Visitors' Reviews/Comments
Share your experience.