Datai Bay Area Guide, Langkawi
Datai area in Langkawi has been developed for a select exclusive section of tourists. If you want a vacation in a secluded hideaway and in a super luxurious resort spanning across a vast stretch of forested land on a hill slope, and offering private trolley cart rides to its various facilities including one of the prettiest private beaches, then Datai bay area would be ideal. 
Datai area is located at the north western end of the island and faces the northern coast where the
Datai Bay & the Beach
is located. 
There are couple of great luxury resorts here - The Datai and The Andaman, and that's about it. The guests at these resorts are mostly rich Europeans who come here to disconnect from rest of the world and immerse themselves in few days of lifestyle that very few can afford. 
Datai Bay Beach (From The Datai Resort)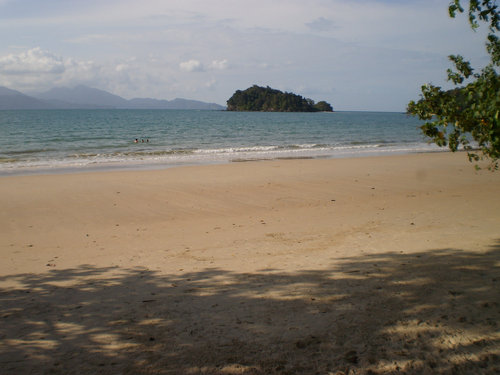 And that includes living in suites with private swimming pools, dining in a classy restaurants set up in a rain forest, and lounging in the sun on exclusive
Datai Beach
with many personalized services. If you are not staying in one of these resorts, you are unlikely to come to this area often, unless of course you plan to explore all corners of the island like me. Taxis charge extra to come to this part of Langkawi as it is considered far by the island standards. 
While there are few attractions nearby like the
Crocodile Adventureland
, Temurun Waterfalls, Tengkorak Beach, and such, one of the greatest attractions here is the rain forest on the mountain slope that stretches all the way down to the coast line. 
You can enter the forest from one of the side roads or trails that leads down from the main road Jalan Datai. You will find many different kinds of birds and small animals here. But be careful that you do not encroach into the private areas of the resorts. Datai Bay Golf Club which is nestled between the bay and the Mat Cincang mountain, is considered one of the top 10 golf courses in the whole of Malaysia. Most other activities like Spa, water sports etc are confined within the resorts. There are no shopping areas nearby. 
Location Map of Datai Area 
Exlopre Datai Bay Area
Check out the following to know more about the place and all its offerings: 
Attractions in Datai area
: There are few in the area including Crocodile Adventureland, waterfalls and couple of great beaches. 
Nightlife in Datai area 
Essentially the Beach Bars in the resorts. 
Related Articles
Visitors' Reviews/Comments
Share your experience.