Top Restaurants in Kuah, Langkawi
You are not likely to visit Kuah only to dine. But you are likely to come to this capital town of Langkawi for several other reasons ... you may be arriving by boat at Kuah Jetty, you may have come for business reasons and staying in Kuah, you may be coming here to visit some of the top attractions of the island, etc etc. 
And then you will end up looking to find a nice dining option. This is exactly the reason why so many restaurants and eateries have come up in Kuah town. The population of both locals and tourists in the area have given rise to restaurants almost of all types including the international fast food outlets like Mc Donalds in Langkawi Fair Mall, KFC next to the Jetty Point and so on. 
Langkawi Fair mall itself has several other upscale and midrange restaurants. While Kuah does not compete for the top spot as a dining venue in the island, it does have several very nice restaurants, few of which in fact appear in our own list of favorites. 
Below are the best restaurants in Kuah. They are arranged from budget to upscale categories. With each, I have mentioned the cuisine served. 
(Category: Budget, Cuisine: Malay/Asian) 
Serving some of the freshest and tasty seafood prepared in Malay and Asian style, this restaurant is another one extremely popular with the locals. Two friends started this about two decades back. This unassuming roadside restaurant has kept growing in popularity. 
Wonderland Food Store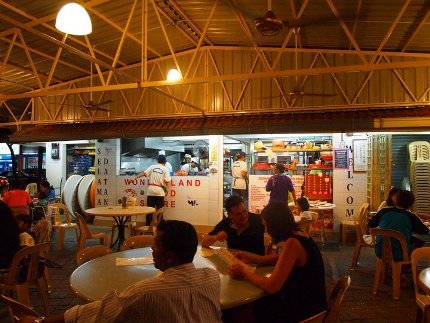 Photo: Wonderland 
While there are several popular dishes like seafood fried rice, Nyonya style sea bass, chili crab etc, the most famous here is the lobster prepared in their own signature style and served in an eye catching manner decorated with carrot net and leaves. It is open for dinner only. 
Open Hours: 6pm – 11pm (Monday to Sunday) 
Address: Lot 179, 180, 181 Pusat Perniagaan Kelana Mas, Jalan Trimula, Kuah  
(Category: Budget, Cuisine: Malay) 
This is a budget eatery and a locals favorite. Come in the evening and you will see rows of chairs and tables lined up in the open and next to the road where locals indulge in sumptuous Malay fares like Nasi Ayam, Nasi Campur, Roto Canai and lot more. It's located at the back of the town, but a very popular place for late lunch and dinner. You can get dinner here until late at night.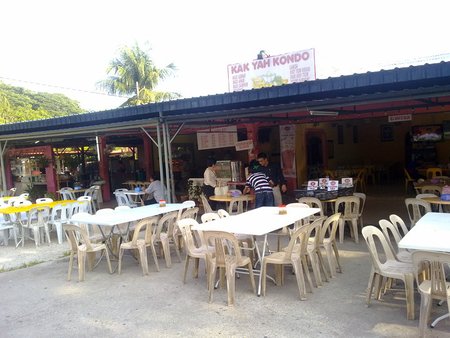 Image by Kak Yah Kondo 
Lot 757, Jalan Penarak, Kampung Padang Lalang, Kuah, Langkawi 
(Category: Budget, Cuisine: Malay) 
Come early for lunch or this restaurant can really get crowded by local patrons and the food get over fairly quickly. The restaurant is located a little off the town center in Mata Air and surrounded by nice greenery giving it a cool relaxed ambience. Serving buffet style breakfast and northern Malayan lunch, Siti Fatimah is an extremely popular eatery with the locals. During lunch they serve over 50 different dishes including chicken, fish and seafood. Try out some of grilled/BBQ fish items or the sambal fish. 
Fair Cafe
(Category: Budget, Cuisine: Asian) 
A cafe style eatery located at Langkawi Fair Mall in Kuah town with both outdoor and indoor air-conditioned seating. The Indian dishes are quite nice and served hot in earthen pots. Try out some of the great dishes like naans (breads made in Tandoor), daal makhani, paneer butter masala, lamb shish or chicken.... delicious.  
Fair Cafe, Langkawi 
However note that the service may not be good always. You will find Nepali staff here speaking Hindi. It's and eat and go place, but clean and good. 
Water Garden Hawker Center
(Category: Budget, Cuisine: Malay/Asian) 
This budget restaurant located at the corner of a road is quite popular with the locals. It serves great local fares like the Hu Pau (spicy custard fish preparation), stir fried pork fillets served with long beans, authentic Nyonya dish (fusion of Chinese and Malay), mee java goreng, lemon grass & chili, and lot more. The seafood preparations offered during dinner are also excellent. The restaurant serves breakfast, lunch and dinner. 
Water Garden Hawker Center, Kuah, Langkawi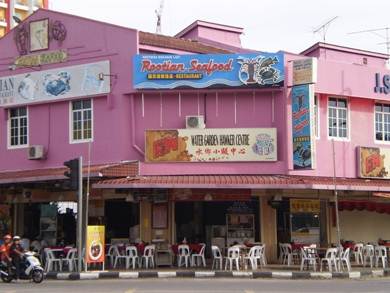 They have both inside as well as outdoor seating. The outdoor sating arrangements are literally on the footpath which is of course quite wide at this corner of the road. The staff are mostly young ladies who are quite friendly and prompt. Overall the ambience is casual and relaxed. You can easily locate the restaurant with its pink colored building (see above). While there are other restaurants upstairs, Water Garden Hawker Center is located at the ground floor with entrance right from the street. 
Open hours: 6:30am - 4pm, 5:30pm - 11:30pm. 
Address: 89/90 Jalan Pandak Mayah 5, Kuah. Phone: +604 966 8400 
Amanda Coffee and Tea
(Category: Mid-Range, Cuisine: Snacks & Beverages) 
Ask a local or a yachter, he will tell you where this cafe is. It's on the road Jalan Persiaran Putra and a bit difficult to locate. Ask the taxi driver to take you to Amanda Coffee and Tea inside Pekan Rabu complex. The owner Amanda Zulkfli and her brother Fakris have put together what can be better described as an Art Cafe.  
Photo: Amanda Coffee and Tea.Langkawi 
While Amanda's keen interest of Coffee painting has its impressions all over the red walls of this cafe, Fakrir goes on to create the widest range of non-alcoholic beverages in the island including hot chocolates, soda syrups from France, ice blended drinks and of course coffee and tea. Try out the Banana Chocolate Freeze, it's awesome. The cafe also serves snacks like burgers, sandwiches, French fries and even light local items. It's open from 3pm onwards till late night. 
Open Hours: 
Mon-Tue: 1pm-12am; Thu: 1pm-12am; Fri: 3pm-12am; Sat-Sun: 1pm-12am 
Address: No. 37, Jalan Persiaran Putra, Pekan Rabu Komplek, Kuah 
(Category: Mid-Range, Cuisine: Malay/Western) 
Located at the corner of a busy street (Jalan Pandak Mayah 5), this is a nice cozy restaurant & bar serving good food, coffee and beer. They make day's specials like ginger chicken or fish, or dorry fish sandwich that are really nice. The menu is quite extensive and ranges from traditional Malay dishes to western cuisine. 
Inside Cappuccino House, Kuah Langkawi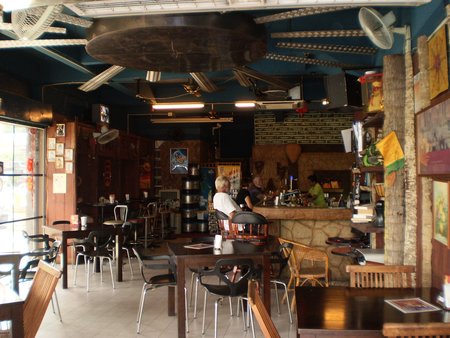 The restaurant has wide screen TV running sports channels and offers wi-fi (chargeable). It's open for lunch and dinner. 
Domino Restaurant
(Category: Mid-Range, Cuisine: European & Asian) 
This restaurant and coffee house has been recently transformed by its new owner. Located at the center of the town, inside it now looks like a rustic European restaurant with many artwork on the wall. With the new make up, it looks friendly and at the same time casual & relaxed. The British national flag hanging from the ceiling will remind you of the strong Brit influence.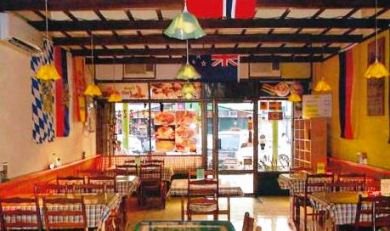 Owner Dee personally takes care of the service along with his staff. Some of our favorite food here includes the Shepherd Pie with minced meat & served with mashed potato, the Fish n' Chips and even the Pizzas. They also serve nice burgers and several other Indian and Japanese dishes. Try out the fresh coffee, touted as one of the best in town. 
Open Hours: 10am – 9:30pm  
Address: No 10, Jalan Pandak Mayah 6; Phone: +604 966 7214 
Langkawi Hainanese Cafe
(Category: Budget/Mid-Range, Cuisine: Hainanese Chicken & Rice) 
If you are looking for Hainanese chicken with rice, then look no further than Joe's Langkawi Hainanese Cafe, also known as Chicken Joe's. He has been specializing in this classic Singaporean dish which is prepared with poached chicken infused with ginger & garlic and served with rice prepared in chicken stock. You won't find a trace of oil. It just tastes delicious. Joe will prepare it himself, chop the chicken and serve it to you. 
If you find this place early during your vacation, I am sure you will keep going back before you leave Langkawi. It's spotlessly clean and the separate toilet is also very well maintained. Have a chicken broth soup, and Hainanese chicken with rice, wash it down with a beer, and it will be a scrumptious meal. 
Hainanese chicken (boneless) with rice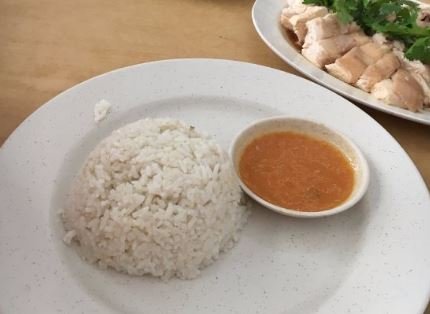 Two persons can have complete meals along with couple of beer only for RM24. While chicken rice is the specialty here, Joe also prepares few other items equally well like the meat dish served with homemade chili sauce. If beer is not your drink, then try out the Kasturi juice (fresh lemon juice) in a hot day. The cafe is located in a corner and therefore quite airy. 
Address: 133 Langkawi Mall, Jalan Kelibang, Kuah, Langkawi. 
Open Hours: Daily 9am to 4:30pm and 6:30pm to 10:30pm 
Fish Farm Restaurant
(Category: Mid-Range, Cuisine: Asian) 
This is a relatively new restaurant located a few minutes drive from the Kuah town center, out of the hustle & bustle and next to the bay with lovely view of the water. There is a vast stretch of area with gardens and plants around the restaurant. 
The inside dining has a large space with wooden log hut finish and fishermen lanterns hanging from the ceiling. The sea deck outside has a wonderful open air dining with great view of the ocean. 
Fish Farm Restaurant Langkawi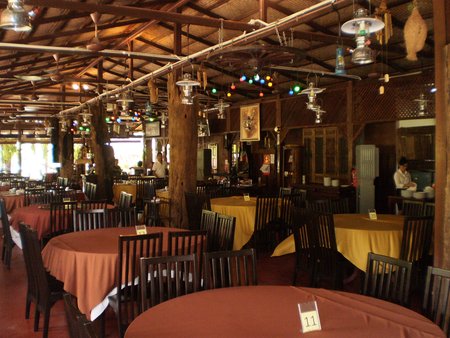 Overall the ambience is relaxed but quite sophisticated. You can choose your live seafood like mantis prawns, lobsters, crabs etc from large aquariums placed near the entrance to the main dining room. There are also preparations of chicken, fish, vegetables etc. They are open for lunch and dinner. 
Sea Deck, Fish Farm Restaurant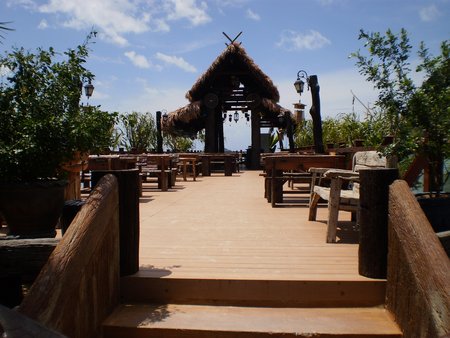 Lot 1986, Jalan Pantai Penarak, Mukim Kuah. 
Mobile: +6 (012) 563-7093 
Restoran RT
(Category: Mid-Range, Cuisine: Seafood/Fusion) 
If you love seafood, then walk over to this restaurant which is located at the corner of a street and on the ground floor. There are black glasses, so you can't see much from outside. But the dining room inside is quite large and spacious. Other than smaller tables meant for couples and smaller families, there are also large round tables centrally placed where larger groups (like 7-8 persons) can dine together. 
Restoran RT, Langkawi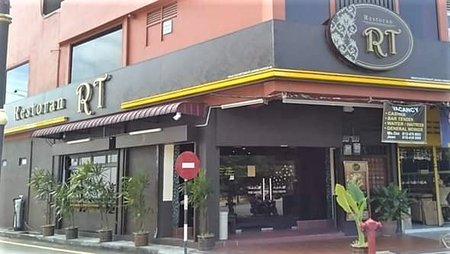 Image by Restoran RT 
The restaurant is fully air-conditioned. Wooden tables, rot iron chairs and walls with large paintings make the decor quite pleasing but nothing exceptional. However the food served are quite excellent. They prepare the food in a local and Chinese fusion style known as Hainanese Nyonya style. 
Hot and Sour Szechuan Soup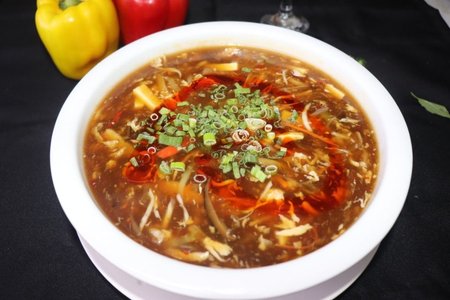 Image by Restoran RT 
Some of the popular and great dishes include hot and sour Schezchuan soup, shrimp fried rice or noodles, RT's special Assam prawn tamarin, shrimps prepared in chili sauce, fried crabs, catch of the day (it could be a full snapper) prepared succulently etc. They also offer dishes with shark fins. There is also a bar service. The overall service is friendly and nice. 
Fish of the day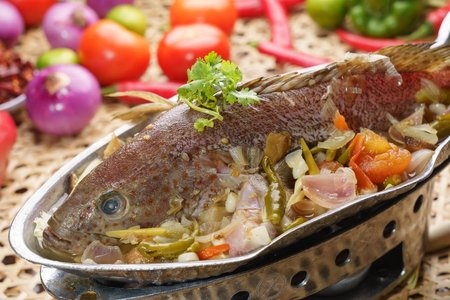 Image by Restoran RT 
Open Hours: 11:00 am - 03:00 pm; 06:00 pm - 10:00 pm 
No.21,Jalan Pandak Mayah 
3,Pusat Bandar Kuah,Langkawi,Kedah. 
Phone: +60 4-966 6989 
Eagle View Seafood
(Category: Mid-Range, Cuisine: Asian) 
This is a fairly large restaurant located right next to Eagle Square in Kuah town. So if you are visiting Eagle Square, you can combine the visit with a nice lunch at this seafood restaurant. It's located right across the footbridge that goes over the narrow water body and next to Eagle Square. The restaurant is surrounded by lush greenery. 
Eagle View Seafood restaurant, Kuah, Langkawi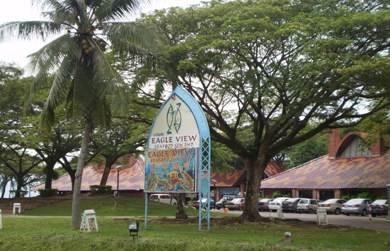 Try out the Chicken Fried rice. The menu is quite nice and innovative. They offer a range of seafood preparations including lobsters and prawns. The restaurant can often get crowded as several tour operators stop here for lunch. The restaurant is open for lunch and dinner. 
Open Hours: 11:30am - 2:30pm, 6pm - 10pm. 
Address: Block A, Restaurant Dataran Lang, Mukim Kuah, Langkawi, Kedah, 07000. 
Phone: 604 966-9898 
Phoenix Chinese Restaurant
(Category: Upmarket, Cuisine: Chinese) 
This is a nice Chinese restaurant and is located in the heart of the town center inside the Bayview Hotel. It has a seating capacity of 200. This is a great place to have authentic Chinese food with an island twist. There are several dining options including all-you-can eat Chinese plates, buffet dinners, fresh seafood and platters.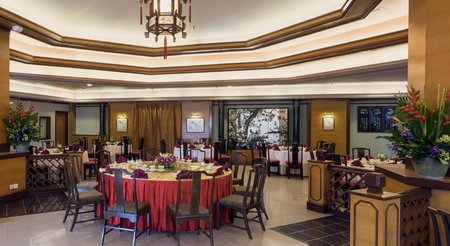 Image by Phoenix Restaurant 
Compared to its location and setup, the dishes are priced moderately. The food is good and the service is quite friendly and prompt. It's open for lunch and dinner. 
Open hours: 6:30pm – 10:30pm 
Address: Bayview Hotel, Jalan Pandak Mayah 1, Kuah. 
Phone: +604 966 1818 
Related Articles
Visitors' Reviews/Comments
Share your experience or stories.