Tanjung Rhu & Teluk Yu Areas, Langkawi
Tanjung Rhu (meaning cape of pines) is the north western coastal area of Langkawi and Teluk Yu (meaning Shark Bay) is an area along the northern coast line. This entire stretch only reminds me of beaches, beaches and beaches ... lovely white soft and finely powdered sands overlooking the turquoise blue water and several tiny islands, an ideal for swimming. And all this in a serene secluded ambience. 
There are very few hotels at this end to spoil the beauty and few tourists who take the trouble driving all the way to this far end of the island. So once you are there in a place like Tanjung Rhu, much part the beaches are exclusively yours. 
Approach to the
Tanjung Rhu Beach
is through the road Jalan Tanjung Rhu and then a coastal road leading through a forested area. The wonderful bay here is fringed by high limestone cliffs and mangroves giving it an awesome look. The Kilim river which is well known for its geopark, limestone formations and mangrove swamps, comes and meets the bay at Tanjung Rhu. One of the top attractions at Tanjung Rhu is the boat tour of
Kilim Geopark and Mangroves
which you can take from the river side. 
Tanjung Rhu Beach, Langkawi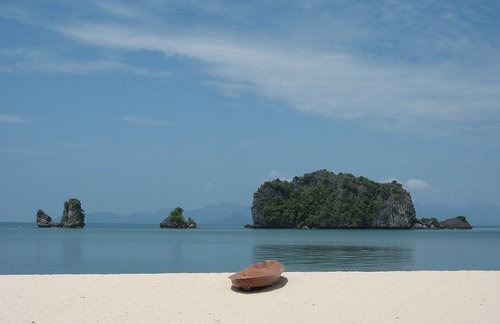 There are small local shops along the coastal road that sells local dresses, souvenir & gift items. There is also a restaurant with a few open hut structures right in front of the beach. They serve Malay food. But after a long swim under the dazzling sun, the fresh coconut water here is my favorite. There is always a nice cool breeze flowing in this area and you don't really feel the heat that much even in peak summer. But the sand gets really hot though. 
From Tanjung Rhu if you go towards west, you will get the road Jalan Teluk Yu which leads to couple of other great beaches like
Black Sand Beach
and the
Shark Bay Beach
. Other attractions here includes the Craft Complex and the Glass Blowing Studio. Further west you will see the Ewa Jetty and a fishing village. However the large cement factory looming over the jetty somewhat spoils the water front view here. Finally Jalan Teluk Yu enters the
Pantai Kok Area
in the west. 
There are couple of great luxury hotels like Four Seasons Resort (touted as the best in Langkawi) and Tanjung Rhu Resort located at Tanjung Rhu having lovely private beaches. The resorts arrange for many water sport activities (Tanjung Rhu Resort only offers non-motorized water sports). 
Both resorts, particularly Four Seasons offers great beach side bars and restaurants. There are also a few budget motels and home stays in this area but not many.  
But Teluk Yu area is devoid of any hotels. Other than a local market at the Black Sand Beach area and the craft complex, there aren't much shopping opportunities at this end. There is a restaurant offering snacks and meals located at the western end of Shark Bay Beach. 
Location Map of Tanjung Rhu & Teluk Yu Areas 
Explore Tanjung Rhu Area
Check out the following to know more about the place and all its offerings: 
Hotels in Tanjung Rhu
: There are couple of great luxury resorts, and also a few budget accommodations, most taking advantace of the lovely northern beaches. 
Nightlife in Tanjung Rhu & Teluk Yu Areas: Beach Bars in the resorts. 
Shopping in Tanjung Rhu & Teluk Yu Areas: Essentially local markets and stalls. 
Related Articles
Visitors' Reviews/Comments
Share your experience.