Best Langkawi Beaches
The first thing that comes to mind with Langkawi are its lovely sandy beaches. You wouldn't be visiting the island unless there were such beautiful beaches where you could enjoy, swim, sunbathe, snorkel, and perhaps engage in many water-sport activities. There are some 10 named beaches in the main island of Langkawi and several unnamed ones. They are mostly located on the northern and western shoreline. 
Pantai Tengah Beach, Langkawi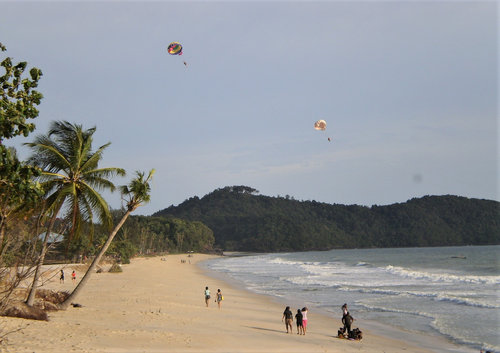 Pantai in Malay means beach. So on the local signage or direction boards, you will often see that name of a beach is preceded by the word Pantai. For example the Cenang Beach is known as Pantai Cenang. Most beaches in Langkawi are public beaches. However there are a few whose frontages have been taken up by large hotels & resorts. As a result, those beaches can now be accessed only from the respective resorts and have become private beaches. 
There is no admission fees to the public beaches in Langkawi, and they remain open 24 hours and all days of the week. While Langkawi is a very safe place, like any other place in the world, there is an element of risk that may come into play if you are too careless. While the beaches are open all time, I would advice you not to wander about in the beaches too late at night and when there is no one else on the beach. 
Suggest you visit this
Beach Map
first to see location of the main beaches in Langkawi. Click on each beach on the map to see its picture with short description, and then come back here. 
So which are the top beaches in Langkawi? Before I answer that question, I need to ask, are you looking for a beach that is great for families & children, or a beach which is secluded giving you serene exclusivity with wonderful romantic settings, or the ones that are popular to general tourists with lots of activities & fun. Langkawi can cater to all such preferences with its amazing array of natural sandy beaches. 
Below are the top beaches of Langkawi. This exclusive list is derived from our experience and the long many hours that we have spent on each one during our vacations over the last many years: 
Located on the western coast line of Langkawi, this is undoubtedly the most popular beach in the island. No wonder there are so many hotels and resorts that have popped up along the beach and all of them are the first ones to get full in the whole of Langkawi during the high season. The beach is a long stretch of beautiful white sand offering great views of the western islands in the ocean. It's a great family beach with lots of watersport activities, beach bars and lines of shops, eateries & spas along the beachside road.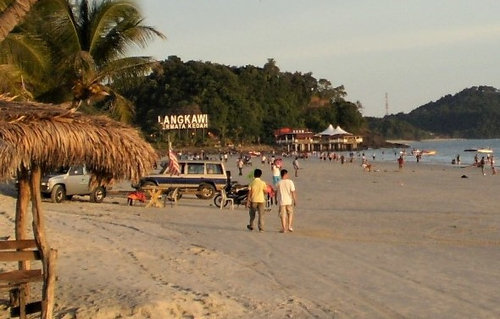 Also known as the Sandy Skulls Beach because of a legend associated with it, the Tengkorak Beach is a beautiful little beach on the northern shoreline of Langkawi which mostly remains secluded and desolate. The beach is approached through a parkland with forested trees and is a locals' favorite, particularly for holiday picnics. It has all the basic facilities like picnic tables, huts, shower rooms and toilets.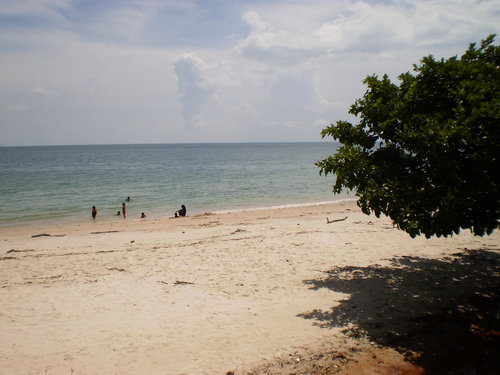 Pantai Tengah is also a great beach on the western coastline of Langkawi. It's actually the southern extension of Pantai Cenang beach but separated from it by a rocky cliff. It's a 600 meter picturesque sandy beach which is relatively far more tranquil and romantic in setting.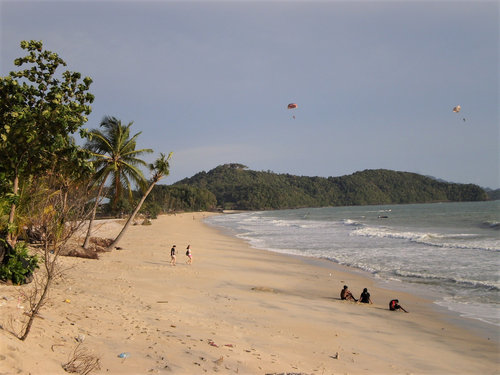 This secluded beach at the far north eastern end of the island is located in a picture perfect setting with blue emerald water and many islands forming the scenic backdrop. While it requires some drive from the popular tourist places, this beach with its long and wide stretch of white soft sand is probably the most beautiful one in the island. With its shallow waters and many stalls & eateries along the coastal road that leads to it, Tajung Rhu is also famed as a great family beach in Langkawi. 
This beach is located on the northern shoreline on Jalan Teluk Yu road. It's a wonderful stretch of sandy beach which can be accessed by a short flight of stairs from a paved promenade. There are palm trees and shaded seating areas along the edge of the promenade to enjoy the views. This is a great family beach and excellent for swimming. There is also a restaurant here.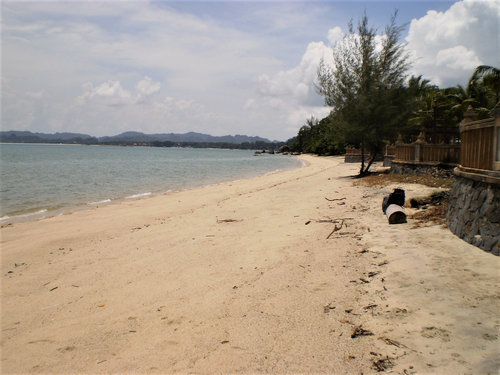 This is a wonderful secluded curved stretch of white sand located in Pantai Kok area, at the western coast of Langkawi and north of the famous Pantai Cenang Beach. The highlights of this beach are its crystal clear waters, spectacular view of the bay, and associated parkland which is full of shaded trees.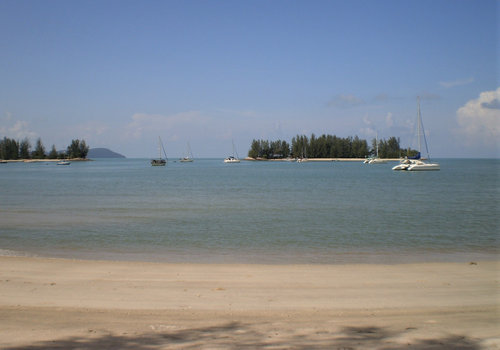 The uniqueness of this beach is its black sands for which it is so named. This beach too is located on the northern shoreline and to the east of Shark Bay Beach at a short distance. The beach can be directly accessed from the road Jalan Teluk Yu There are many shops & stalls selling clothes & accessories, there is also a well equipped children's playground within the compound, a cafe, toilets and other amenities.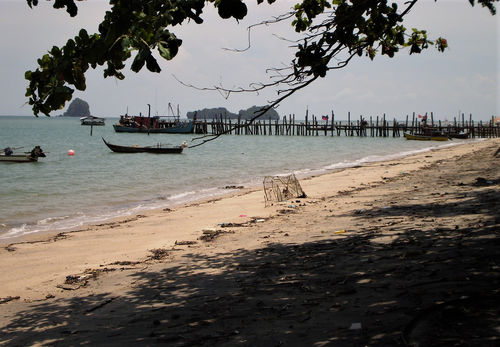 This is a picturesque long beach of white sands located on the western coast line but more towards north-western side of the island (Pantai Kok area). The high lights here are the crystal clear blue waters ideal for swimming, island views and mountains with rain forests that descend from one side of the beach.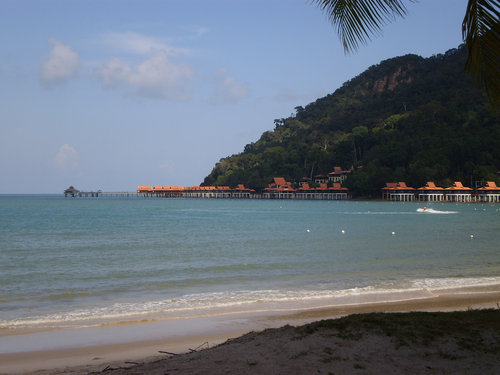 Datai Bay Beach, locally known as Pantai Teluk Datai is a private beach located at the north western end of the island. This marvelous sandy beach with a curved stretch of white sands offers magnificent views of the sea and islands ahead. It is probably the single most compelling reason why many rich foreigners are attracted and spend large sum of money to enjoy a few days at the resorts here, of course complimented by lavish and luxurious treatment.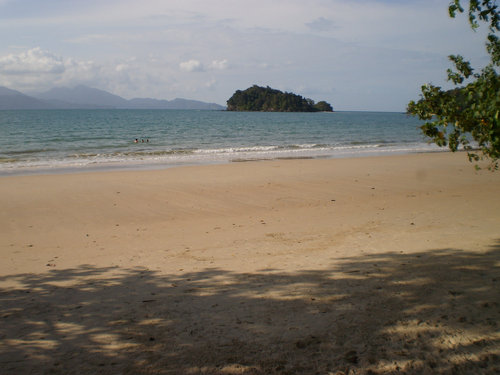 Located in Datai area at the north western end of the island, this beach instead of sand, is full of rocks and pebbles of all sizes.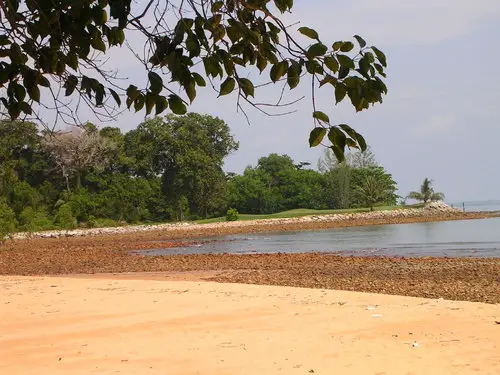 Photo: The World Through Athene's Eyes, flickr, cc by 2.0 
This is a cute pubic beach located on the western coastline at Pantai Kok area. The beach is fringed with coconut trees and mangroves, and has large rock formations at its ends. However much part of the beach is occupied by the five start resort Sheraton. 
Visitors' Reviews/Comments
Anees (July 2019) 
Good Afternoon, Hope you're well. I shall be flying to Malaysia for my honeymoon in a few weeks time and I wanted to know if there is a private beach in the hotel (Westin) - completely and exclusively private for us as a couple. I've read that they have a private beach but I don't know whether that's for us alone or everyone in the hotel. Also, if this isn't the case - please could you advise on completely private beaches in Langkawi for me to spend some alone time with my spouse? Your help in this matter is much appreciated. 
Raj (langkawi-insight.com) July 2019 
Hi, a private beach of any hotel is private to the hotel and not to any guest or couple of guests. There is no such beach in Langkawi mainland where you can get a beach exclusively to your own and your spouse unless you charter a boat and go to a secluded island with a beach and hope no one else comes there... hope you have a heavy wallet :) 
Faisal (June 2018) 
Hi, I arrive with my family (myself, wife and 6 kids, 13, 11, 9, 7, 3, 1) in the first week of July for 5 nights. We would like to stay where there are kids activities and a beach area where people are modestly dressed (no bikini beaches). I would appreciate if you could help. thanks 
Raj (langkawi-insight.com) June 2018 
Hi, while there is no law prohibiting one from wearing a bikini on any beach in Langkawi, both tourists and residents are aware of the conservative culture of the island and you can seldom see women on bikinis. Considering beach popularity, water sports and kids activities... Pantai Cenang beach area would be ideal. 
Yoganandham (December 2017) 
I would like to share my bad experience at Pantai Beras Basah. It seems a lot of tourist are here for holidays but there is no facilities such as toilet and shopping outlets here. Please make sure all facilities are here before bringing in tourist here. Disappointed tourist. 
Sonia (June 2015) 
Hello, I found your website very interesting. I am preparing my trip to Thailand and Langkawi. I would like to know what beach you recommend I was thinking of Pantai Kok Beach but I am not sure. I am traveling alone and would like to be in a beach where it is quiet but not too quiet, where I can see the sunset if possible. I will be taking the ferry from Koh lipe. What would you recommend? Also is it a big island where you have to rent a bike to visit 
around? I am not a driver so i would like to do things by walking. Thanks a lot for your info 
Raj (langkawi-insight.com) June 2015 
Tanjung Rhu or Pantai Tengkorak would be quiet and good. It takes over 45 minutes by car from one end of the island to the other. So you will need a taxi or car/motor bike rental to get around. 
Robin Popa (January 2014) 
Hey, Me and two other friends want to visit Langkawi at the end of this month (January 2014) and we are considering sleeping on the beach. What beach would you recommend is best for this (quiet and not to hard to get to from the airport - we will arrive around 6PM)? We don't have a tent but we do have sleeping bags and mats. We also want to do the same thing on Dayang Bunting Island nest to the famous Pregnant Maiden Lake, do you think it's allowed. I think we would need a place to drop off our baggage, what do you think would be the best option? Thank you very much for taking time to read my message, looking forward to your reply. 
Raj (langkawi-insight.com) January 2014 
Hi, If you are planning to spend the night on a beach, then I would suggest go for
Pantai Tengkorak beach
. This is one beach apart from being secluded and quite beautiful, has toilet & shower facilities (pay & use), picnic tables in the associated parkland, and gazebos in case it rains. You won't find such facilities with most other beaches. Dayang Bunting is part of UNESCO World Heritage Geoparks and they likely won't let you spend the night there. There is unfortunately no luggage room in Langkawi airport or anywhere around where you can drop off your baggage.