Pebble Beach Langkawi
As the name suggests, there are no sands on this beach. Pebble beach is full of pebbles and rocks of all sizes and shapes, and hence such a name. You will wonder whether the bed of loose rocks set nicely against each other were naturally arranged or manually done by someone. 
It is unlikely that such huge amount of rock pieces and pebbles would have been washed up the shore through wave actions. Rock formations on the shoreline and continuous pounding & grinding by the waves are the likely cause of this carpet of small rocks and pebbles. 
Pebble Beach Langkawi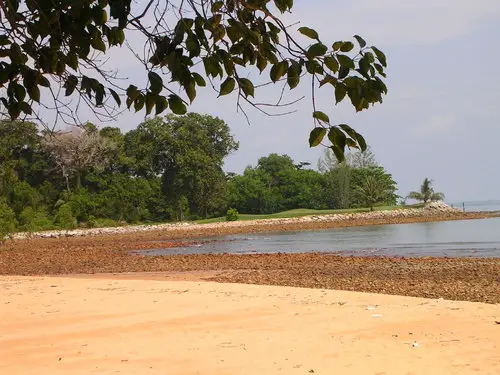 Photo: The World Through Athene's Eyes, flickr, cc by 2.0 
Leave aside tourists, even very few locals know about this beach. When I wanted to visit the Pebble Beach for the first time, I asked my driver and he knew nothing about it. I told him that the beach is located opposite to the Temurun waterfalls in Datai area and accessible from the road Jalan Datai, but he looked blank. 
I realized that it's not a beach that locals or tourists often visit and or know about. Neither I think it's the official name of this beach. It's probably called so because that seems to be the most logical name. There is no sigh board of any sort. The approach from the main road is through a steep natural trail which goes downhill through a forested area for about 50 yards to the beach. You can't see the beach from the road because it's all covered by trees. 
So how is the beach? My first impression: it's a strange beach. While it's full with small sharp rocks & pebbles, it's probably wrong to say that there is no sand at all. Towards the northern end of the beach where it meets a jungle, there is a small sandy area.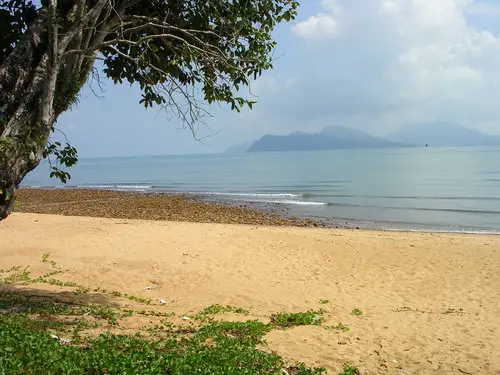 Photo: The World Through Athene's Eyes, flickr, cc by 2.0 
Since there is practically no sand and the beach is hardly maintained, it is not suitable for swimming. I won't recommend this for families. Children can have injuries from the sharp loose rocks. Also the approach to the beach is steep and one needs to be very careful as you step on the rocks on your way down, otherwise you can easily slip. 
The Pebble Beach is probably a good find for beach freaks who love to see one more seaside variations. Most of the times a large part of beach as well as the trail remains full with trash and filth. I have seen heaps of plastics and other trash here. So looks like people do visit the beach. There are lots of trees fringing the beach and so there is no dearth of shades to relax. 
Entry & Timings 
Pebble Beach is a public beach, accessible 24 hours and there is no entry fee. 
Facilities 
There are no facilities like toilets etc on this beach. The beach does not seem to be maintained or cleaned regularly. There is a make shift open-air restaurant called 3-Tiga right next to the entry of the trail that leads down to the beach. The restaurant is located on the roadside. Although this restaurant has received good reviews from several visitors, I have often found this closed. It probably stays open only during the high season. 
Location & How to Reach 
Pebble Beach is located at the north western end of Langkawi in Datai area. It is located right opposite to the Temurun waterfalls on the north shore. You can access the beach from Jalan Datai (road #161). There is a narrow steep trail that leads down to the beach through a jungle. You need to be careful as you step down particularly if it has rained. Climbing back up is relatively easier. 
You will need to hire a taxi or take a rental car to reach the place. You can easily combine the visit with
Crocodile Adventureland
and
Temurun Waterfalls
. Note that taxis will charge extra fare to come to the Datai area (if you hire one by the hour) from places like Kuah or Pantai Cenang, because this area is considered far from such places. From Pantai Cenang, it takes about 40 minutes drive to reach the pebble beach. 
Related Articles
2)
Datai Bay Guide
: All about Datai Bay area including activities, hotels, restaurants, shopping, nightlife etc. 
Visitors' Reviews/Comments
Share your experience.