Pantai Tengah Beach Langkawi
What to expect
Unless there was a rocky cliff separating the two beaches, Pantai Tengah would have been an extension of Pantai Cenang Beach. In fact there is a restaurant
The Cliff
which is located on top of the rocks that separate the two beaches. From there you can see the long curving stretch of
Pantai Cenang Beach
on your right (north). 
And on your left (south) is the beautiful expanse of Pantai Tengah beach. The word Tengah in Malay means Middle, so the name of the beach translates to Midddle Beach. 
Pantai Tengah is a lovely 700 meters long stretch of white sands on the western coastline of Langkawi. It starts at the southern end of Pantai Cenang near the
Underwater World
, and goes for a long stretch towards south. 
Pantai Tengah Beach, Langkawi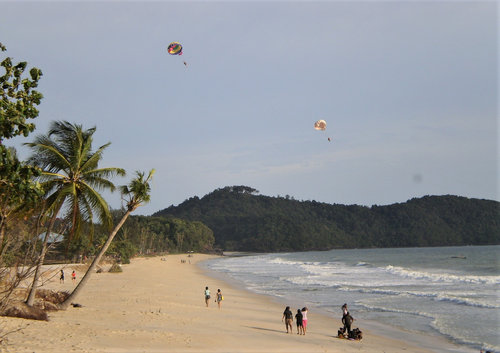 While the beach is similar in appearance to Pantai Cenang, but it is far quieter and tranquil, and unaffected by the rush of tourists. The beach is fringed by a row of palm and coconut trees that provide shades on a sunny day. The beach is great for both romantic couples and families. 
During summer time, it can be very hot out there on a sunny day. But who cares? Every time I peeped out of the windows from my beachside resort, I found several tourists and locals engaged in beach activities like parasailing and jet ski even when the sun was beating down hard. Apply sunscreen lotion adequately and there you go. However, the northern end of the beach is not very well maintained and therefore not suitable for swimming. I have often seen building materials from the resorts and other trash dumped at this end. 
Pantai Tengah Beach, Langkawi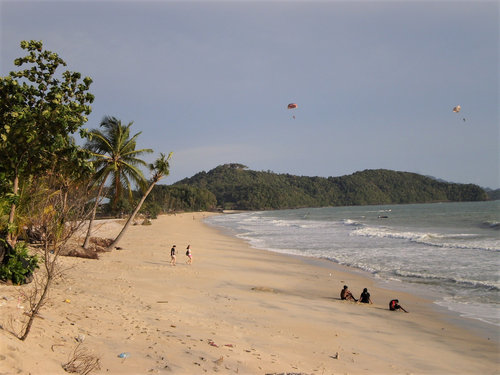 But the other sections of the beach are quite beautiful and nicely maintained. You can easily swim from there, however beware of occasional jellyfish in the waters here. The water at the beach is clear blue most time of the year except during the monsoon when it tends too get a little murky. 
An attraction at the northern end of the beach are the rocks that separate this beach from the more popular Pantai Cenang Beach. If you are a little adventurous, climb up the rocks and get wonderful view of the ocean and islands offshore from top of the rocks. It's not very difficult. On one occasion I have see an European lady climbing the rocks with her two children who were both less than 10 years of age. 
Facilities
There are several chalets and hotels along the beach, Spas, restaurants as well as many shops selling clothing, accessories, souvenir and gift items along the road (Jalan Pantai Tengah) that runs parallel to the beach. There are also beach bars located right on the beach itself.  
Tucked on one side is the
Sugar Restaurant & Beach Bar
. You can sit on the open balcony or right on the beach, have a drink and enjoy the great views of the water. 
Along the beach you will find kiosks setup that offer all kinds of waterspot activities including Jet Skiing, Banana Boating etc. Some of them like the operator Ocean also offer boat tours to nearby islands like Pulau Beras Basah, Pulau Rebak Kecil, Pulau Singa Besar etc. 
Watersports Kiosk at Pantai Tengah Beach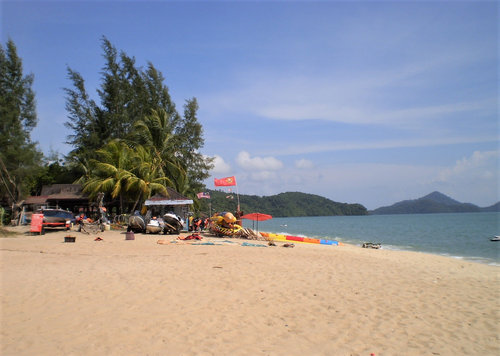 Unfortunately, there are no public facilities like toilets or changing rooms at Pantai Tengah Beach. You can however walk into a nearby restaurant to freshen up and use the toilet if you plan to take some food or drink there. While there are kiosks and outlets offering beach activities, you are not likely to find beach chairs or umbrellas on rent here. The shades of the slanted coconut trees and soft sands are your only resting place here. Unless of course you take a seat in a beachside restaurant like the Lighthouse Restaurant. You can then of course use all their facilities including the washrooms. 
Entry & Timings
Pantai Tengah is a public beach, accessible 24 hours and there is no entry fee. 
Location
Pantai Tengah beach is located on the western coastline of Langkawi, adjacent and south of the popular
Pantai Cenang Beach
, but separated from it by a cliff. It is about 18kms from Kuah Town and less than 20 minutes from the Langkawi International Airport by Taxi. The road Jalan Pantai Tengah runs parallel and next to the beach. Taxis are available in plenty on this road for getting back. However taxi service becomes limited and almost ceases to exits at late night hours. 
Map location of Pantai Tengah Beach Langkawi 
Related Articles
1)
Pantai Tengah Guide
: All about Pantai Tengah area including activities, hotels, restaurants, shopping, nightlife etc. 
Visitors' Reviews/Comments
Share your experience.