Batu Hampar Beach Langkawi
Batu Hampar beach is located in Pantai Kok area on the western coastline of Langkawi. Although this is a public beach, you will hardly find any tourists or locals visiting this beach. Why? Because the mammoth Century Langkawi Beach Resort, a luxury five star hotel actually stands on the beach area facing the water and therefore makes it look like a private beach.  
You will also find many beach chairs and umbrellas on the beach laid out by the hotel and claiming a self declared right of the beach. With many hotel guests occupying much part of the beach area, the locals and tourists from outside stay away from this otherwise nice public beach. As a guest of the hotel, when I once asked the man at the reception why I see nobody from outside here, he smiled and replied they leave it to us and prefer to go over to the other lovely beaches of the island. 
Batu Hampar Beach from Century Resort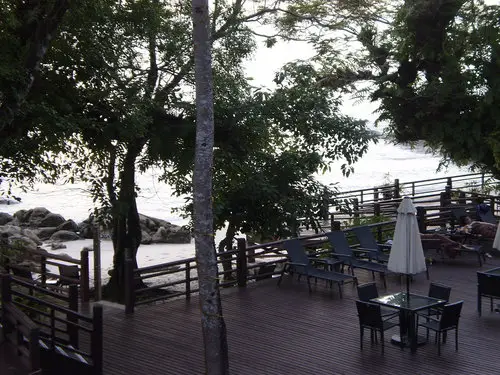 Batu Hampar beach is on the same coastline as the public Pantai Kok beach and located in a place called Teluk Nibong. With coconut, mangroves and many other trees fringing the beach, and having rock formations at both ends, the beach has a special look. However the stretch of the beach is short ... only some 25 meters or so. The hotel organizes some water sport and boating activities here. 
Entry & Timings 
Batu Hampar is a public beach, accessible 24 hours and there is no entry fee. However for all practical purpose, it has become a private beach of Century Langkawi Beach Resort. 
Facilities 
There are no public facilities like toilets etc on this beach. It is almost exclusively used by the Century hotel guests who of course enjoy all the hotel amenities including beach chairs, towels, umbrellas and even washrooms located adjacent to the beach. 
Location & How to Reach 
Batu Hampar is located in Pantai Kok area in a place called Teluk Nibong, and in front of the hotel
Century Langkawi Beach Resort
. You can reach there by a taxi or rental car. The best entrance is though the hotel itself but will be restricted to the public. However you can also access the beach from outside the hotel as well. 
Related Articles
2)
Pantai Kok Area Guide
: All about Pantai Kok area including activities, hotels, restaurants, shopping, nightlife etc. 
Visitors' Reviews/Comments
Share your experience.