Tengkorak Beach Langkawi
This is one of the most beautiful and secluded beaches in Langkawi located at the northern coastline in Datai area. From the road Jalan Datai, a short side-road diversion takes you to the gate of the parkland where the beach is located. This is one of those beaches in the island that has virtually everything for the beach lovers ... an associated parkland full of forested trees, soft white sands, crystal clear blue waters with shallows great for swimming, rock formations at its ends, basic amenities and lot more. 
This beach is a locals favorite. You won't find many tourists here because it is relatively far away from the tourist populated areas like Pantai Cenang and Kuah Town. On public holidays and week ends, you will see several local families come here with their children for picnics. 
Tengkorak Beach Langkawi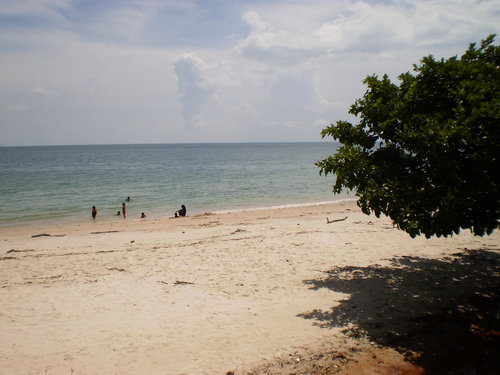 From the main entrance gate as you walk along into the parkland, there are many picnic tables lined up on one side. The beachfront huts with concrete shades are the first ones to get occupied by the families. The families come here with all arrangements and I have seen them even cooking food here. 
Some of the families stay back overnight on the beach. This beach is complete with bathrooms, shower rooms and even prayer rooms for the Muslims. 
Forested parkland in Tengkorak, Langkawi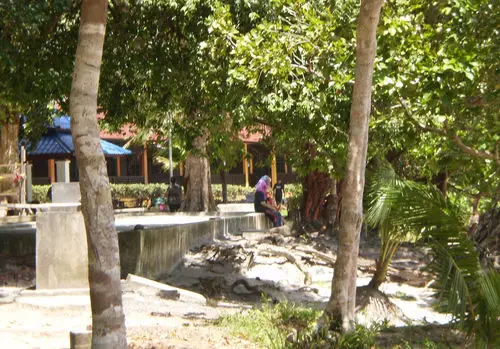 Like many other beaches in the island, Tengkorak beach also has a legend associated with it. The beach is locally known as Pantai Pasir Tengkorak. The word Tengkorak in Malay means Skulls, Pasir is Sand and Pantai means Beach. So it stands for "Sandy Skulls Beach" ... frightened? Well there are no skulls here or nothing to be scared of. 
However there is a mysterious story associated with the beach. The legend says that there was a massive hailstorm that overturned and wrecked ships that passed the Malacca Strait (the water area of Langkawi that connects Indian Ocean with Andaman Sea). The skulls of the dead were washed up into the shore here and hence such dreadful name of the beach. Well that's only a story after all :) 
The beach is quite small but gorgeous and full of soft white sands. There is regular cleaning that takes place in the parkland area and the beach is also cleaned up by the staff. But if you come here after picnics have taken place on the previous day, you might still find a lot of trash around. Sometimes dead wood & weeds are also washed up into the shore when the beach may look a little shabby, but I have never found the beach unworthy of a swim. 
Tengkorak Beach, Photo: The World Through Athene's Eyes, flickr, cc by 2.0 
If you like rocks, on the right side of the beach there are many rock formations that you can explore. There is also another small beach and extension of Tengkorak that you can reach through a stony staircase. The staircase is steep but has hand railings. This second beach is also equally lovely and has smaller rock formations. In fact this smaller beach is even more secluded and desolate compared to the main beach. 
Rock formations at Tengkorak Beach Langkawi 
One thing that you need to be careful about while visiting the Tengkorak beach are the monkeys. There are lots of them who will continuously target any food that you carry. In fact they unknowingly may take away any unattended bags thinking there might be food in it. So carry minimum stuff with yourself and keep them guarded all the time. The monkeys are otherwise quite harmless and you can simply ignore them, even if they come close to you. 
Entry & Timings 
Pantai Pasir Tengkorak is a public beach, accessible 24 hours and there is no entry fee. 
Facilities 
This is one of the few beaches in Langkawi which has toilets and shower rooms (pay & use facilities). Many picnic tables are set up in the park land and there are even shaded gazebos along the beach. You won't find any restaurants or eateries within the parkland or nearby. However on week ends and public holidays, temporary stalls are setup just outside the main gate where food vendors sell local fares like fish & chicken snacks, sausages etc. 
Stalls set up by vendors outside Tengkorak gate 
Location & How to Reach 
Tengkorak Beach is located in Datai area and accessible from the road Jalan Datai (Rd #161) in northern Langkawi that goes all the way to Datai Resort. You will need to hire a taxi or take a rental car to reach this beach. After Crocodile Adventureland, drive along for another 3kms, there will be a short side road on the right that leads to the gate of the parkland where the beach is located. You can see the gate from Jalan Datai. The beach is located just before Andaman Resort. 
Further down Jalan Datai, there is a tunnel. So if you see the tunnel, you know that you have gone past the beach. There is a signboard next to the entry gate but not on the main road. So instead look for the large gate of
Ibrahim Hussein Museum & Cultural Foundation
on the right. The Tengkorak beach is right next to it. 
Also note that taxis will charge extra fare to come to the Datai area (if you hire one by the hour) from places like Kuah or Pantai Cenang, because this area is considered far from such places. From Pantai Cenang, it takes about 35 minutes drive to reach Tengkorak Beach. 
Map location of Tengkorak Beach Langkawi 
Related Articles
2)
Datai Bay Guide
: All about Datai Bay area including activities, hotels, restaurants, shopping, nightlife etc. 
Visitors' Reviews/Comments
Share your experience.