Ibrahim Hussein Museum & Cultural Foundation
Located in Datai area on a gentle slope of a hill and within the rainforest of Mount Mat Cincang and having breathtaking view of Andaman Sea, this is a an art gallery and museum in Langkawi. 
The overall mission is to promote, develop and advance art & culture through involvement of artists & cultural performers from all over the world. It came into fruition in 1991, years after the Malaysian artist Dato Ibrahim Hussain, fondly known as 'Ib' within his close circle of friends, first dreamt about it and conceived its design. He has been undoubtedly the best artist Malaysia has ever produced and went on to acclaim huge international repute and fame. 
The uphill road from the gate to Ibrahim Hussain gallery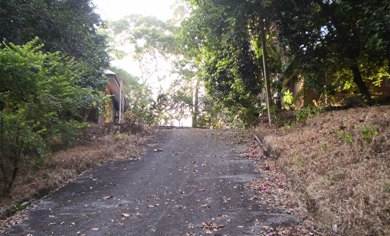 But like many other great accomplished persons in the world, life wasn't easy for Ibrahim either. He was born in a very poor family in 1936 in a small village called Sungai Limau of Kedah, Malaysia. As he grew up, he had to do many odd jobs like that of a postman or helper in a movie shoot etc to make all ends meet. But despite all odds and struggle, he continued his study in arts & painting and went to arts schools in Singapore and then in London. 
Ibrahim had always drawn inspiration from the reality and immediate surroundings. In his autobiography titled 'A Life', he mentioned that "my life is made of points, textures, colours, shapes, darkness and light, mass, weight, planes, volumes, sounds, smells, and warmth'. All these are expressed in his artworks. Some art analysts considers his artwork as 'futuristic'. Ibrahim also used a process of creating artwork which he called 'Printage'. It involved using a combination of two mediums such as printing and collage. 
Ibrahim Hussain Gallery Langkawi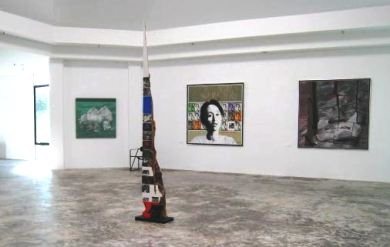 Over the years, Ibrahim Hussain became an artist of international repute due to his outstanding talent of expressions through paintings, and also probably the most controversial one. He received a number of international and national awards. His artwork was on display in many solo exhibitions held in different countries including London, New York, Copenhagen etc. 
On 13th May 1969 during the racial riots in Malaysia, Ibrahim picked up a national flag lying on the street. He painted it black, put a red like on it and then a circle below it in white. This resulted in a huge political turmoil. The then Prime Minister called Ibrahim and asked him why he defaced the national flag. The artist argued that he did not mean to deface the nation and it had no political implication. It was his expression of the present and future of the country. 
The black canvass represented the dark tragic situation the nation was in, the red line represented he twilight after darkness and the white circle a bright day & renewed energy. He was granted permission to display the art in public galleries. The Malaysians called it "Black Painting". You will find this painting on display at the Ibrahim Hussain Museum & Cultural Foundation. 
Sometime in 1980, Ibrahim conceived this Museum and cultural foundation. He always felt that art is an unifying force and through art the races, religions and nations can all come together. Since art has no boundaries, he conceived that this would be an international center, where artists from all over the world would come, meet, create artwork, and the center would become a living museum, which it is today. It took 11 years and RM 5 Million to build this center.  
Although Ibrahim initially wanted to take government assistance in it, at some point having understood that he might have to compromise with many of his principles and concepts in the process, he dropped the idea of collaboration and decided to do it in on his own. The center now runs as a private but not profit organization. 
As you enter through the gate, a road leads uphill through the rainforest to this huge white building overlooking the sea. The gallery inside is white and really spacious. There are two floors. In the ground floor you will see great collections of paintings, mostly of Ibrahim Hussain himself. In the upper floor, you will find twisted trunks of trees and wood carvings that have been exquisitely painted by Ibrahim. The foundation has in its permanent display several artwork that were shown in its inaugural exhibition. 
The center was created with minimum ecological disturbance. Only 13 trees had to be felled. It is now a meeting point of art lovers, fellow artists and others. This is also the venue of the international art event Langkawi International Festival of Arts (LIFA) which too was conceived by Ibrahim Hussain. Although the event has become a bit touristy these days, but it draws artists from all over the world like Japan, Europe, many Asian countries including Malaysia, Africa, South America and more. This festival and cultural event encompasses areas including painting, sculpture, dance & music, poetry etc. It is co-sponsored by Ibrahim Hussain Museum & Cultural Foundation and Langkawi Development Authority (LADA). 
Ibrahim Hussain passed away on February 19, 2009. Although he lived in his plush house in Kuala Lumpur, he and his wife Sim often used to come and live at the foundation whenever he wanted to be all by himself... it was his paradise. 
Update 2014: Ibrahim Hussain Museum has closed down. 
Admission & Open Hours 
Ibrahim Hussain Museum and Cultural Foundation is open daily from 9am to 6pm. Entry fee is RM12 per adult. Accompanying child is free. 
Location & Contacts 
The foundation is located in Datai Bay area on Jalan Datai and next to
Tengkorak Beach
. You can come here by taxi or rental car/bike. After
Crocodile Adventureland
, drive along for another 3kms, and it'll be on your right. From Pantai Cennag, it takes about 35 minutes. If you come by taxi, keep it waiting. You won't get any taxi from here. Phone: (604) 959 4669 
Related Articles
Visitors' Reviews/Comments
Mohd Bakry Abu kasim (October 2021) 
I read with interest. Hard to believe such a place being neglected. RM5M to build go to waste. State Tourism authority should look seriously to turn it into a seliing item in its tourism calenders. It will do good to state and country. Please wake up. 
Suraya Yusof (September 2015) 
Hello there! I just finished reading your article about the Ibrahim Hussein Museum and notice that there was an update in 2014 regarding the Museum's closure. Is the museum available for visiting now? Would I be able to contact the individuals in charge? Thank you. 
Raj (langkawi-insight.com) September 2015 
It's still closed and does not exist any longer.