Pantai Kok Beach Langkawi
What to expect
This is a wonderful, serene and secluded public beach located at Pantai Kok along the western coast line of Langkawi. The beach with its crystal clear blue water and white sand looks picture perfect on a sunny day. The approach to this beach is from the road Jalan Pantai Kok. You will need to however walk or drive through a park full of trees and bushes for about 100 yards or so before you reach the beach.  
There are naturally formed trails through the park to go up to the sands. You can actually see the beach from the road. And unlike Pantai Cenang or Pantai Tengah beaches, there are no hotels or resorts on this public beach (other than two luxury resorts tucked in a corner), neither any eateries to spoil the natural beauty, thus making it very quiet and secluded. 
Pantai Kok Beach, Langkawi (the other stretch)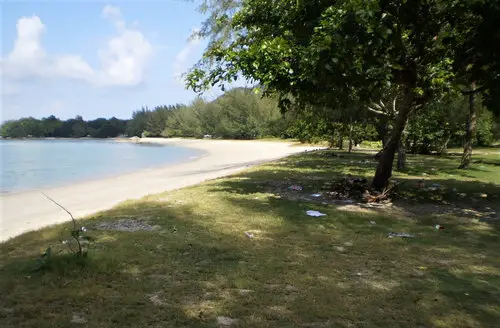 However on a weekend or public holiday, the beach can get crowded mostly by the local families who come here to picnic. There are actually no restrictions on Langkawi public beaches for picnics. Despite that, the beach is very well maintained and quite clean. 
On a normal day when the beach is at its romantic best, just sit under a tree, hear the sounds of the waves pounding under your feet and look into the Andaman sea as the sailing boats and catamarans pass by - it's a wonderful experience. The sandy beach here is about 20 yards wide and has a curved stretch of about 700 meters long. Pantai Kok Beach is excellent for both families and couples. The beach is great for swimming. 
As you relax on the beach, you can see two tiny islands some 200 meters offshore with a small gap between them. Our taxi drive Hesham told us that those two islands are actually manmade and not natural islands. They are mostly used to moor the boats. 
The Two Islands - Pantai Kok Beach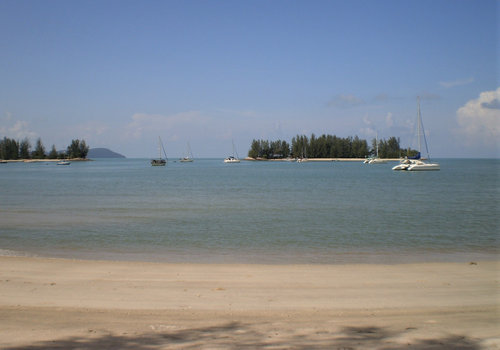 I have heard that the Pantai Kok Beach area is being negotiated for a private sell out. That will be the saddest thing to happen to this lovely public beach. If that happens, expect another resort to come up here like the two others nearby: Sheraton and Langkawi Sanctuary resorts. 
Who knows the public entry to this beach may get restricted or completely disallowed like in some other resorts. So until that happens, do not miss the opportunity to visit and experience this wonderful beach. 
Entry & Timings
Pantai Kok is a public beach, accessible 24 hours and there is no entry fee. 
Facilities
Unfortunately, there are no public facilities like toilets or changing rooms at Pantai Kok Beach. For swimming or lounging at the beach, you will need to get your own gears as no rentals are available here either. There is no restaurant or eatery on the beach. However
Perdana Quay
on the Telaga Harbor is at a short driving distance away. It's a complex where you will get all types of stores and array of restaurants along with other amenities. 
Location & How to Reach
Pantai Kok beach is located on the western coastline of Langkawi, and north of the popular
Pantai Cenang Beach
. It is about 25kms from Kuah Town. Although you can come here easily by a taxi, getting a taxi here for your return may be difficult. So come here either by a rental car or hire a taxi by the hour and keep the taxi waiting. Usually tourists combine a visit to Perdana Quay for lunch or dinner when they plan a visit to Pantai Kok Beach. There is no bus service to the beach. 
Map location of Pantai Kok Beach Langkawi 
Related Articles
2)
Pantai Kok Area Guide
: All about Pantai Kok area including activities, hotels, restaurants, shopping, nightlife etc. 
Visitors' Reviews/Comments
Share your experience or stories.