Perdana Quay, Langkawi
Perdana Quay is a modern swank complex located in
Telaga Harbour Park
of Pantai Kok area. It is full of upscale boutique shop, restaurants, bars and spa, and is patronized mainly by the yachters who dock their yachts and sail boats at the associated marina. Telaga Harbour Park was once a fishing village. 
The 27 acre waterfront area has been bow converted into a modern marina where yachts of all sizes including mega yachts can dock. On one side of the harbor is Perdana Quay. 
Perdana Quay, Langkawi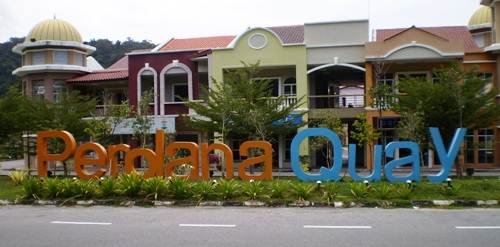 The quay has boardwalk along the waterside. The quanit restaurants along the boardwalk with view of the water and short palm trees swaying in the breeze are the prized area for the yachters and tourists. 
However the restaurants along the boardwalk are more expensive as they have to pay premium rates to the authorities being on the waterside. There are also inside areas in Perdana Quay that do not face the water but have many restaurants and shopping outlets. 
Boardwalk & Restaurants, Perdana Quay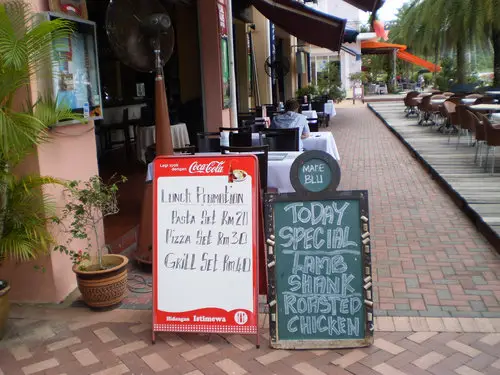 As you stand next to the water on the boardwalk and look at the many sailboats berthed at the marina, with mountains and forests at a distance the view is stupendous. In fact many tourists come here to soak in the view of the sunset. You will find so many of them shuffling their cameras to take pictures during the sunset. 
Telaga Harbor Park, Langkawi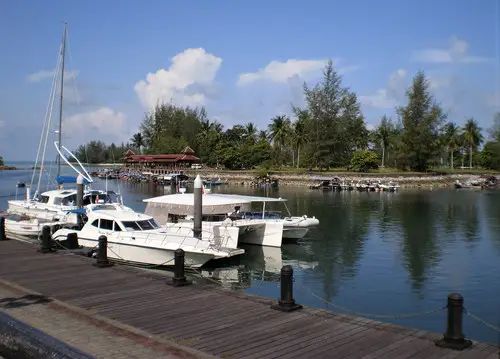 F&B Outlets in Perdana Quay
There are several great food & beverages outlets in Perdana Quay. Here are some of the well known ones that are favorites to both tourists and yachters: 
This is a quality bakery chain outlet of Malaysia and the one in Perdana Quay was the first one to be established. It was set up in 2006. They prepare the bakery products daily from fresh local and imported ingredients using Japanese baking techniques.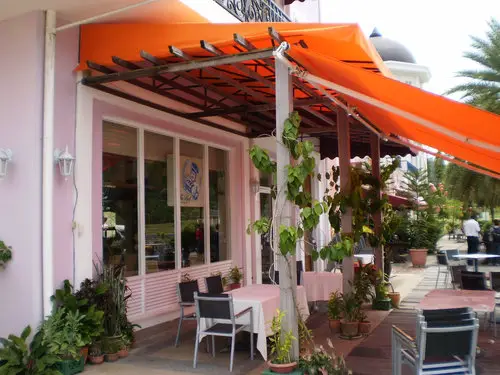 Other than freshly baked breads & pastries, Loaf is also well known for its afternoon teas as well as dine-in lunches & dinners with full a la carte menu. Lot no. C9. Phone: +604 959 4866 
Mare Blu Italian Restaurant
This is one of the great restaurants and a dining attraction in Perdana Quay by the waterside. With a rustic decor, it serves Italian dishes and is open for both lunch & dinner. Chef Tarmizi has trained from one of the best Italian kitchens of Kuala Lumpur and makes the dishes from fresh local and imported ingredients.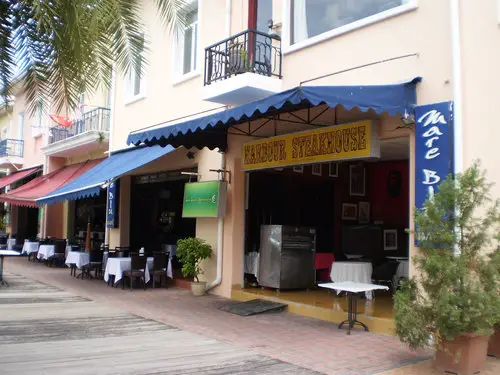 There is a wide range of pizzas and pastas. Some of the great signature dishes here includes Fried Duck Breast with Mango and the Fisherman Platter. Other very popular dishes are Brazilian Barbecued chicken, beef kebabs, lamb legs etc. 
They serve wine and other alcoholic beverages as well. There are over 60 different cocktails to choose from. The bar is really well stocked. There are both inside and outdoor seating. 
Open daily from 11am to 11pm. Lot no. B5-6. Phone: +604 959 3830 
Harbour Steakhouse
A steakhouse by the waterside serving nice steaks. Dishes include T-Bone, Rib Eye, Lamb Rack, Grilled Dory Fish, Pan Fried Chicken Breast etc. They serve all the grilled items with vegetables, corb on cob and jacket potato. They also offer Brazilian BBQ known as Chiaroscuro. 
Lot no. A3-4 Perdana Quay. Phone: +604 9592830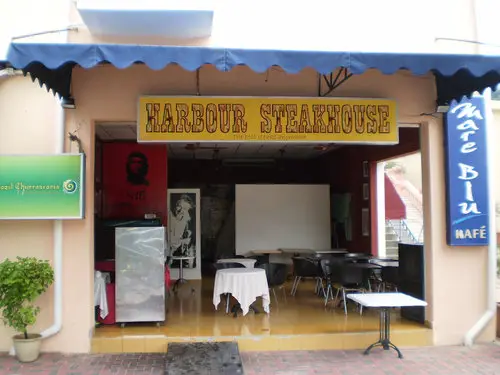 Tapaz
This impressive restaurant is located at the corner of the boardwalk and overlooks the lovely water view of the Telaga Harbor. They serve a range of Spanish starters and main courses here as well as many Western and Asian dishes. You can go for the Tapaz Platter or try out the Chicken Liver served with homemade bread. They also have dishes on seafood and meat. It's open for lunch and dinner. Phone: 0123294094 
Update: They have moved to Tubotel Hotel near the airport area.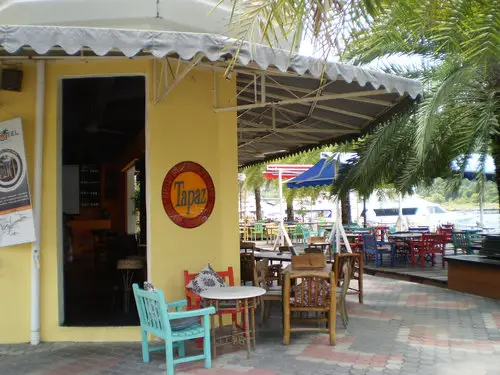 Hamachi Japanese Restaurant
This small but popular restaurant faces the Harbor. With provisions of outdoor seating (under a canopy) it offers great view of the water as well as excellent Japanese cuisine. It has its own clientele and patrons. The restaurant is also popular with tourists loving authentic Japanese food and serves lunch and dinner. 
Phone: +604 9592332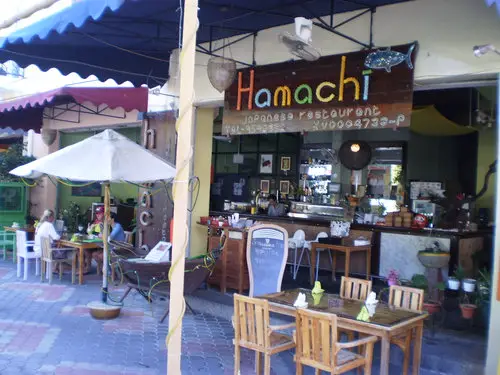 This is one of the relatively new restaurants in Perdana Quay located on the first floor. The interior decor is modern and warm. The chef Anuar prepares great Malay, Indian, Chinese and Nyonya dishes with innovative touches using non-traditional ingredients. They too have a bar and offers happy hour (3pm - 7pm).  Free wi-fi is available. Phone: +604 956 1188 X Now Closed 
USSR Restaurant
A popular waterside restaurant offering authentic Russian and Central Asian cuisine prepared by a Russian Chef. Open daily from 1pm till 11pm. X Now Closed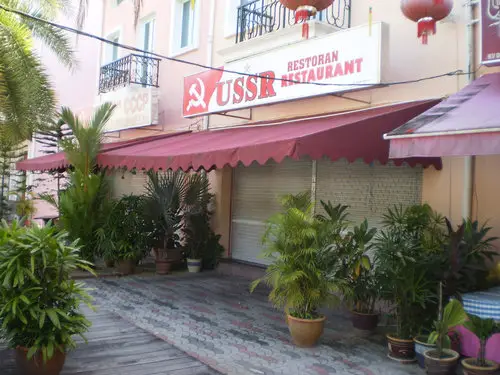 Maharaja Restaurant
Serves nice Indian as well Egyptian and Western dishes. It has a great open air setting and nice & cozy seating arrangement. The service is good and friendly. They also deliver the food to your hotel. The restaurant can serve as a nice dining alternatives for those staying at hotels like Danna or Berjaya. 
Phone: +604-9593400 
Artisan Pizza
This is a new branch. They make nice Pizzas by using their own multi grain breads. They also offer sandwiches, pastas, fish & chips, egg items etc. They have a breakfast menu which is served until 6pm. The dessert menu offers some nice items like crepes and lychee/mango custard. Their Kuah branch offers items like chicken/lamb chops, BBQ chicken wings and lasagna whereas this branch in Perdana Quay has some new offerings like cakes, fresh brewed coffee and gelato ice cream. 
Grandious
This is a wine cellar selling over 300 different types of wine from all over the world. They have collections starting from wines that are quite affordable to the ones of premium quality.  
Phone: 6+04 9592068 
Inside Area of Perdana Quay 
Facilities
There are ample car parking spaces in Perdana Quay. 
Admission Fee
The admission to Telaga Harbor Park and Perdana Quay is free.  
Open Hours
Open Daily. The restaurants at Perdana Quay usually open around 11am and remain open till late evening and some beyond mid night. The best time to visit is during the sunset. 
Location & Contacts
Perdana Quay is located within
Telaga Harbor Park
in Pantai Kok Area and on the road Jalan Telok Burau. It is 15 minutes by car/taxi from the Langkawi International Airport and about 30 minutes from Kuah Town Center. 
Address & Contacts: 
Perdana Quay 
Telaga Harbour Park, Pantai Kok, 07000 Langkawi, Kedah Darul Aman, Malaysia 
Phone: +604-959 1826 
Map location of Perdana Quay at Talaga Harbor Park 
Related Articles
Visitors' Reviews/Comments
Share your experience.