Privilege Restaurant & Bar, Langkawi
Category: Upscale, Cuisine: Malay & Fusion 
X NOW CLOSED 
This is touted as one of the best restaurants in Langkawi, and so I had to try this out to verify that. Located in Perdana Quay at Telaga Harbor Park, there are few stairs to climb as you enter this charming nicely decorated restaurant on the first floor. 
The interior is very well done and combines red and off-white colors to create a very cozy yet modern ambience with a touch of class. If you want to have view of the harbor, you should book a window-side table in advance. On the week ends, the restaurant really gets full and the wait time could be substantial. On the week days though, you can walk in and get a table. 
So what's the specialty of this restaurant? Well, I think it excels in more than one dimensions. In food, it'll be wrong to say that it serves typical or traditional Malay food. It actually gives an intuitive twist to almost all the Malay dishes that it offers. This is where the innovation of the owner Peter Ting and the Chef Anuar Hassan come into play. For example, the Beef Rendang is not just served with aromatic steamed rice, it also comes with a coconut soup. 
And how about the fancy otak otak - a steamed & spicy fish and egg started wrapped in banana leaf with tango and tamarind tomato salsa? Or the Pai Tee - prawns served with bamboo shoots? The menu is full of such designer starters and fusion main courses. And they even serve exotic mocktails (i.e. non alcoholic cocktails) like Purple Sari, Red Kebaya etc. 
Another thing which I liked was the presentation of the food. Although the portions may not look very large, but they are good enough for average eaters. But I felt Peter's main focus is on the quality and presentation which are both excellent. 
The details and delicate touches both in the dishes and decor of the restaurant are reflective of the fact that the owner Peter has had extensive experience in hotel industry before he opened up this restaurant himself. He'll be around most of the time and personally supervising if anything requires an attention. 
Other than Malay dishes, there are also Indian and fusion dishes available in the menu. Although the food menu is not very extensive, most items are tasty and prepared really well.  
In starters, you can also try out one of the platters. Indian, Malay and Nyonya platters are all quite nice. The Indian platter comes with samosa, mushroom salad and Mozzarella cheese pakoras. I really liked that. The price range is RM 18 - 24. Another great option is the homemade grilled Chicken Satay served with onions, cucumber & steamed radish cake & peanut sauce.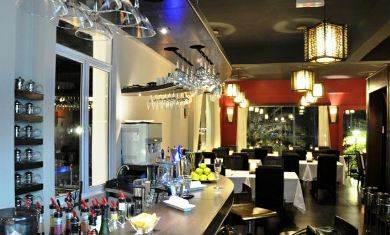 Some of our favorites in the main courses here are Braised Lamb Rack with Egg & Mushroom, Beef Rendang, 5-Spice Roasted Duck, King Prawn 'Sambal' served with trio of rice etc. The roasted 5-spice duck breast is served with steamed white radish cake and garlic bok choy. The main courses range from RM30 onwards to RM60 or more depending on what you order. There are also vegetarian and Gluten Free dishes in the menu. 
While there are cakes, Brulée and ice creams in the dessert, one of the most popular items is the homemade roasted banana ice cream. You will probably come back just to have this one more time. Don't miss it. It's awesome. Other great choices would be gula Melaka ice cream, or a dessert named Cendol which comes with gula Melaka ice cream and served on either side by rice flour jelly and thick coconut cream. You should actually put both the cream and the jelly into the ice cream and stir it with a lemon grass stick.... iced Cendol is awesome! 
There is a nice bar and it's well stocked. Although the wine selection is not extensive, it should be able to satisfy most. A range of beer is available from Tiger (RM 6), Carlsberg Drought (RM 6), Heineken (RM 8), Guinness Stout (RM 7), Corona (RM 10). There is a range of cocktails (RM 16 and above) and spirits. They serve non-alcoholic beverages also like coffee, fresh fruit juices etc. 
Overall the service is very nice and friendly... credit to Peters training to his staff. There is free wi-fi inside. The restaurant serves as a great dining alternative to the tourists staying in nearby hotels like The Danna and Berjaya Resort. 
Dress Code 
Smart Casual. 
Open Hours 
Monday - Saturday: 12Noon - 11pm. Serves Lunch & Dinner. 
Sunday Closed. Happy hour (3pm - 7pm). They accept credit cards. 
Location & Contacts 
B8, 1st Floor, Perdana Quay, Telaga Harbour Park, Langkawi 
Related Articles
Visitors' Reviews/Comments
Share your experience.