Langkawi Boat Tours: A Complete Guide
When you choose to come to an island destination like Langkawi for a vacation, you are probably a fan of blue waters of the ocean, the beaches, the wonderful tropical climate and the feeling that you are in an oasis in the middle of a vast stretching sea. And in Langkawi, you actually have a cluster of 99 islands, some of which have wonderful and secluded beaches where you feel like as if they are of your own. 
Some waterways take you through amazing geological formations like mammoth limestone cliffs & caves and also offer you wonderful views of lagoons & lakes, mangrove swamps on the way.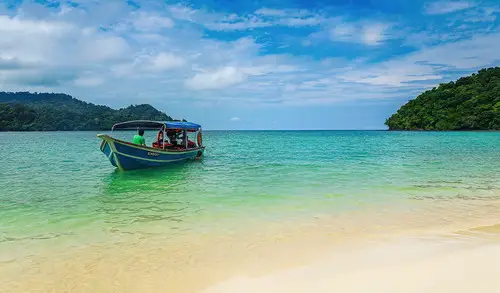 Photo: hams Nocete, flickr, cc by-sa 2.0 
And there are few islands in Langkawi that offer unparalleled experience of marine life, great opportunities for boating in fresh water lakes surrounded by mountains in a picture perfect setting, swimming & snorkeling, eagle feeding on calm waters, visiting floating fish farms and lot more. And how about having a great lunch in a scenic setting on a floating restaurant or a barbecue buffet dinner on a desolate island beach by waterside? 
In order to experience some of these, you will need to take a boat tour or a yacht cruise. This is probably the most popular activity in the island and a top favorite to the tourists. 
While luxurious yacht & sailboat cruises are relatively expensive and offer you more intimate & exclusive experience, the standard motor boat tours are easily affordable. 
The group boat tours mostly operate on a sharing basis with per person rates. If you are in a group of 8 or more, you can hire the whole boat. It turns out to be cheaper. These boats are usually small motor boats with capacity of about 12 persons and having Bimini tops (shade with sides open) that give you a relief from direct sun exposures. However the boats also have a small open deck in front where you can soak in the sun and the view as you ride. 
There are different ferry terminals (jetties) in the island from where boat tours depart. One such point is the Awana Porto Malai Terminal at the southern end of Pantai Tengah. Most Island Hopping boat tours leave from here. Another one is the Kilim Jetty where the Kilim Geopark tour originates. Jetties in Kuah (like Kuah Jetty and the one at Langkawi Yacht Club) are used for boat trips to Pulau Payar Marine Park etc. 
Here are the best and most popular boat tours in Langkawi. As you visit the links, each tour will tell you about the experience you can expect along with pictures, the best ways to go about taking the tours and indicative rates. 
This is one of the three geoparks in Langkawi which can be explored by a boat tour. You will get to see amazing geo formations like massive limestone cliffs rising from the bottom of the shore, wonderful lakes & lagoons, caves, dense mangrove swamps on both sides of the Kilim River, great flora & fauna and so on.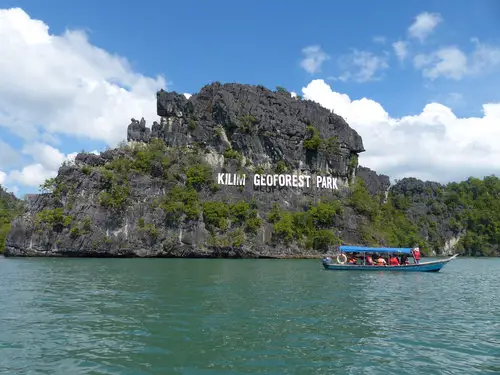 A standard Kilim Geopark tour usually lasts for about 4 hours and also includes a visit to a floating fish farm where you can feed sting rays and see how Archer fishes jump out of water to take food from your fingers. If you go through a tour operator, they will also organize lunch on a floating restaurant on the river. 
The tour also includes eagle feeding on calm waters and visit to the Fossil Island where you can see million year old fossils. A standard Kilim Geopark tour lasts for 3 to 4 hours depending on the operator. You can also take a shorter tour. 
This is one of the most popular and cheap boat tours for exploring few of the southern islands of Langkawi. The boats usually operate on a sharing basis with per person rate. The standard tour covers three islands. It starts with Dayang Bunting island for a swim, snorkel or paddle boating at the famous Lake of the Pregnant Maiden which is surrounded by mountains with dense rainforests. The overall setting here is scenic and beautiful. You can just choose to relax. Then you are taken to Pulau Singa Besar to watch Eagle feeding. Then the tour proceeds for a swim at the soft sandy beach of Pulau Beras Basah.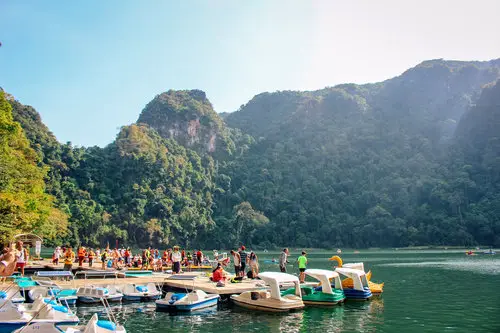 Pulau Dayang Bunting & The Lake. Photo: cktravels, shutterstock 
The entire tour takes about 3.5 to 4 hours and originates from Awana Porto Malai ferry terminal located at the southern end of Pantai Tengah. There are plenty of boat operators there offering this tour. 
If you want to swim and snorkel amidst amazing marine life, fish and colorful corals, then you should take a tour to the Payar Island Marine Park. It is located some 30kms south of Langkawi and boats usually leave from Kuah. There are beautiful tiny beaches from where you can swim.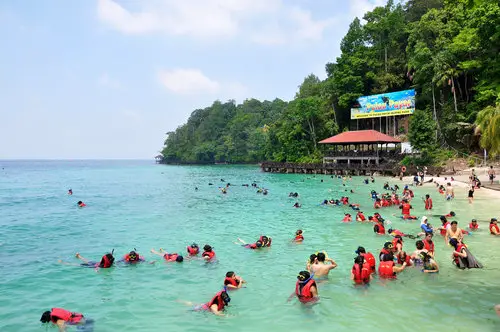 Photo: PrettyKateMachine, flickr, cc by-nc-nd 2.0 
The operator, depending on the package you take, can also take you to awesome offshore reef sites for snorkeling or even scuba diving where you get to experience wide range of marine creatures and corals. Even from the beaches, you can swim and snorkel alongside harmless baby black tipped sharks and many other colorful fish. You can also feed the baby sharks. Tour operators provide lunch as part of the package. 
There are several yacht operators in Langkawi offering shared or private sailing cruises mostly to explore the southern & eastern water areas and the islands. There are different types of luxury yachts and catamarans offered for sailing. One of the most popular cruises is the sunset cruise that includes a barbecue buffet dinner or snacks with free flowing bar serving cocktails & wine on board, and a slow sail back as you watch the wonderful sunset on Andaman sea.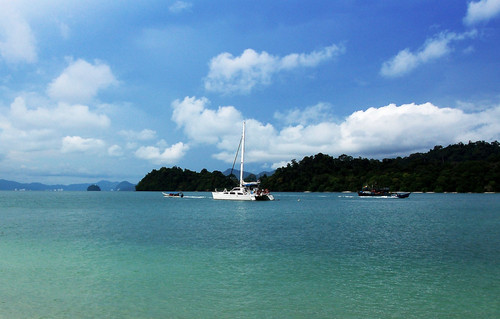 Photo: amrufm, flickr, cc by 2.0 
The sunset tours can last for 3 to 6 hours depending on the package. Other options include romantic yacht cruises for couples, day time cruise to a secluded island beach, day long or over night chartered cruises etc. Most of these cruises operate from the Awana Porto Malai Terminal at the southern end of Pantai Tengah and some from Kuah. 
Booking & Langkawi Boat Operators
If you want to book a boat tour conveniently online and at a reasonable price from the world's largest online tour agency, then check out
this Viator site
for several sightseeing boat tours in Langkawi... you can filter, see the rates and choose one you like and book online. 
Alternatively, you can contact an operator and book. There are several boat and yacht operators in Langkawi who have been specializing in specific themed cruises over the years. 
Go through the
Top Boat Tour Operators
to know about the reputed and popular operators in Langkawi offering boating & sailing tours, including their offerings and contact information for booking and inquiry. 
Related Articles
1)
Top Langkawi Tours
: Here are all the great tours of Langkawi and its surrounding areas. 
Visitors' Reviews/Comments
Hetal Kudecha (January 2015) 
Hi, I plan to visit Langkawi in May 2015 as a part of Malaysia trip with my mother and daughter of 7. I will reach in the afternoon around 2pm and plan to stay three nights. Island hopping tour or mangrove tour - is it possible to combine both in a day? Would like to have some time to relax / swim on a beach. Also will any of the above tours offer water sports like banana boat ride, water scooter, etc? Thanks in advance. 
Raj (langkawi-insight.com) January 2015 
Hi, Kilim Geopark/mangrove and Island Hopping are separate boat tours and usually it's not possible to combine them. In fact the proper Geopark tour takes almost the full day although you can take a shorter 3-hours tour from the Kilim jetty by hiring a boat or joining a group. A new company called Danly Natutical & Marine Explorer claims to offer a full day combined tour of Island Hopping and Kilim Geopark. You can write to
[email protected]
for further information. The above tours do not combine watersports like banana boating, water scooter rides etc, but Danley Nautical offers snorkeling.