Langkawi Airport Duty Free Shopping
There are several duty free shops at Langkawi International Airport. You can start shopping as soon as you land or while departing. But, the duty free shops at the airport are unfortunately not quite cheap. In fact compared to the ones in Kuah Town, they are quite expensive. 
So unless you have no time to shop while staying in Langkawi, you are better off controlling your shopping desires at the airport. However, you will be able to purchase most of the common stuffs that tourists want at duty free shops. The shops are all lined up at a large common hall which is common to both arriving and departing passengers. 
There is a large store selling perfume & cosmetics. It has large collection of almost all the known brands. A rear section of that store sells various items including Langkawi embossed T-shirts, branded T- shirts, clothes and dress materials for men & women, and many gift and souvenir items. You will get many different designs of key rings ranging from RM5 to RM15 a piece. 
Langkawi Airport Duty Free Shop - Perfumes & Cosmetics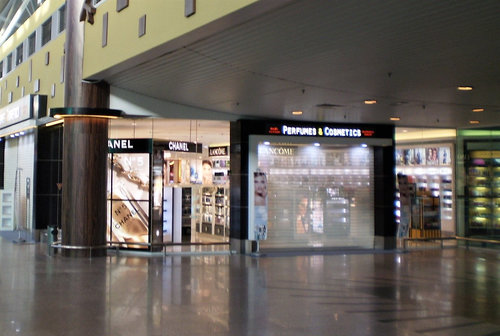 But one of the best souvenir items to buy from the airport and our favorite is the Plaster-of-Paris models of Golden Brown Eagles sitting on rocks. After all Langkawi's main symbol is Golden Brown Eagle from which it derives its own name. There are many different models of the eagles of various sizes and of exclusive design. They will neatly pack it in shock proof packaging. When I compared them with the prices I had seen in Jetty Point Shopping Complex in Kuah Town, I found them to be slightly cheaper here. 
Another large store sells liquor and tobacco. It too has nice collections of wide range of brands. But they are definitely more expensive than other duty free shops in the island. 
Langkawi Airport Duty Free Shop - Liquor & Tobacco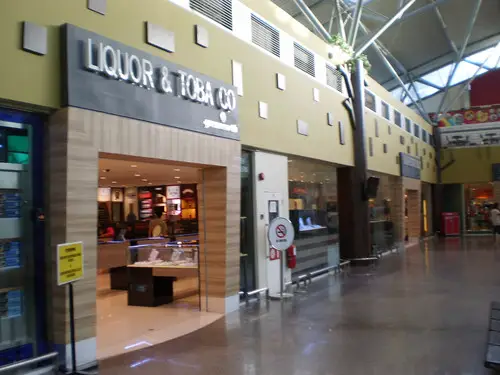 Apart from the large formal stores, there are also several stalls that are lined up along the middle of the hall. They have a range of small products including clothes, cosmetics and other souvenir and gift items. 
Other than duty free stores, there are couple of cafes inside. Starbucks and Marry Brown are the two most popular cafes here. Both are great places to get some burgers, sandwiches and coffee. Marry Brown also makes some great noodles and chicken & rice preparations. They both offer many different kinds of ice creams and cold drinks & juices. 
Starbucks and MarryBrown, Langkawi Airport 
Related Articles
Visitors' Reviews/Comments
Esther (December 2019) 
Hi Raj. I m flying to Langkawi and intend to buy liquor at the duty free shops at Langkawi and bring it back to KL. I have only cabin baggage with me. My question is can I hand carry the liquor (1L limit I know) and board the plane? Will the custom/security check at airport allow me to hand carry? Need your advice, thanks. 
Raj (langkawi-insight.com) December 2019 
Hi, if you buy the liquor from a duty free shop at Langkawi airport, they can seal it and you need to place it in your handbag and then pass through security. So you can hand carry the liquor but it needs to be inside your handbag, and if you are travelling by Air Asia, then the total weight of your handbag must be under 7kg. However, if you buy liquor from a duty free shop outside the airport, then you must put that in your check in baggage... you can not hand carry that and pass through security. Note that prices at Langkawi airport duty free shops are in general higher than the duty free shops elsewhere in the island. Another option is to buy it in-flight... but the choices may be limited. 
Chua Hock Seng (May 2014) 
Are the below allowed on departing from Langakwi airport during customs checking or on board Air asia ? 
1. Bottled liquors ? Quantities allowed ? 
2. Cigarettes ? Quantities allowed ? Thank you. 
Raj (langkawi-insight.com) May 2014 
Yes, you can buy duty free items like liquor and cigarettes at Langkawi airport while departing. Quantity depends on duty free allowance/limit of your home country. Usually it's 2 liters of liquors and one cartoon (200) cigarettes per person.