Kuih Food & Stalls in Langkawi
Kuih stalls are small make shift stalls selling food items known as kuih (also known as kueh). Extremely popular with the locals, kuih food essentially comprises of many different types of Malaysian desserts, sweets, cookies, cakes and snack items. And they are cheap.  
Most of the Kuih items are either steamed or fried, rice flour, wheat flour, coconut, sugar, pandan etc. Cookies and biscuits are popular during the festivals in the island. 
Some of the Kuih items that are locals' favorites include: 
1) Ang koo: Nyonya steam cake made of rice flour having sweet beans inside. 
2) Kueh koci: Uses rice flour and served with grated coconut. It's steamed. 
3) Ondeh-ondeh: Similar to above but has a filling of coconut. It's steamed. 
4) Kueh lapis: Colorful rice cakes cooked with coconut milk. 
5) Pisang goreng: Essentially banana fritters. 
6) Jemput pisang: Steamed rice flour with banana and wrapped in banana leaves. 
7) Kueh bengkang: Sweetened tapioca flour cooked in coconut milk. 
8) Dodol: Sweet coconut cakes 
9) Kuih bahlu: Small sponge cakes. These are very popular during festival times like Hari Raya and Chinese New Year. 
10) Popiah: This is a snack item. Veg spring roll served with chili sauce. 
11) Curry puff: Deep fried pastry with filling of potato, chicken or meat. 
Kuih Food, Langkawi 

You will find Kuih stalls in several places in the island.  
One of the most popular ones is located at Padang Matsirat next to the eatery BnZ Sempoy'y Nasi Campur. The stall is located right on the road Jalan Padang Matsirat and at an easy walking distance from the Masjid (Mosque). Some of the great kuih items to try here would be kueh lapis, kueh bengkang, pisang goreng etc. This stall is usually open from 12:30pm to 5:30pm. There is heavy demand during the tea break times when the locals throng this stall. 
Kuih Stall, Padang Matsirat, Langkawi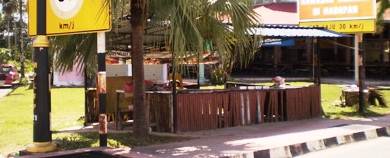 Another such Kuih stall is located inside
Makam Mahsuri
. It sells excellent Penerams that look like black donuts. They are prepared fresh and sold hot in plastic packs. Each pack costs only RM2. Although a little sweet, they taste really great if you have them fresh & hot. 
The lady at the Padang Matsirat Kuih Stall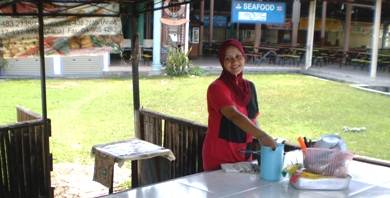 Other places to search for kuih items would be at the
Night Market
. 
Related Articles
Visitors' Reviews/Comments
Share your experience.