Kilim Jetty Langkawi
Kilim Jetty is a boat dock and located at the north eastern edge of Langkawi on Kilim river. Large number of motorboats that are moored here are mainly used for taking tourists around the
Kilim Geopark
. The geopark covers an area of 100 square kilometers, and has stunning geological formations like majestic limestone cliffs, several islands, seascapes, beaches, caves, lagoons and lot of other attractions including mangrove swamps along the shoreline. 
During the tourist season, large number of tourists gather here at the jetty area all through the day to embark on the geopark tour. The Kilim jetty infrastructures have therefore been upgraded to cater to such large influx of tourists. In fact before you enter the jetty, there is an outdoor area full of shops and stalls selling all kinds of items like snacks, cold drinks, clothes and souvenirs. 
Boats lined up at Kilim Jetty, Langkawi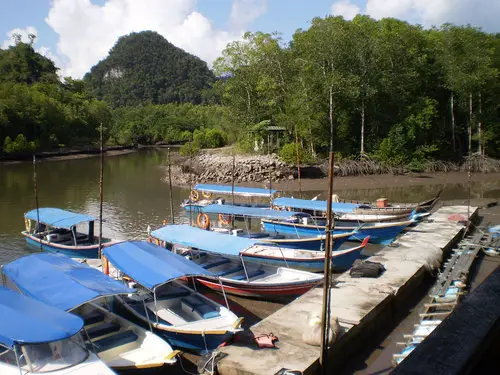 Unless you are already carrying, it is a good idea to pick up some bottled water and snack items from here before you start your boat tour. There is also a covered seating area before the flight of steps that lead down to the water where the boats are parked. From the seating area you can watch the Kilim river, the forested banks and the high cliffs along the shore line and see the boats leaving one by one for the geopark tour. 
How to reach Kilim Jetty 
Kilim Jetty is located at the north eastern edge of Lankwai and on the bank of river Kilim. You will need to take taxi to come to the jetty.  
From the road Jalan air Hangat and just after Galeria Perdana, there will be a side road (diversion) that leads straight to the Kilim Jetty and ends there. Many tourist buses and vans come here to take the tourists for
Kilim Geopark & Mangrove Tour
. 
Map location of Kilim Jetty, Langkawi 
Nearby Attractions 
There are several amazing attractions and geo-sites in the
Kilim Geoforest Park
area. There are majestic limes stone cliffs, caves, several islands with unique flora & fauna, lagoons & lakes, beaches, seascapes and more. You will also be able to see
Eagle Feeding
in this area. You should also visit the Galeria Perdana located close to the jetty and on jalan Air Hangat. 
Related Articles
Visitors' Reviews/Comments
Share your experience.