Atma Alam Batik Art Village Langkawi
Located centrally in Padang Matsirat and close to the Langkawi International Airport, Atma Alam Batik Art Village is a complex that showcases a wide array of exclusively handmade as well as block printed batik art that includes dress materials, paintings and handicraft products. 
The long L-shaped single storied building set up in a half-acre sprawling compound has been built in traditional Malaysian architecture with slanted triangular roofs. 
It has been established by the couple Aza Osman (an oil painter) and his wife Roshadah Yusof, also known as Sada who herself is a reputed Batik artist and designer. They moved to Langkawi together in 1987 and founded the Batik Art Village. They both live and work here. Aza spent 15 years in Europe, mostly in Italy. Having studied and learned fine arts, he returned to his homeland to share his experience and skills. Sada on the other hand had been a self taught well established batik artist. Her batik artwork are commissioned at most of the luxury resorts in the island. 
Atma Alam Batik Art Village, Langkawi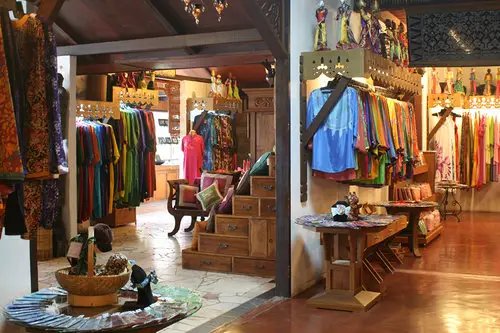 Atma Alam Batik Art Village has been recognized by the Ministry of Unity, Culture, Arts and Heritage of Malaysia. There are several sections in the building to explore. Photography is not allowed inside. This is probably because they don't want their original art designs to be exposed to the external world. 
Batik Workshop
The section on the right end is the Batik Workshop. This where most of the batik materials and artwork displayed in the showroom are created. Here an artist demonstrates and explains the art of batik painting to the visitors and tourists. If you want, you can also try your hand. Here they also conduct educational sessions. Batik classes are held for intensive groups. Most tourists are first guided to the workshop before exploring the remaining sections. 
Batik Showroom
This is the main section of the building and to the left of the workshop. This is the place to buy original and exclusive Batik paintings, Batik dresses and Batik handicrafts at reasonable prices (well some silk items & handicrafts can be very expensive though). 
Here you will get large collections of garments and cloth pieces with exclusive Batik art that are all designed by the local artists under the guidance of Sada. She herself designs many artwork with batik impressions. You will get batik paintings and prints both on silk and cotton materials. Collections include a wide range of garments that range from elegant wears for women and men, to casuals. I realized that photography inside is prohibited after having already taken the following two pictures in the showroom. 
Silk pieces with batik art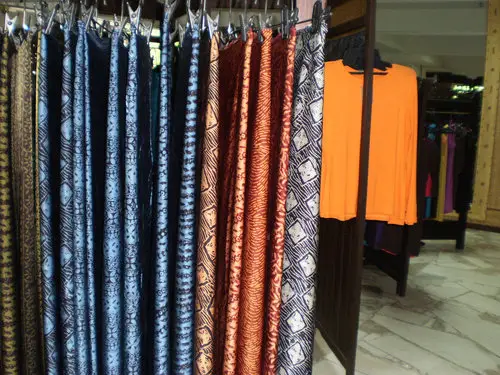 Also on sale are many other items like bags, cushion covers, purses, wall scrolls etc that have been created by the local artists and tailors using original batik materials and Songkets (Songkets are intricately designed gold & silver threaded fabrics and original to Malaysia). 
Cloth rolls with batik art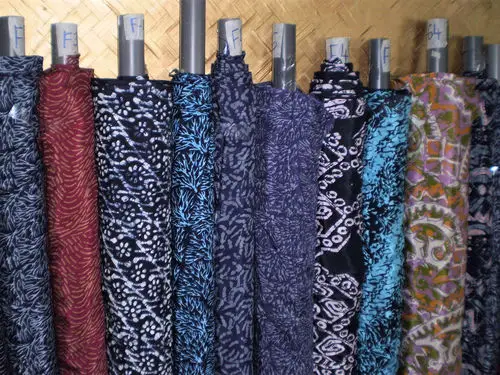 Remember, all these are original handmade products with batik art on them, and not one of those tacky batik products that you see elsewhere. So when looking at the price, this needs to be kept in consideration. The products range from traditional to experimental pieces,some of which come with strange designs and colors. 
The following picture is the silk batik that we purchased from Atma Alam Batik Art Village during one of our visits in May 2012. The 2.5 meter silk piece with batik prints was priced RM100. 
Silk batik that we purchased from Atma Alam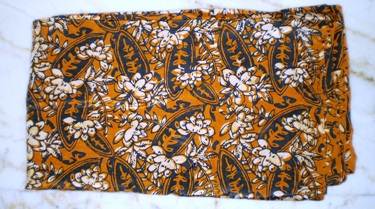 Original oil paintings on canvas and batik paintings from local artists are also available for sale. There is also a separate section on ceramic and handicraft items. However, they are a bit expensive. 
Cafe
There is a cafe at the corner where you can have coffee with home made cookies and cakes. Fruit juices, cold drinks and other snack items are also available. 
Art Gallery
There are sections dedicated to showcase the creations of both Aza OSman and his wife & co-founder Roshadah Yusof (Sada). Aza did his higher education at the London College of Printing (W Germany), and Fine Arts from Italy. His oil paintings are inspired mostly by the spiritual aspects of life. Sada while busy guiding the local artists, accepts commissioned work for dresses, paintings and handicrafts. She also offers group batik painting courses. 
Open Hours
Open daily from 9am - 6pm. Admission is free. 
Location & Contacts
Atma Alam Batik Art Village is located Padang Matsirat (near the Petronas fuel station ) and on the road Jalan Padang Matsirat. It is only 2kms from the airport. You can come here by a taxi  or rental car. There are ample parking space available in front of the building. 
Phone: +604-955 1227;  
Map location of Atma Alam Batik Art Village 
Related Articles
3)
Padang Matsirat Guide
: All about the area including attractions, activities, restaurants, hotels, shopping and more. 
Visitors' Reviews/Comments
Share your experience.