Pantai Tengah Activities, Langkawi
Pantai Tengah is a relatively quieter and peaceful place although it too has one of the best beaches in the island with a long expanse. This is where many returning families and romantic couples tend to stay within a reasonable budget. So unlike Pantai Cenang, the beach activities here are limited. 
However there are huts on the beach that are home to watersport operators offering all kinds of water based activities like jet skiing, speed boat joy rides, banana boating and lot more. 
There are several very nice Spas in the area. Most of them offer traditional Malay treatments and massages using authentic and organic spices, herbs & oils. Some have also invented fusion style of treatments. Pantai Tengah also boasts of several excellent operators offering boat tours. In fact the jetty from where the well known Island Hopping boat tour starts, is located in Pantai Tengah near the Awana Porto Malai Resorts  (the hotel is now known as Resorts World Langkawi). 
Note that Para sailing from the beaches is dangerous and illegal in Langkawi. However even in recent times I have seen tourists unknowingly doing para sailing from Pantai Tengah beach. Some unscrupulous operators having no license continue to offer para sailing with parachutes taking off and landing at the beach. Due to coconut trees, resort buildings etc, there is always a high risk of entanglement or impacts. There has been several major accidents in recent times. 
Top Watersports Operators in Pantai Tengah
They offer several cruises including sunset dinner and cocktail cruises, standard day cruises and even private charter cruises. Tropical Charter also organizes various tours including Jungle Walk, going around the island and experiencing the villages, fruit orchards, waterfalls etc. Other ooferings include mangrove tours, organizing spa & retreat packages wherever you want etc. 
Watersports on Pantai Tengah Beach
There are huts on the beach of Pantai Tengah about 50 yards to the left of the Lighthouse Restaurant & Beach bar that offer several water sports. As you approach the operator along the beach, you can see a number of speed boats, jet skis, banana boats and many different kinds of floats and other water gears lined up and kept ready for tourists. This is one of our favorites when it comes to getting into the water at Pantai Tengah with a jet ski or a speed boat. They are open from morning (about 8am) until sunset. 
Awana Porto Malai Activities & Watersports
Awana Porto Malai Resort  (now known as Resorts World Langkawi) in Pantai Tengah organizes a series of recreational and watersport activities from its own waterfront area. They are located at the southern end of Pantai Tengah and has a boardwalk along the waterfront and a dock from where they operate. As an outside guest, you too can avail the activities here, however the rates are on the higher side. There are other third party operators who too operate from the Awana Porto dock. 
They offer jet skiing, speed boat joy rides, kayaking & canoeing, fishing trips, diving & snorkeling trips, island hopping tours by boat, sunset cruises, boats tours for mangroves, caves & geopark, etc. You should book in advance. They operate from 9am to 5:30pm. Location: Tanjung Malai, Pantai Tengah; Phone: (604) 955 5111  
Ocean Watersports, Pantai Tengah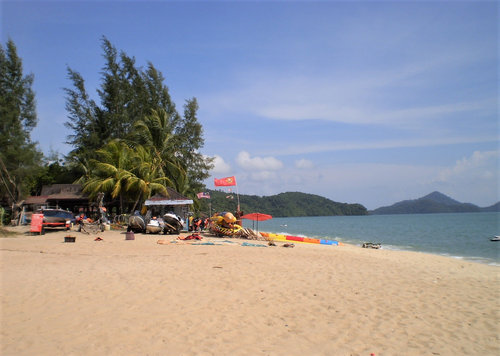 Ocean
They operate out of a small hut just next to the Awana Porto Malai Hotel  (now known as Resorts World Langkawi) and offer nice boating excursions to nearby islands. They are open from 8am to 5pm. Location: Southern End of Pantai Tengah and opposite to Awana Porto Malai Resort. Phone: +6012/ 569 2864  
The Top Spas in Pantai Tengah
Furusato Spa
This is the new branch (after the one in Cenang) and located at the Sun Mall in Pantai Tengah. They offer several packages with different combinations of head & body massages, body scrub & wrap, hair treatment, facials, herbal compress etc. 
Ishan Spa
This is a great Malaysian Spa where experts local therapists do the treatments. It's located in a rainforest up the hill. It may be a little difficult hike for some, but it really makes up with its charm of Malaysian style huts where the treatment rooms are located. A wide range of Malaysian treatments and massages are offered including scrubs and bamboo massages. 
Yuan Spa
Located in Pantai Tengah and opposite to Holiday Villa, this is a cozy little budget spa set up in a garden setting and offering several spa packages including full body aromatic oil massage, scrub & wrap, head massage, manicure & pedicure etc. There are four treatment rooms where couples can be accommodated in each. There is also a common area where foot massages, pedicure etc are carried out as you get a lovely view of the garden through floor to ceiling glass windows. 
Related Articles
2)
Pantai Tengah Area Guide
: All information about Pantai Tengah including attractions, activities, hotels, restaurants, shopping etc. 
Visitors' Reviews/Comments
Share your experience.