Langkawi Snorkel & Diving Operators
For the snorkelers and scuba divers, Langkawi offers wonderful experience with its colorful corals and marine life. However to experience the best, you will need to take a snorkeling or diving cruise to an offshore location. One of the best and most popular places for diving and snorkeling is
Pulau Payar Marine Park
which is located about 30kms south of Langkawi's main island. 
There are regularly scheduled boat trips that take the divers and snorkelers to the marine park. Most operators leave from Kuah town. Depending on the operator and the packages chosen for the Marine Park, you can either snorkel from the beach, or a floating reef platform which has been installed about 100 meters offshore. Snorkelers are also taken to nearby reef sites on a separate boat for reef snorkeling. 
Pulau Payar Offshore Platform for snorkeling & diving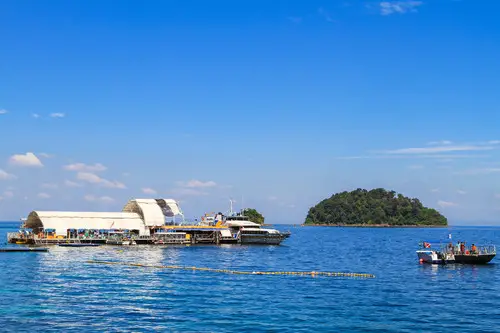 Photo: Marius Dobilas, Shutterstock 
The floating reef platform is also used for offering introductory lessons to first time or inexperienced divers. If you are an experienced diver and have signed up for certified diving, a separate dive boat would take you to one of the several reef sites offering stunning corals and marine life to be explored. All operators offer snorkeling and diving gears as part of the package. Lunch is also included in the day's tour. 
However there are operators who also offer diving experience other than in Marine Park, and such sites include nearby off shore locations around the many tiny islands on Andaman sea, and far away islands and even at Koh Lipe. 
Here are the top operators offering snorkeling and diving tours in Langkawi. 
1) East Marine Holidays
They operate regular boat excursions to Pulau Payar Marine Park for snorkeling & diving activities from their own marina located at the Royal Langkawi Yacht Club in Kuah Town. They also offer scuba courses from open water to instructor level under accretions like SSI, PADI, BSAC, NAUI etc. They have their own facilities & infrastructure including ferry, dive boats, private marina, classroom, restaurant facility etc. They offer the following packages for dive & snorkel excursions to Pulau Payar Marine Park: 
The trip starts at 9:30am daily and all are served complimentary tea or coffee before the boat departs. Safety instructions and briefing on day's activities are given prior to departure. 
The day's program includes swimming, snorkeling, sunbathing or relaxing in the marine park. The certified scuba divers can sign up for reef diving while the beginners can go for the Discovery Scuba or Introductory Dive programs. 
Indicative Rates: RM250 per person for snorkeling package, RM350 per person for diving package (two dives).  
Rates include snorkeling/diving gears, lunch, fruits & drinks, return boat trip to the marine park. 
They also organize diving trips to Pulau Segantang and Pulau Perak. These diving trips would require minimum group size of five. However, they can also organize such trips on special requests. Pulau Perak trip takes place only in April and May. 
Contact Information for inquiry & booking 
East Marine Holidays Sdn Bhd 
Royal Langkawi Yacht Club, Jalan Dato Syed Omar, 07000 Kuah. Langkawi 
2) Langkawi Coral Platform
Operated by Langkawi Saga Travel & Tours Sdn Bhd, the company was established in 1998 and has been following the Eco tourism practices. They have a Floating Reef Platform located 100 meters off shore from the Pulau Payar Island. They bring you to this platform from where the marine park exploration commences. This is the only reef platform available in Malaysia. 
You can opt for snorkeling or diving package. Snorkeling and beginners diving take place from the platform itself. The platform has an Underwater Observatory from where you get a fish eye view and see the marine life from a glass gallery without getting wet. There are nice & clean toilets and showers (fresh water) available at the floating platform. 
The boat trip to Pulau Payar Marine Park starts at 9:45am from Kuah Jetty. 
Other than snorkeling or diving, the package includes beach walk, coral viewing, fish watching, sun bathing etc. 
Indicative Rate (Snorkeling): RM295 per person, Child (3-12 years): RM195. 
Indicative Rate (Snorkeling + Diving): RM425 per person, Child (3-12 years): RM325. Experienced divers are taken to separate reef sites in the marine park by a dive boat. 
Rates include buffet lunch on table sharing basis, snorkel/dive gears, return boat trip to marine park, hotel transfers (selective points) etc. 
Contact Information for inquiry & booking 
Langkawi Saga Travel & Tours Sdn Bhd 
Plot 9-11 Tingkat Dua Kompleks Cayman, Kuah 07000, Langkawi. 
Phone : 604 966 7318 , 604 966 9140 
Penang Address: 
16 Jalan Tanjung Bungah, Georgetown, 11200, Penang, Malaysia; Phone: 604/899 8822 
3) Langkawi Scuba
This is a small dive center with a small dive boat operated by Warda (a lady from Holland and a PADI instructor since 2002) and her partner Dee (a veteran Malaysian diver since 1994 and also a PADI instructor). They have a small kiosk at the Cenang beach since 2014. Their offerings include:  
They offer PADI Discover Scuba Diving and PADI certification courses as well as fundive trips for certified divers. Open water diving lessons to beginners who plan to take their first ever dive as well as advanced open water lessons. It includes theory sessions held right on Pantai Cenang beach and also some diving lessons. 
Dive packages: They take you to nearby excellent dive sites around the many small islands that lie off shore and not far away from the Cenang beach. Several such sites are only 10-20 minutes boat ride where you can see colorful soft corals, anemones, clownfish, parrotfish, snappers and even large groupers. NOTE: They do not offer diving trips to Pulau Payar Marine Park. 
Langkawi Scuba operates a little different than the big operators in Kuah. They have a small kiosk on the beach, dive with a small boat, and have 2 very experienced PADI instructors. This means it is all a bit more personal but at the same time professional and quite caring. So if you like more personal attention and at the same time do not want to waste several hours to reach and return from Pulau Payar Marine Park, then Langkawi Scuba can be a great option. 
Indicative Rates: Certified divers: 2 dive trip RM 230, PADI Discover Scuba Diving RM 290, PADI Open Water Course RM 1290 
Contact Information for inquiry & booking 
Langkawi Scuba (Warda or Dee) 
Phone: 019 9538876; 019 9049040; 
4) Crystal Yacht Holidays
Although Crystal Yacht is a well known yacht cruise operator in the island, they have recently started offering diving and snorkeling adventures in Koh Lipe just across the Thailand border. One way boat trip to Koh Lipe takes one hour from Telaga Harbor in Pantai Kok. The trip operates from October until May end. Known as Deep Sea Adventure in Koh Lipe, the diving and snorkeling trip features the following: 
Departure at 9:30am and return at 6:30pm. 
They have a partner in Koh Lipe who offers PADI courses, and daily dive trips to over 50 dive sites. 
They take you to secluded private beaches for lunch in between the dives. 
The dives are accompanied by dive masters. 
The dive boat is equipped with first aid kits, emergency oxygen, telephone, radio etc 
There are several packages. Two Dives package includes lunch and equipment @RM650 per person. Introductory Scuba Diving includes lunch and equipment @RM640 per person for one dive and @RM750 for two dives, Snorkeling & Sightseeing Package includes lunch and equipment @RM550 per person, Leisurely relaxed day on the beach (good for those accompanying divers & snorkelers) includes lunch @RM500 per adult & RM400 per child (2 - 12 years) 
Contact Information for inquiry & booking 
Crystal Yacht Holidays Sdn Bhd 
243, Kampung Berjaya, Pantai Cenang, 07000 Langkawi, Malaysia. 
Mobile: +6 012 408 7866 or +6 012 431 7866; Phone: +6 04 955 6545 
5) Operators for diving at Koh Lipe
For dives in Koh Lipe, you will find several operators in Koh Lipe beach area offering dive packages. Some of the well known ones include Castaway, Forra Dive, Adang Sea Dive etc. They all have their own resorts offering accommodations as well. Just search the web. 
Related Articles
Visitors' Reviews/Comments
Melanie Thomson (April 2016) 
Booked this trip for 4 adults & 2 children on 13/4/16. The whole day was excellent from hotel pick up to the location. The staff were polite and very helpful, we felt very cared for. If you are looking to snorkel in Langkawi, I'd recommend East Marine 
Tahreem Rasool (May 2015) 
Hi, I am planning to visit Malaysia late in August this year, we have asked a travel guide to arrange the trip and book hotels. I have always wanted to experience Scuba Diving/deep sea diving but my travel guide doesn't offer this with the package. We are going to stay at Hotel Adya (we have a choice to chose between ADYA & BayView) 
I have browsed about the diving experts and have came across 2 names: 
1) Divescover (RM441/person) 
2)Coral Island (RM 370/person) 
Which one do you suggest? I want it a one day activity only. Any other suggestions regarding trip would be highly appreciated :) Please write back to me. 
Raj (langkawi-insight.com) May 2015 
Hi, Divescover is not a Dive Operator, they are a booking agency that lists many dive centers all over the world and work on commissions with the individual dive centers. You can go with Langkawi Coral or East Marine Holidays. If you like customized dive and more personal attention, then contact Langkawi Scuba that operates from Pantai Cenang.