Gunung Raya Golf Resort Langkawi
About Gunung Raya Golf Course
Gunung Raya Golf Resort is located centrally in Kisap and few minutes drive from the Kuah Town. This beautiful sprawling course nestled at the foothill of
Mountain Gunung Raya
spanning across 300 acres of land area which was once used for rubber plantation. This is an 18-hole championship course (par 72 and 6228 meters long). The course was designed by the renowned Golf Architect Max Wexler from the USA.  
The course was first opened in 1998 and since then has been continuously maintained and renovated to keep it current and upgraded. A clubhouse too has been added with modern facilities. 
Gunung Raya Golf Resort Langkawi 
This course has been the home for many tournaments including the one hosted annually in September by the Malaysia's Royal family. The tournament is known as Pialal Mu'adzam Shah Golf Tournament. Gunung Raya has been traditionally one of the most popular golf courses in the island. On a usual day, you will find about 300 golfers in the ground (most of course are locals and some are foreign visitors). 
Some of the great features of this course includes vast stretching rolling greens, broad & beautiful fairways, and elevated tees with wonderful views of the mountains & rainforests. The entire course is contoured with several sand traps and water hazards, mostly around the back 9 holes. Bermuda grass has been used on the turf all through out the course. 
Cafe & Clubhouse, Gunung Raya Golf Resort Langkawi 
As you go around, you will find sign boards clearly indicating the hole number, the index, par, the distance and some guidelines. The first hole itself with its elevated tee offers a sweeping view of the mountain and the entire stretch of the course. If you are giving it a try for the first time here, then try to hit bearing left to avoid the couple of bunkers and some mounds on the right of the fairway. Further down is a pond on the left with coconut trees fringing it. The fairways in the course are wide which help to keep the ball in play. 
Hole 10 with par-5 and 500 meters distance is probably the most difficult one in the course. There is a water hazard that runs all along the left and a ridge on the right. Although there are a number of bunkers along the fairway, it finally leads to a large flat green. The closing 18th hole with 423 meter par-4 is also quite challenging. You will need to hit a lofted shot to target the pin which is located on an uphill base. 
Patio, Gunung Raya Golf Resort Langkawi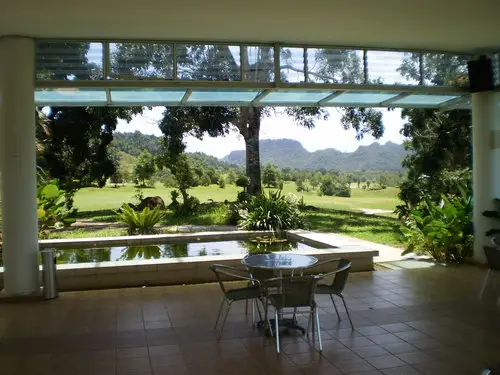 Course Information

Facilities in Gunung Raya Golf Resort
A Clubhouse with Club Cafe facing the lovely stretch of the golf course with mountain views. The cafe offers a range of local cuisine. 
A Patio overlooking the Golf Course where you can relax and have a cup of coffee. 
A driving range and a putting green for practice. 
Shower Rooms and Storage Lockers. 
Transfer services from / to your hotel in Langkawi. 
A Golf Pro Shop that sells golf accessories, T-Shirts, Golf Shoes etc. 
Golf Buggy which is included in the rates. 
Discovery Golf Program: Designed for non-golfers to learn golfing. It is done in a group and the time allocated depends on the group size. You can contact the Club House and get more info on rates and how to book the course. Contact information given below. 
Pro Shop, Gunung Raya Golf Resort Langkawi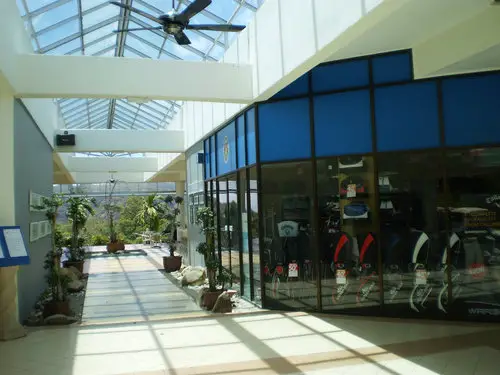 Indicative Rates
9 holes - RM159.00 per person; 18 holes - RM318.00 per person 
The rates are inclusive of green fee, buggy on a twin sharing basis and insurance 
Golf Driving Range: 50-Balls RM5; 100-balls RM10 
Golf Equipment Rental: Golf Set RM80-180 per set; Golf Shoes RM20 per pair. 
Open Hours
Open Daily. 
18 Holes: First Tee Off at 7:30am; Last Tee Off at 3:30pm 
9 Holes: First Tee Off at 7:30am; Last Tee Off at 5:30pm 
Golf Driving Range timing: Daily 7:30am to 7:30pm 
Tee Time Reservation
You can make a reservation between 7.30am to 7.30pm daily: 
WhatsApp: ( 6 )012-413 8400 
Location & Contacts
The golf course is about 15 minutes drive towards north from Kuah Town along the road Jalan Air Hangat. 
Address: Gunung Raya Golf Resort 
Jalan Air Hangat, Kisap, 07000 Langkawi, Kedah Darulaman, Malaysia. 
Club House Phone: (604) 966 8148 
Map Location of Gunung Raya Golf Resort Langkawi 
Related Articles
Visitors' Reviews/Comments
Share your experience.