Langkawi Squid Challenge
The keen interest of fishermen and anglers in the island to catch squids have turned it into an annual event which is celebrated and enjoyed like a festival these days. November through February is actually the squid season in Langkawi and the surrounding water areas in Andaman sea gets full with squids of different types & sizes. So this competition known as the Langkawi Squid Championship is usually organized by the tourism wing of Langkawi Development Authority (LADA) in the month of February. The event is locally known as 'Suluh Sotong'. 
Over the years it has actually become an international event where participants come from several other countries. However the majority are still local fishermen and anglers. LADA also coordinates the challenge closely with the fisheries department of Malaysia to ensure that fair judgement is given out in each category. 
So how does the event take place? 
Squids are nocturnal, like to stay in dark water and get active at night. So the best chances of finding squids is during the night time. So the event starts when it's about to get dark and takes place all through the night. 
Langkawi Squid Challenge - A boat looking for squids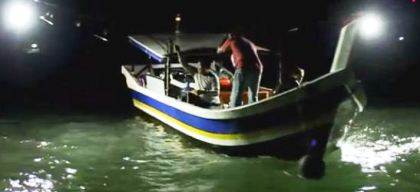 From the shore when a horn is blown, the boats start speeding towards the deeper water area. They are cheered by huge crowd who gather at the shore to see the event kicks off. Over 50 boats participate in the event. The participants are allowed to use nets and scoops. 
The boats go out with floodlights that illuminate the entire water area so that the squid are visible. They all use generators to put on the flood lights. Usually a boat can have up to five in a team. The whole night the team would keep looking for squids of all sizes and net them carefully. 
The judges would come on board at night from time to time and collect the squids with names of the captains and the persons having made the catch. The challenge comes to an end next day in the morning following which the prizes are given out. 
There are several categories for prizes. Cash prizes are given out to both individual and team winners. Here are some of the popular categories in the challenge: 
Team Heaviest Squid Category 
Individual Heaviest Squid Category For Cuttlefish 
Individual Longest Squid Category for Arrow Squid 
Individual Longest Squid Category for Octopus 
The total collection can easily exceed 225kgs and the heaviest squid could be well over 15kg. 
2011 Highlights
49 boat participated 
Challenge started at 7pm on 25th Feb 2011 
Ended on 26th morning 
Total collection was 223kg. The heavisest squid was 13.4kg 
Further Information
Langkawi Development Authority 
Phone: (+604) 966 7186 
Website: www.lada.gov.my 
Related Articles
Visitors' Reviews/Comments
Share your experience.