Tanjung Rhu Resort, Langkawi
Category: 5-Star Luxury,  Location: Tanjung Rgu 
Located at the northern shoreline of Langkawi and at the north eastern corner of the island, Tangung Rhu Resort is a piece of paradise. If you are looking for tranquility, impeccable service, great food and a romantic ambience, then you don't need to go any further. 
This is substantiated by the fact that the resort has many returning guests. I know of some who have returned for more than five times. There can not be a better credential of a resort than this. The resort is located on
Tanjung Rhu beach
which in my opinion is the best beach in Langkawi. The 2.5km stretch has powdery white sand with several tiny islands offshore at a short distance that look like some small mounds jutting out of water. 
Although a large part of the sandy stretch is a public beach, but Tanjung Rhu has a private beach carved out from the rest. Actually from the public beach you will see a fence separating the private beach. And the best part of the beach is that its fringed by casuarina trees making it look picture perfect. And nearby where it meets the Kilim River, you will see dense mangroves with many small but unique animal life. In 1991, Tanjung Rhu Resort was first built as an apartment complex. However the current owners took over the property in the following year and converted it into a hotel. 
One of the best deals in the resort is to go for the all-inclusive offer which includes all meals and unlimited soft drinks at the room's mini bar, airport transfers etc. It takes only about 25 minutes from the airport to reach the resort. As you are received and escorted to the main reception cum lobby area, you will immediately get a feel how friendly the staffs are and how efficient the management is. In fact the service starts from the General Manager Enzo Rulli, an extremely polite and helpful person with a very strong presence in the resort. 
Private Beach, Tanjung Rhu Resort 
Rooms & Units 
There are only rooms in the resort and no chalets or villas. But the variety and types of rooms, their elegant layout and modern yet charming decor compensate for any deficit you may think of. All rooms are quite spacious. In fact the smallest rooms are 50sqm in size while the biggest rooms are some 100sqm. The resort has gone through major renovations in 2013/14 and rooms and the restaurants have been modernized. 
There are several types of rooms in the resort. The Damai and Chaya rooms are the smaller ones and offer mainly garden or courtyard views. Bayu Suria and Bayu Senja are bigger rooms (80sqm). Bayu Suria rooms mainly offer garden or pool views while the Bayu Senja rooms overlook the Andaman Sea. The Bayu rooms are more like suits with a large bedroom with sofa, large wardrobe space and huge bath. It's good enough for a family of four. But the best of the lot if you can afford is Anjung Suite (100 sqm) which has its own Jacuzzi and a lounge. 
Tanjung Rhu Resort, Hotel Building 
All rooms have private balconies, timber floor and large windows. The in-room amenities include air-conditioning, LCD TV, DVD player, coffee maker, mini bar etc. 
Restaurants, Bars & Lounges 
Tanjung Rhu Resort offers a wide range of options in dining. And I can tell you from my own experience over the years, the chefs here are passionate in making delectable food. The food quality and portions are really good. 
The Rhu is one of our long time favorites. It's a fine dining place which has an air-conditioned indoor dining room and also an roofed al fresco dining deck right on the beach and overlooking the ocean. Being a formal fine dining restaurant, one needs to be formally dressed. Infants are not allowed here. It serves a fusion of eastern and western dishes. The 4-course dinner is excellent. Open for only dinner from 6:30pm until 11pm. 
The Rhu Fine Dining, Tanjung Rhu Resort 
Sands Restaurant is another favorite of ours. The alfresco large dining room creates a lovely ambience with wooden tables & chairs elegantly laid out amidst rocks and ponds. It serves Malay, Asian and Western cuisine and open for breakfast, lunch and dinner. 
Sands Restaurant, Tanjung Rhu Resort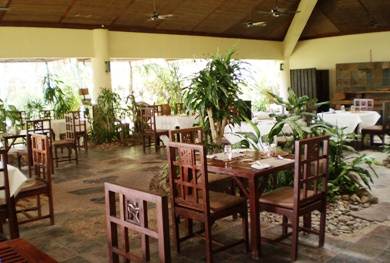 Saffron is another great restaurant right on the beach side. The interiors of the dining room inside has flourish saffron color and hence the name. It has an al fresco section also with sweeping view of the sea. The restaurant serves Mediterranean dishes. Open for lunch & dinner. When we were there last time, it was going through renovation and was closed. 
The Sands Pool Bar is located next to the Sands Pool. It serves a range of beverages to the swimmers during the day time (until 6pm). It also has an open kitchen with wood fired pizza oven and serves a range of snacks too. The bar is open late until 1am. 
When it gets dark, the green lights around the palms fringing the pool and the overall setting creates a mesmerizing ambience. And sometimes a live music further adds to its attraction. Another option is the Sunset Pool Bar. This is a bar by the wonderful swimming pool which has a great view of the sea. They serve snacks at the pool from 11am until 6pm. 
If you want to dine in an ambience which is at its romantic best, then ask for the Barbecue at the beach. On request, they organize barbecue beach dinner. The stand lights on the beach and vertical curtains create a wonderful secluded and intimate atmosphere. 
Also don't miss out on the afternoon English Tea served in the Reading Room with hot scones, pastries and cookies. In a nice cool environment, relaxing on a spotless white couch, and reading from a wide collection of books & magazines, savor the tea and snacks. The reading room has a marvelous views as well, just in case you are not in a mood to read. 
Hotel Amenities & Info 
The 60-meter Sunset Pool is where you want to immerse yourself during the day time and have a swim if you like. The vista of the Andaman sea from the pool is unparalleled. The Sands Pool is another beautiful one and located next to the Sands Restaurant. It's fringed with coconut and palm trees and after dark when the colored lights are switched on, the place looks magnificent. 
Sunset Pool, Tanjung Rhu Resort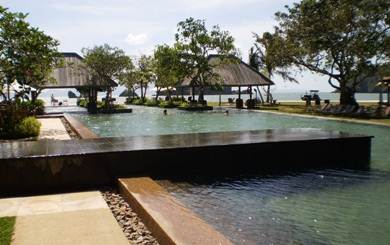 While you can swim until 10pm, but sometimes the staff would close the pool by 8pm for maintenance. So if you have plans to swim at night, tell them in advance. There are changing facilities, sundecks, umbrellas and lounge chairs in the pool areas. There is another smaller Lagoon pool which is shallow, has sandy bottom and great for kids. 
Sands Pool, Tanjung Rhu Resort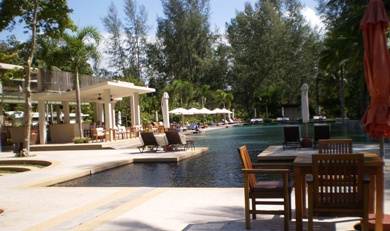 The JivaRhu Spa
takes a special place in the resort and has earned an identity for itself. Walk down through the tropical gardens and at one end next to the well equipped and large gym, you will find the spa with several treatment rooms. It offers delicate eastern spa treatment methods derived from a combination of Malay, Balinese and Ayurvedic massages. The spa also offers reflexology and fusion treatments. 
The resort has a water sport center (essentially a kiosk) at one corner of the beach that offers eco friendly non-motorized water sports like kayaking, windsurfing, sailing, hydro biking etc. There are tennis courts as well. Another popular spot known as Above Saffron offers pool board, dart, foosball table etc. The internet center offers high speed connectivity. 
The resort also organizes many different island and boat trips including cave exploration, island tours, sunset cruises,
Geopark and Mangroves Boat Tour
and lot more. In fact you can just walk around the resort towards the public beach, and there is a pathway that leads to the jetty where you will find plenty of boats waiting. From there you can take the geopark and mangroves tour which will be much cheaper. However, the resort organizes such tours through experienced guides and overall the resort's package quality would be far better. 
Other amenities includes conferencing facility (meeting rooms with capacity of 100 persons and having modern conferencing gadgets like audio & video facilities), baby sitting service, airport transfers (paid), shuttle service to the town for a small charge etc. 
Tanjung Rhu offers comprehensive professional services for wedding including wedding planner, registration assistance, venue, reception, floral arrangement, wedding dinner and more. The venue can be on its beach, by the pool side, in Sands garden with beach view, at the Pavilion Meeting Room etc. The resort offers an attractive Wedding Package as well. 
Update June 2018: The hotel has gone into receivership and awaiting sale of its assets due to large debts incurred. It is understood that although a multi-million dollar renovation started in 2013/14, only half the rooms have been renovated and the proposed villas were never constructed. 
How to book this hotel 
If you want to book this hotel through World's No.1 online hotel booking service that offers lowest rates & immediate confirmation, then
Click here to book
. 
Contact Information 
Tanjung Rhu Resort, Mukim Ayer Hangat 07000 Langkawi, Malaysia  
24 Hours Reservation (Phone): +603-2161 7766 
Map Location of Tanjung Rhu Resort 
It takes about 25 minutes by car to reach Tanjung Rhu Resort from the airport. It is located at the northern shore and on Tanjung Rhu beach. 
Related Articles 
Visitors' Reviews/Comments 
Share your experience.