The Box Chalet Langkawi
Category: Budget,  Location: Padang Matsirat 
The Box Chalet, as the name itself suggests is a small hotel. I would rather call it a small guesthouse, because with the warmth, hospitality and the friendliness of the lady owner Mas Alia and her husband Effendi, you really feel you are part of the family. While Alia looks after the hotel and its upkeep, Effendi supports her as the chef cooking some delicious kuih (local) food during the breakfast. 
Box Chalet is a great budget hotel if you are looking to stay away from the crowded places like Pantai Cenang or Kuah. The greenery and the serene environment all around offers a Kampung (village) style stay in a quiet place. So you will sleep well at night. 
And in the morning when you get off from bed and come out to take a look around, the inviting trees, plants & greenery will offer a very soothing experience. 
The Box Chalet, Langkawi 
The hotel is located in Padang Matsirat, quite close to the airport and on a road that goes through the village area. So when you reach Langkawi, give a call to Alias on her phone and she will give you or your driver the exact direction to the place. From the road the entrance to the hotel is through a wide metal gate. There is a pebbled pathway and a courtyard at the center and the rooms are lined up on two sides. Alia has planted lots of trees and plants in the courtyard creating a nice natural ambience. 
Right at the end of the pathway or the courtyard, there is an open dining space. This is where they serve free breakfast to the hotel guests. There are some plastic tables and chairs laid out there in a casual setting. This is where you will meet up with the other guests in the morning over breakfast, have friendly chats with them or get some tips from Alia for exploring the island. Overall the ambience in the hotel is casual and very friendly. 
Rooms & Amenities
There are only seven rooms in the hotel. 6 standard rooms have double beds or twin beds. One family room can accommodate four persons (there are three beds... one double and two single). The rooms are clean and spotless, the bed linens are clean as well and so are the attached bathrooms that have hot showers (instant Chines geysers). The water pressure in the bathrooms are quite good. 
Mas Alia, The Box Chalet, Langkawi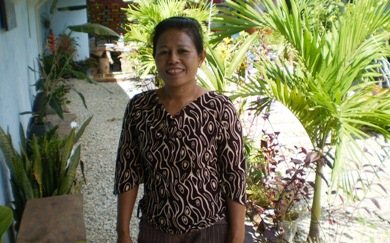 All rooms have standard amenities that you can expect in most quality budget hotels like air-conditioner (that really works well), a mini fridge where you can store your drinks and food, a fan and even fast in-room free wifi. What I like about the rooms are their bright wall colors which really make them very attractive and inviting. 
Breakfast Room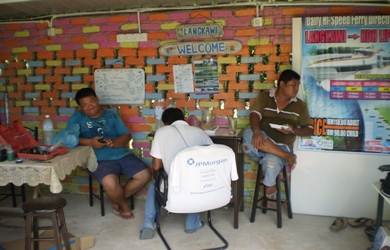 Although the rooms are small, Mas Alias takes personal care to ensure that they are kept spotlessly clean. In fact she personally enters the rooms when the guests are away and gets the rooms cleaned up. Everyday the rooms are cleaned, floors mopped, bathrooms washed and the beds made. This is quite unusual for budget hotels of its category in Langkawi. 
The hotel offers one large (1-liter) bottle of mineral water free per day per room. You can also get bicycle rental from the hotel. 
Standard Double Room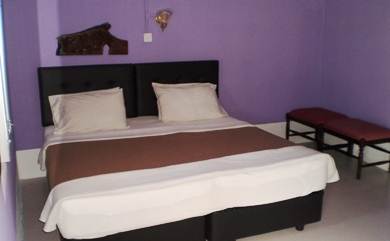 The breakfast is complementary. So when you wake up and decide to go to a place or beach, you do not have to search around for an eatery or a kitchen stall to take your breakfast. In fact  I was surprised with the quality and quantity of breakfast served. It usually includes cereals, bread, jam & butter, eggs, fruits like papaya, watermelon, banana etc and local (kuih) food prepared fresh everyday. Sometimes you will also get noodles. And there is of course tea and instant coffee. 
One of the reasons why guests love this place is the friendliness and support of the hosts ... both Mas Alia and her husband, as well as the staffs. When you arrive, Alia will let you know all about the hotel, its location and about Langkawi in general. She will show you the closest supermarket where you can get cheap food and drinks. She will also guide you with the cheap eateries and restaurants where you can have your meals nearby. And she will also guide you with the best tours & activities of the island and help you book a tour at a very reasonable price. 
Family Room 
But if you decide to stay at The Box Chalet, you will need a transport of your own like a rented car or bike. As I mentioned earlier, the place is a bit isolated and you can not walk down to anyplace or tourist attraction. The nearest beach
Pantai Cenang
is about 15 minutes drive. Mas herself usually offers to take you to the nearest rental agency and get you a car or bike at a reasonable rate. Note that a local motorbike rental costs about RM25 a day. 
However if you do not want to drive, you can ask Mas Alia and she will arrange for a taxi to get around. In fact if you request her to drop you at the airport while leaving, she would certainly do that as well. 
What we like about the hotel
1) I think the first plus point about the hotel is the personal touch and warmth from Mas Alia and her husband. They go all the way to help you out virtually with anything that you may need. As a result, they have several returning tourists. 
2) The cleanliness is another reason why I would always recommend this hotel to budget travelers. Not many budget hotels of its class would clean rooms everyday. Also that it's a relatively new hotel, the rooms look brand new. Alia had earlier worked in a five star hotel and she applies all her experience in Box Chalet. 
3) The free breakfast is really great and helps kick start the day perfectly. 
4) The hotel is located in a quiet village setting and therefore offers a nice serene ambience and tranquility that many look for. 
What can improve
1) There is not much room left for improvement. However if I have to point out one thing, then it may be the lack of natural lights in the rooms. Most rooms do not have windows and the natural lights can come in through the open door. This looked a bit strange to me because on both sides of the two rows of rooms, there are enough open space to offer decent views from the rooms if there were large windows. 
2) Although this is not an improvement item ... most tourists come to Langkawi to enjoy the beaches and try to get beachside accommodations. If beaches is what you are looking for, then this hotel is not in an ideal place. You will need a transport to get to any beach from here. 
Rates provided by booking.com 
Contact Information
The Box Chalet 
No.1 lot 1107 , Jalan Batu Belah, Batu Bertangkup,  
Kampung Caruk, Kedawang , 07000 Langkawi 
Phone: (Mas Alia) 019 5994494, (Office) 0194282293, 049556534 
Map Location of The Box Chalet
The hotel is located close to the airport and on a road through a village. 
Related Articles
Visitors' Reviews/Comments
Share your experience or stories.