Tomato Nasi Kandar, Langkawi
Category: Budget, Cuisine: Indian & Malay 
This is a very popular restaurant in Pantai Cenang with both tourists and locals. This is because you get nice food at a reasonable price. Pantai cenang is the tourist hot spot and most restaurants here are overpriced. This one offers a nice respite from the heavily priced food else where. 
If you walk along Pantai Cenang road (Jalan Pantai Cenang), it's hard to miss this one. It's located near the AB Motel and opposite to the new Cenang Mall. You will find tables laid out downstairs in the roof covered open dining area (alfresco) with plastic chairs. Some tables almost spill over to the sidewalk. There is also an air conditioned section just in case the heat is too much to tolerate. 
Tomato Nasi Kandar, Langkawi 
If you come during the lunch or dinner hours, you will almost certainly find the restaurant quite full and will struggle to get an empty table. However a great advantage of the place is that it's open 24 hours and you get fresh food all the time. 
So what kind of food should you try here? Well as the name of the restaurant itself suggests, you should definitely try the tomato rice along with other dishes. We have dined here several times. You can have a nice meal for RM10 to 15RM per person. They essentially serve Indian and local Malay food including Pakistani halal dishes. It started as a Mamak eatery (basically serving Muslim food) but now expanded into both Indian and Malay cuisine.  
Recently they have opened a new Roti Canai counter where they make fresh rotis (breads) including naan breads that are made in tandoor (earthen oven). The menu is quite extensive. 
Here are some of our personal favorites when it comes to food here:  
If you like Indian food, then go for tandoor items like naan bread (cheese or garlic naan if you so like), chicken tikka masala, fish fry etc. The braised mutton is also prepared very well. Even the south Indian dosas are very nicely done. Accompany that with some beverages like ginger tea or cool drinks. They have good choices of vegetarian food as well. 
In Malay food, try some of tomato rice or roti canai, roti & nasi kandar (rice), maggie goreng with telur mata (they really prepare it well), murtabak ayam, mie mamak or a plate of ikan pedas with coconut nasi putih.  
Note that most of the Indian and Malay (curry) dishes are very spicy. If you do not want spicy food, ask a waiter to help you with the menu. For example noodles and chicken satay would be a good choice if you want no spice. Otherwise you may even find the rice to be quite spicy. 
Tomato Nasi Kandar, Langkawi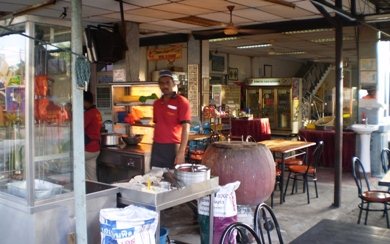 The restaurant does not serve any alcohol. The service is a bit slow particularly when it gets crowded. But why should you care? Staffs are quite friendly. And you come here to have good food at inexpensive price, and not for the service. When the restaurant is full, the atmosphere can get quite chaotic and noisy. 
Open Hours 
They serve breakfast, lunch and dinner. Open 24 hours. 
Closed on Fridays (1:15pm – 2:30pm) and Tuesdays 
Location & Contacts 
It's located close to Underwater World and opposite the Cenang Mall in Pantai Cenang. 
Jalan Pantai Cenang (near AB Motel). 
Related Articles
Visitors' Reviews/Comments
Share your experience.