Red Tomato Restaurant & Lounge Langkawi
Category: Mid-Range, Cuisine: Italian & Western 
This trendy restaurant is located at the southern end of Pantai Cenang and opposite to Underwater World or the McDonalds. Just look for the pink color beetle parked on the road and that's where the restaurant is. It's run by a Malay/German Husband-Wife team. Oli is Malay and is an artist. He has put together the exciting and funky interior of the restaurant and its overall ambience. His German wife Tanja looks after the food menu and service. 
The entrance to the restaurant is covered with many plants & trees and looks green. Just before entering the dining room, there is an outdoor patio surrounded by plants. The patio is right on the side walk, but the green plantations all around it ensure adequate privacy from the passers by. The outdoor seating can accommodate about 30 persons. 
The dining room inside, although a bit dimly lit, looks very exciting. There is a full size mirror right at the end of the lounge. The wooden tables are lined up on one side with cushioned seats, and on the other side of the lounge is a long well stocked bar. With hanging glasses, bird cages and crystal chandelier, the overall ambience is quite relaxed and inviting yet elegant. Inside seating capacity is 35. Staffs are all young, attentive and quite friendly. Sometimes when free, you may find them chatting between themselves though. 
Red Tomato Restaurant & Lounge, Langkawi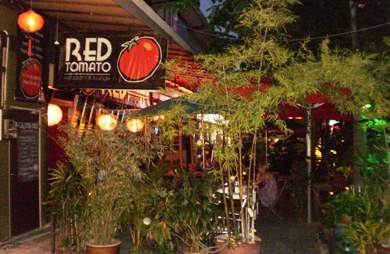 Red Tomato is very popular for its hearty breakfast and also for lunch and dinner. I would suggest the Farmer's Choice breakfast as a must try if you are visiting the restaurant for the first time for breakfast. This is what Oli will recommend too. It has generous portions of potato, served with homemade bread or toasts, tomato, mushroom, egg & cheese, a choice of bacon or turkey ham. Costs only RM12.50. 
Another great breakfast menu item is the Egg Benedict which comes with poached eggs topped with spinach, served with bread or toasts, tomato, mushroom, choice of salmon, bacon or ham etc. You will rarely find such nice western breakfast anywhere else in the island. Finally finish your breakfast with Lavazza coffee. 
If you come to the restaurant for lunch or dinner, then a must have is its Tomato Soup. It thoroughly justifies the name of the restaurant with its thick tasty soup. The restaurant is also well known for its wide range of salads. Try the Wellness Salad which comes with garden fresh greens, mango, avocado, cucumber, tomato, cranberry and smoked pepper tuna... delicious. The Greek salad is also equally good. Salads range from RM21 to RM27. 
With Italian food as some of its main menu items, Red Tomato has a range of pasta and pizzas. One of the best pastas here is the Mexicana which comes with jalapeno, onion and capsicum in creamy tomato sauce and topped with avocado and feta cheese. Another great pasta dish here is the Mediterranean which is served with prawn, capsicum, olive & capers in basil pesto and topped with feta cheese. Pizzas and pastas range from RM21 to RM27. 
In meat, fish and chicken some of the favorite items here are the tenderloin steaks with fresh mushrooms, salmon fillets pan fried in butter and the German dish Chicken breast strips in permesan cream sauce. Items range from RM35 to RM40. 
One of the best things about this restaurant is you will get many items gluten free. Red Tomato is also well known for its delicious milk shakes which are very thick and fruity. 
Dress Code 
Smart Casual. 
Open Hours 
Daily. 9:30am to 10:30pm 
Location & Contacts 
Red Tomato Restaurant & Lounge is located opposite McDonalds and Underwater World. 
No.5 Casa Fina Avenue, Pantai Cenang, Langkawi 
Related Articles
Visitors' Reviews/Comments
Share your experience.