Azio Hotel Langkawi
Category: Budget,  Location: Kuah 
This is a decent budget hotel located quite centrally in Kuah. The hotel offers only rooms with standard in-room amenities. You won't get food here, not even breakfast, tea or coffee. But several eateries & restaurants are within easy walking distance. Airport is about 35 minutes by cab. 
So if you are looking for night stays at budget prices, Azio can be a decent choice because of its central location in Kuah town and easy accessibility to most of the major attractions in the town and duty free stores. 
The hotel rooms are located on the first floor while the ground floor houses a fairly large and well stocked Azio Duty Free store selling all kinds of items including liquor, perfumes & fragrances, food & confectionery items, tobacco, bags and lot more. 
Azio Hotel, Kuah, Langkawi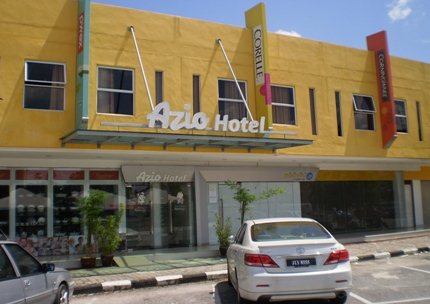 Rooms & Amenities
There are 38 rooms of different types including superior, deluxe, executive and family suites. Some rooms have windows facing the street in front while the others do not have windows. The ones with the windows are a bit costlier. Rooms have LCD TV with select channels, air conditioners, attached bath with hair dryers etc. 
All rooms are in the upper floor and there is no elevator in the hotel. So if you have heavy luggage or have problems climbing stairs, this hotel may not be suitable. They have limited staffs (mostly at the front desk) and you may not always get assistance with your luggage when you arrive or depart. 
There is wi-fi in the reception/lounge area. Rooms that are close to the reception can also get wifi access but the connection is unreliable. The reception area can be noisy at times. So for less noisy rooms, choose ones away from the reception. 
Although they don't supply mineral or packaged waters in the rooms, they have common water dispensers (both hot and cold water) and you can refill your bottle. There is also a common area for ironing where iron & boards are provided. 
Staffs are generally helpful (there are few exceptions though). Front desk is manned round the clock. They also offer sightseeing and island tours as well as car rentals. 
Azio Duty Free Store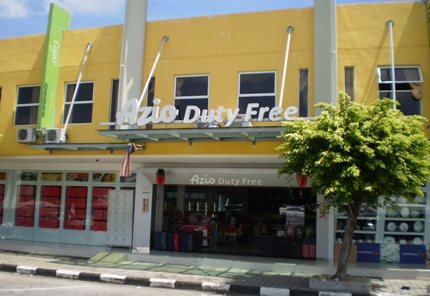 What we like about the hotel
1) Location is quite central. Several shops and restaurants are within walking distance. The large duty free store below is an added advantage. 
2) There are lots of car parking space in front. So if you have your own rental car, this is a big advantage. 
3) Beds and pillows are of good quality. So unless you have chosen a roadside room with lots of noise, you are likely to get a good sleep. 
4) Overall a good budget hotel if you are planning to stay in Kuah. The hotel is mostly used for night stays by people on business though. 
What can improve
1) Some rooms need better maintenance as sometimes cobwebs are visible at the corners of the ceilings and the bathrooms. Air conditioners in some rooms require better maintenance as well. 
2) Tea or coffee in the rooms would be nice as that's the first thing most need after waking up in the morning and the thought of going out for that can be annoying. 
3) Few staffs need to be better trained. 
How to book this hotel
If you want to book this hotel through World's No.1 online hotel booking service (booking.com) that offers lowest rates & immediate confirmation, then
Click here to book
. 
Contact Info
No. 1, Jalan Pandak Mayah 7, 07000 Kuah, Langkawi 
Phone: +60 4 969 8287 
Map Location
Azio hotel is about 5 minutes from the Kuah Jetty by taxi, 35 minutes from Langkawi International Airport (takes RM28 by taxi) and about 40 minutes from the popular Cenang beach (RM30 by taxi). Stores like Coco Valley duty free shopping, Zeno duty free shopping center etc are within easy walking distance. 
Related Articles
Visitors' Reviews/Comments
Share your experience.