Langkawi International Laksa Carnival (LILAC)
If you are visiting Langkawi towards end of the month of May, then do not miss out on this increasingly growing and popular food festival. In fact it's worth a visit to Langkawi to attend this festival. So what is Laksa? It's a food preparation based on rice noodles which was introduced in Malaysia by the Chinese several centuries back. However over the years the acceptance and love for this food among the Malay residents have made it a national food and a delicacy. 
You can find several variations of Laksa across different locations of Malaysia like Kuala Perlis, Sarawak, Penang etc. The most common type is a curry made with the rice noodles with several other ingredients mixed in it including cucumber pieces, shrimps, onions, sliced vegetables, sliced boiled eggs, red chili etc. Coconut milk is added to create the soup. 
Depending on the state or location in Malaysia, the taste of the soup wold vary (some even mix lemon in it) and it would be lighter or thicker. For example the Sarawak preparation would usually have watery soup while the one from Johor would have thick soup. Take a pair of chopsticks, have a gulp of rice noodles and chase it with the soup - delicious! Some Laksa preparations would have a bold flavor of ginger while others could be quite rich and spicy.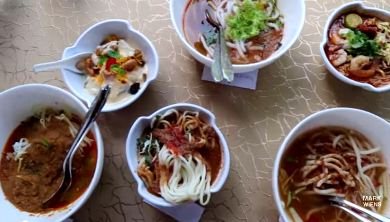 Now coming to the Laksa festival, what actually happens during the carnival? Well, the main theme is a food festival with Laksa as the core dish. The carnival is organized by LADA (Langkawi Development Authority) in
Laman Padi
at Pantai Cenang. The venue is so chosen because Laman Padi is where the rice museum of Langkawi is located. It covers a vast area and is home to several paddy fields and research related to rice harvesting. 
And at the Laksa festival, you will find Laksa dishes not only from various places of Malaysia, but also from many Asian countries like Vietnam, Indonesia, Philippines, Thailand, Korea etc. Renowned Malaysian and International Chefs participate in the carnival and demonstrate cooking of Laksa. You can learn great recipes from them. And of course you can sample and eat Laksas to your heart's content. Desserts are also prepared with Laksa. 
The carnival is a great melting pot of diversity and harmony of Malaysian as well as international cultures. Thousands of locals and tourists participate in this. It takes place over 3 days in the last week of May every year. There are culinary competitions held and prizes given away. You can also join the Laksa eating competition. Although it's mainly a food festival, a number of other activities and entertainment also take place during the festival including musical performances, volleyball, children painting competition, traditional games etc. 
2016 Langkawi International Laksa Carnival 
This year the Laksa festival is being held between 27 to 29 May 2016 at Laman Padi. The main highlights are rice and noodle specialty dishes. There will be over 10 participants from Malaysia and also international specialists from countries like China, Indonesia, Thailand, South Korea etc. There will also be live cooking demonstration, cooking contest etc. About 60,000 visitors are expected to attend the festival. 
2015 Langkawi International Laksa Carnival 
This is the 4th year of the carnival and held at Laman Padi between 29th May to 31st May 2015 (10am to 6pm). About 30,000 people including islanders and tourists are expected to participate in this year's program. This year you can savor delicious Rice Noodles from countries like Philippines, Vietnam, Japan, China, Thailand and Indonesia. International Chefs like Chef Farah Quinn from Indonesia, Chef Joe of  MasterCard Malaysia, Chef Sherson Lian of Malaysia will showcase their culinary skills with Laksa. You will also meet Master Chef Farouk Hussain. A highlight is the 'Battle of 3 Chefs' in making desserts and also 'The Chef of Langkawi'. There are various other activities and programs including laksa cooking demo, field volleyball for men, field handball for women, performance by Upin-Ipin, children's coloring, traditional games etc. Prizes worth more than RM50,000 would be given away to the winners of various competitions. 
Related Articles
Visitors' Reviews/Comments
Share your experience.