Fox Hill Homestay & Resort, Langkawi
Category: Mid Range,  Location: Padang Matsirat 
If you ask visitors who stayed here once - if they would return, I would imagine almost 10 out of 10 would say Yes. And the fact is this self contained property with several kampung (village) style Malay houses remains almost full with returning guests particularly during mid and high season. So you should book well in advance. 
So what is the secret and why do people love to stay here on vacations? After all it's not close to any beaches and neither located on or near touristy areas full of shops & restaurants. Well the property which is managed by the hostess Maria, her family and few very friendly efficient staffs have been able to achieve what many luxury resorts have not been able to do. 
And that is to create a true homely atmosphere, in a neat and clean property with several chalets spread around in a lush garden setting, and backed by great quality of service and most importantly love & passion. You will feel you are visiting a home away from home, taken care of delicately with almost all your wishes fulfilled with big smiles. 
Fox Hill Homestay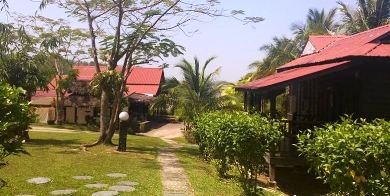 And additionally, you are in a village setting with vast stretches of paddy fields all around and also a forested land adjacent to the property. You can feel and hear the nature and all its creatures every moment and in absolute tranquility. While nature and village environment would engross you with their charm, you will also enjoy all modern amenities including a swimming pool and lovely food prepared by the staffs. 
If you are lucky, you can even see Great Hornbills sitting on your balcony in the morning or evening. And if you are a pet lover, several very well mannered cats will accompany you, and if you are not, they won't even bother you. 
Rooms & Amenities
There are several houses or chalets with their own names and themes. Some are great for families and some thoughtfully designed for couples or honeymooners. For example the house Suriya is the largest and has two bedrooms with a bathroom, dining space etc and is suitable for a family of 4 to 5. The houses Hill, Jasmin etc also have two bedrooms but smaller in size. The house Amin and the Tree House are ideal for couples. 
The Tree house stands on tall stilts and have marvelous views of the paddy fields and greenery all around. From the balcony you get stunning view of the sunrise. Although there is a sink inside, one disadvantage with tree house is the bathroom being at the base and you will need to climb down the stairs every time to use the bathroom. At night that can be a problem. However, the views of the greenery and that of starry sky at nights more than compensate for that. 
The houses have been created in traditional Malay architecture reflecting village style houses. With polished wooden furniture the ambience inside is wonderful. They are all well furnished and have amenities like air conditioning, fridge, iron, TV with Astro channels, kitchenette with cutlery etc. 
The house Alfa has been newly built near the entrance and is a good option for people with mobility issue. It too has two rooms (one can sleep two, the other one), a bathroom, dining table at the shared area, kitchenette and all other standard amenities like any other house in the property. 
Depending on your party or family size, I would recommend you talk to Maria and choose an appropriate house. Daily house keeping and cleaning service is provided in every house. 
The small yet very well maintained pool at the center of the garden is a big plus. After a tiring day of sightseeing when you return, having a swim can be very refreshing. And then you are really hungry. 
For dinner, there is a lovely dining room with wooden tables and chairs (made in typical Malay kampung style in mind). While dining you can get spectacular view of sunset from here. And the food is delicious. You will need to order for your dinner in advance. They only cook to orders and typically prepare Malay and Thai cuisine. Fish and prawn preparations are excellent and the price is very reasonable. 
If you have an infant with you, they will take extra care to prepare special food for the baby. Breakfast is included with the rate. They serve simple yet excellent breakfast and the menu changes every day. They do not serve lunch at Fox Hill. Because most likely you will be out sightseeing and eat outside. However if you do plan to stay back during the day time, you can make use of the kitchenette. 
Another great thing about Maria and her offerings is, their charges for all outdoor activities are very reasonable. For only RM25, you can ask them to pick up from the airport or a drop to the airport. They also have several cars which you can rent for island tours. If you don't want to drive, just ask them and they will organize the island tour for you with a driver. Usually one of the staff's husband would be your driver who would speak good English and be very friendly. 
Fox Hill can also organize Island Hopping and even Mangrove Geopark Tours. They usually go down to the jetty and ensure that you get a good boat and have a great tour. 
There is a nice library next to the dining room. This is where you can spend a lazy afternoon or take a book and lie on one of the hammocks as you listen to the chirping of the birds. 
What we like about the homestay
1) I think what stands out here from many of its peers is the sensitivity towards the needs of guests and caring attitude. Maria and her team (her children are also now supporting her) go all the way to ensure you make yourself feel at home. 
2) The property is clean with lots of greenery around. Vast stretch of paddy fields, proximity to village locality and living in Malay style will give you a perfect exposure to local culture and life, while being in peace and out of hustle & bustle. 
3) The property although is not on the tourist strip, but quite conveniently located. The airport is only 15 minutes and Kuah town is only 20 minutes from here while Panatai Cenang (the most happening tourist place with a great beach) is less than 25 minutes drive from the property. So if you have a car or a scooter, you can reach any place easily. 
What can improve
1) There is hardly anything which can actually come into this list. But if anything at all has to, it would be the bathrooms of some houses, which could have had better ventilation and may smell a bit damp. 
Indicative Rates
RM270 per night for houses for two persons, RM370 for 4 persons etc. There is charge for extra person (mattress will be provided). During peak time like Christmas, there is a surcharge of 15%. Room rates include breakfast. 
Map Location
Fox Hill is located 15 minutes from Langkawi airport and about 20 minutes from Kuah town. It's in outer Padang Matsirat area. Once you get onto the road Jalan Makam Mahsuri and drive for a while, look for the wooden signboard. It's located near Sunset Valley and next to Alamanda. 
Contacts
(for booking & inquiry) 

Fox Hill Langkawi Holiday Resort  

Lot 91, Kampung Telok, Ulu Melakka 07100, Langkawi  

Phone: +604 9557599; +604 9557599; +6012 4737099 
Related Articles
Visitors' Reviews/Comments
Share your experience.