Bayview Hotel, Kuah, Langkawi
Category: Mid Range / Luxury,  Location: Kuah 
This is a large luxury hotel with 14 floors and located centrally at Kuah town and in close proximity to shopping areas and restaurants. This is a 4 Star hotel and offers amenities in line with what is expected. However it has been several years since the hotel has been renovated. Although it looks great from outside, it's definitely showing signs of aging. 
The hotel however does have many repeat visitors, and that is mainly because of its central convenient location and magnificent bay view it offers from its several rooms. 
Rooms & Amenities
The hotel has 282 rooms of different types... Superior rooms (with hill view or sea view), Deluxe rooms (sea view), Executive rooms (with hill view or sea view), Suites etc. Try to take a sea view room with magnificent views of the ocean and you can see the passing ferries and boats. The hill view is also nice. 
All rooms have modern facilities like Flat TV with satellite channels, in-room wifi, writing desk, mini bar fridge, hair dryer, tea/coffee maker, air conditioning with remote control, music & alarm clock, in-room electronic safe, attached bath (separate shower cubicle available only in sea view room). 
Bayview Hotel, Langkawi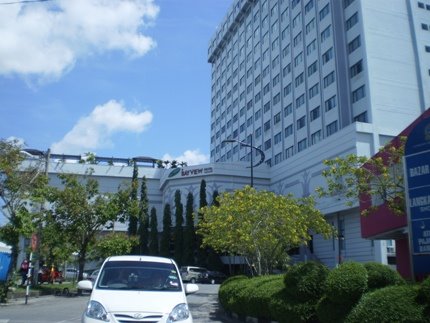 The rooms are all quite spacious and you can easily accommodate a 3rd person in the room or even have a small meeting with your guests. Most rooms come with king size bed or extra large twin beds. 
There are in-house restaurants and bar lounge. The Phoenix restaurant serves Chinese cuisine and can seat about 200 persons. It's open only for dinner. Flamingo Coffee House is the main restaurant serving local and international cuisine. It's open for breakfast, lunch and dinner. The Woodpecker Lounge is the bar lounge with nice stock of wine and alcoholic beverages. It's open till late night (except Thursday). 
Sea View Room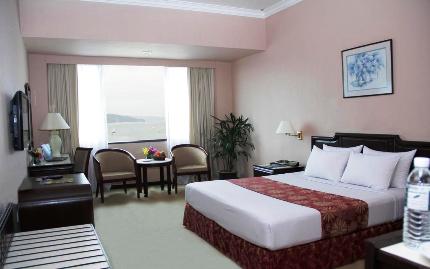 The outdoor swimming pool is quite large and I have seldom seen it being used much. There is a Jacuzzi here as well. However there is no pool side bar. You can however sit by the pool side in the evening with a cold drink or coffee. A large construction in front has blocked the view of the bay from the pool. 
The Gym is quite busy though and fairly well equipped. There is also a sauna and spa. Book the spa well in advance to get a spot. The reception desk is cooperative and will guide you about tours and also help in calling a taxi for transfers. Car parking is also available. 
There are some 8 meeting rooms with various capacity (10 to 8000) and all are well equipped. This also makes the hotel attractive to business travelers holding meetings. There is also a ball room. 
The hotel also offers special packages like Honeymoon Package (including sea view room, breakfast, set dinner, spa massage), Kids package etc. 
My overall opinion
It's a huge hotel and that may be one of the reasons why overhauling it can be difficult. But inside the hotel does look a little run down. The corridors are sometimes smelly, carpets fading in color and the rooms now looking quite old fashioned with 1970s style furnishing. 
The nearest and the popular Cenang beach is about 25 minutes drive, so you should not plan for this hotel if you like to stay close to a beach. 
The Night Market which sets up on Wednesday and Saturday is at a walking distance. 
The breakfast spread is nice and includes both continental and Asian dishes. 
Staff are in general quite friendly and helpful. 
The location is excellent and close to several great shopping points and restaurant. Some of the nice stores for shopping are only 3 to 5 minute walk from the hotel. 
If you like to try out a good Chinese style budget restaurant making excellent seafood with open-air seating, then visit Wonderland which is located just outside the hotel on the street. 
Overall a good value for money when you consider the location and the views. 
How to book this hotel
If you want to book this hotel through World's No.1 online hotel booking service (booking.com) that offers lowest rates & immediate confirmation, then
Click here to book
. 
Contact Info
Jalan Pandak Mayah 1, Pusat Bandar Kuah 
Telephone: +(604) 9061818 / +(604) 9661818 
Map Location
The hotel is located about 25 minutes drive from the airport and about 5 minutes from Kuah Jetty. 
Related Articles
Visitors' Reviews/Comments
Share your experience.