The Datai Spa
The Datai resort is nestled in dense rainforest at the north western part of Langkawi. And the resort has taken full advantage of this to create its spa pavilions in the lush foliage. There are four side-open villas and raised from the ground level having stunning views of the rainforest all around. 
The spa treatments and the ambience around offer one of the purest form of experience to feel and be with the nature. The only sound you hear are the chirping of the birds. 
The spa pavilions are located next to a stream, have outdoor platform, and indoor & outdoor showers with tub. The spa treatment here is based on the ancient traditional Malay teachings of the Ramuan. Although the simplest form of Ramuan method refers to the deft mixing of the natural herbs, oils and ingredients, however when dwelt in deep, it actually means holistic healing of the mind, body and spirit. 
The Datai Spa has adopted this natural method of holistic healing and prepares most of its treatment products from the natural ingredients collected from the rainforest around. 
Spa Pavilion, The Datai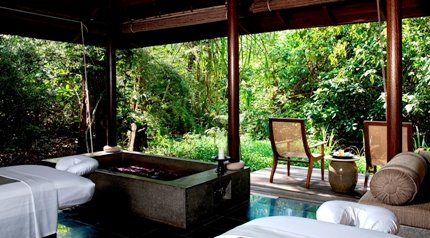 Spa Treatments & Offerings
The spa offers several intense treatments, massages, body scrubs, wraps, facial and even pedicure & manicure services. 
Tangku Batu 
This is the signature treatment of the spa using stones collected from river bed. The word 'Tangku' means 'Heart of stone' and it actually refers to an ancient method used by the Malay healers to alleviate pains and also naturalize the blood circulation in the body. The stone is heated, tied to a pouch with selected rainforest herbs, and placed on your body at various pressure points. This is then followed by a massage using natural oil and herbs. 
Kuat Massage 
This is a deep tissue massage using blended oils. The purpose of this massage is to release muscle tension and toxins. Green coffee is usually used for women to detoxify, while ginger is used for men to warm up and strengthen the body. 
Several other massages are offered like Lembut Massage which is a light massage with oil helping you to get calm and soothe your body with necessary nourishment. Sederhana Massage is one without oil, requires inhalation of steam and aimed towards stimulating the muscles and gaining body energy. 
The Datai Spa also offers Ramuan Ritual (derived from traditional Malay ritual) which starts with a foot scrub, then a head massage and followed by a full body scrub. It ends with a hibiscus bath and coconut milk rinse. This ritual is aimed towards connecting one to the internal peace and harmony to regain a full balance. 
Indicative Costs
Tangki Batu: RM350 / RM490 / RM590 (depending on 60 / 90 / 120 minute massage) 
Kuat Massage: RM350 / RM490 / RM590 (depending on 60 / 90 / 120 minute massage) 
Lembut Massage: RM350 / RM490 / RM590 (depending on 60 / 90 / 120 minute massage) 
Sederhana Massage: RM350 / RM490 / RM590 (depending on 60 / 90 / 120 minute massage) 
Malay Body Scrub: RM270 (45 minutes) 
Malay Body Wrap: RM270 (45 minutes) 
Spa Manicure & Pedicure: RM180 (60 minutes each) 
Subtle Energies Facial: RM540 (90 minutes) 
The Ramuan Ritual: RM1,170 (180 minutes) 
Open Hours
Daily 9am to 9pm 
Contact Info
Jalan Teluk Datai, Langkawi 
Related Articles
Visitors' Reviews/Comments
Share your experience or stories.