Sinaran Motel, Kuah, Langkawi
Category: Budget,  Location: Kuah 
This budget hotel in Kuah is located on a side road adjacent to the main road, and not quite easily noticeable. But location is a big advantage for this small hotel. Lots of shops and eateries surrounding it. 
In fact right below the hotel in the same building are several stores including convenience store, stores selling bags and accessories etc. The night market which sets up on Wednesday and Saturday is only 10 minute walk from the hotel and the major shopping areas too are only 10 minute walk.  
Rooms & Amenities
The motel has 28 rooms of different types including family rooms (triple rooms and deluxe with two large beds accommodating 4 persons). Beds are all of king size and comfortable, and that's a big plus. 
The rooms facing the road side are prone to traffic noise from the road below. Some of the larger rooms are on the backside and much quieter. 
Sianaran Motel, Langkawi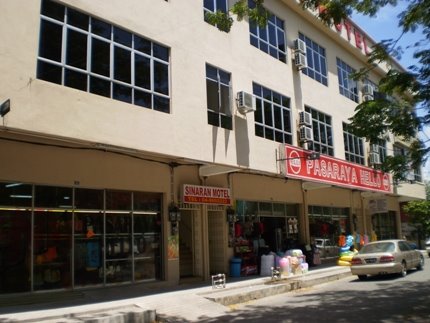 All rooms have air conditioning, TV with limited local channels, free wi-fi, attached bath with shower etc. There are convenience and other stores right below in the same building. There is also car parking in front but limited (may not be adequate if several guests require parking at the same time). 
A Standard Room for two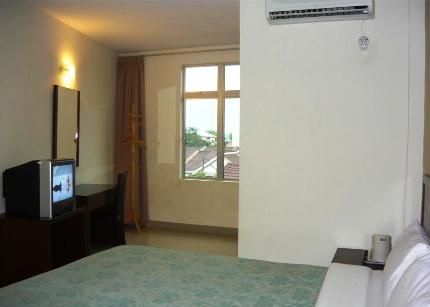 Rooms are in general well maintained, they are spacious and quite clean. Although the motel does not provide food, there are shops and restaurants in easy walking distance. 
Check in is at 2pm and check out at 12noon. 
My Overall Opinion
Rooms are spacious and clean, however there are maintenance issues in some rooms. There have been reports of baby cockroaches been seen running around in the rooms and bathrooms. But that might have been stray issues and does not nullify the overall cleanliness of the motel. 
Although free wi-fi is provided in all rooms, but it can be quite slow at times. 
The hotel is located in upper floors (first & second floor) and there is no elevator. So people with mobility challenges should be careful about choosing this hotel. 
Staff are very friendly and cooperative. However you won't find any services like tours etc guided or organized by this hotel. 
There is a small cozy lobby at the reception area. 
This is a small budget hotel and mainly used by travelers for night stays with great location advantage. It's located close to the Bayview Hotel and only about 10 minute walk to night market. Great shops and restaurants are all in easy walking distance. So considering the low tariff it charges, location convenience and fairly clean and large rooms, it's good value for money. 
Contact Info
Sianaran Motel 
No. 9B, Taman Jentayu, Jalan Penarak, Pusat Bandar Kuah, 07000 Langkawi 
Phone: +60 4-969 2222 
Map Location
The hotels is about 13kms from the airport (about 25 minutes drive). 
Related Articles
Visitors' Reviews/Comments
Share your experience.