Sunderland Motel, Kuah, Langkawi
Category: Budget,  Location: Kuah 
This is two-storied prominent building located at the corner of the street and you won't miss this yellow building mainly because of its strange structure. The ground floor is full of stores including a large departmental or convenience store. The hotel reception and rooms are located upstairs. 
One of the main advantages of this simple budget hotel is its proximity to multitude of shops, duty free malls like HIG, restaurants, night market and even the Kuah Jetty for ferries. 
Sunderland Motel 
Rooms & Amenities
Like most budget hotels here, check in is at 2pm although during the busy time the room may not be ready when you arrive. But lots of shops including duty free stores being next door, you won't have problems while waiting for a while. 
There are essentially two types of rooms - standard and superior, and you can choose for double or triple occupancy in each category. Rooms are simple and have no frills. Air conditioners do work and there is also a TV with cable channels in each room. In-room wi-fi is also available but may not work some times. The rooms also have a work desk. 
Superior Room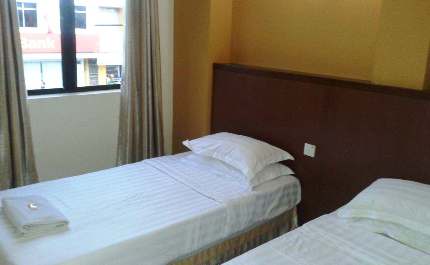 They offer a shuttle service at extra cost. Bathrooms are simple with small wash basin and western toilets. Towel and soaps are provided but no other toiletries. 
Like most other budget hotels, they won't make the bed or clean the rooms during your stay. If you are over staying beyond the stipulated check out time of 12noon, then they ask for RM10 per hour. 
Store at the ground floor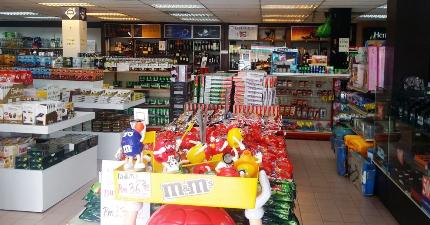 Although the hotel doesn't have a parking of its own, there is free public parking around the hotel and nearby. But during busy time it may not be easy to find parking. Car rental is also available easily. 
My Overall Opinion
Location is excellent given that plenty of stores including duty free, chocolate stores, convenience stores, restaurants are all within stones throw distance. There is a coffee shop around the corner, and the night market is at easy walking distance. The Kuah ferry jetty is in a walkinng distance as well or a short 5-minute taxi ride away. 
However there is no beach around. The popular Pantai Cenang beach is about 25 minutes by taxi. 
Although the staff at the reception try to be helpful, but their English pronunciation can be difficult to comprehend. Since the hotel runs a shuttle service, they won't usually call a taxi for you. However the taxi stand is right next to the hotel. 
The wi-fi can be quite unpredictable and get very slow in the evenings when many try to access at the same time. The TV in some rooms are not very clear. 
Although the rooms are fairly clean, sometimes cleanliness can be a problem. You may sometimes find lots of stuff are lying on the corridor floor. There can also be mosquitoes, so better to carry some mosquito repellent if you plan to keep windows open. 
I suggest you take a room away from the reception to avoid noise from the road. 
Overall a good budget hotel for the price you pay, but keep expectations low. 
How to book this hotel
If you want to book this hotel through World's No.1 online hotel booking service (booking.com) that offers lowest rates & immediate confirmation, then
Click here to book
. 
Contact Info
Address: 1-7, Jalan Pandak Mayah 4, Kuah, 07000 Langkawi. 
Map Location
The hotels is about 25 minutes from the airport by taxi (fare is around RM30). 
Related Articles
Visitors' Reviews/Comments
Share your experience.