El Toro Mexican Bar & Grill, Langkawi
Category: Budget, Cuisine: Mexican 
About the Restaurant and Ambience
The restaurant is situated next to Underwater World in Pantai Cenang and is beautifully perched on the rooftop of a four-storeyed edifice, facing the sea. The view of the sunset is lovely and the ambience very relaxing and laid back, especially with a nice breeze blowing. The place has an authentic Mexican feel to it. 
El Toro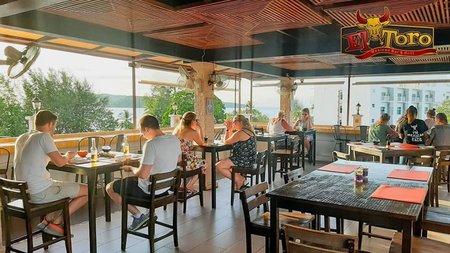 Photo: El Toro 
The restaurant could be a little difficult to find with no signage at the bottom. It also involves climbing a few flights of steep stairs to get there, as there is no elevator service available. All this is however well worth it for the lovely views from the rooftop and a wonderful ambience with some very tasteful artwork. 
If you time your visit here well, around 7.30pm, you will be able to witness the beautiful sights of the setting sun, with lovely music playing in the background. 
Food and Drinks
A lot of the ingredients used in the preparation of the dishes are brought in from Mexico. In fact, all chilies are imported, which are used to marinate the meats and in their homemade salsas. Some of the cheese they use are also made in-house. The menu is rather small but everything on it is absolutely delicious. 
The Chili con carne and nachos are great here. They are very flavorful with the right mix of ingredients and just the right amount of spiciness. The home-made tacos they serve are probably some of the best we've had, and the enchiladas are wonderfully baked in a cast pot making them very delicious. 
Tacos 
Photo: El Toro 
You can try both the soft shell and the hard shell tacos as they are both good. Rice and refried beans as sides are great, although we felt the portion sizes could have been a bit better. 
The combo platter is a good choice and is great value for money. They include Burrito, Quesadilla, two Cowboy Tacos and plenty of home-made salsas-perfect for sharing if you are in a small group. We tried the tortilla shells as well, and were not disappointed. The food is quite fresh and they have a great selection of sauces. We loved the salsas, chicken and prawn fajitas, quesadillas with different fillings and other sauces that came with the food. They have excellent vegetarian options also. 
Combo Platter (selection of Burito, Tacos and Quesadilla)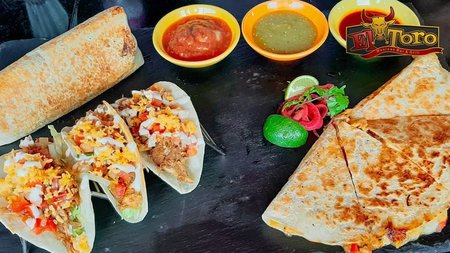 Photo: El Toro 
The salsas come in three levels of heat- hot, medium and mild. The overall level of spiciness in the food here is according to the local people's general taste in Malaysia. However, should you need it to be spiced up in keeping with the more authentic Mexican tastes, they can provide homemade chili sauce and Mexican Cholula sauce. 
They serve a good selection of alcoholic and non-alcoholic drinks. Try a jug of Sangria or one of the sunset drinks especially the Frozen Margarita. They also serve strong tequila and beer including Corona (with lime) and several cocktails, although you might not find them on the menu. You can ask your waiter about the options available in drinks. They offer happy hour prices on drinks everyday till 5pm from opening. 
Photo: El Toro 
There is a separate children's menu available. We had tried the Junior Burritos for the kids. They are meaty and taste delicious. Portion sizes are good enough for one person and filling. They can also recommend dishes that can be shared between two.  There are daily specials that you can try. 
Service
Service is good and friendly. Food is served quick and hot and the staff is very attentive and quite helpful. They pay great attention to detail and the owner sometimes stops by your table for a chat, which is quite good. There is an open kitchen where you can see the chefs at work. They too seemed pleasant and happy. 
Trivia
They accept credit cards here and also have a takeaway option. Restrooms here are clean and they have a smoking area. Some might find the lighting here a tad dim, but the servers can get you extra candles if you so request. We only wish the portion sizes for some of the dishes were better. 
They have daily promotions where you can avail certain items at discounted rates. For instance, there is Taco Tuesdays, wherein you can buy tacos for just 5 RM every Tuesday.  
Indicative Prices
Starters and salads: MYR 7 — MYR 39 
Mains: MYR 29 — MYR 43 
Desserts: MYR 14 — MYR 19 
Combo Platters: Starts at MYR 69 
Location and Contact
Noor Villa Rooftop (Next to Underwater World) 
Lot 2613, Jalan Pantai Cenang, 07000 Langkawi. 
Tel- 012-345-8770 
Open Hours
Open Every Day: 
11:00 am to 1:00 am 
Related Articles
Visitors' Reviews/Comments
Share your experience.