Langkawi Day Discovery Tour & Packages
The Tour Description
This day-long land based tour aims at providing you with an overall flavor of the island. You will get a taste of several aspects of Langkawi including artwork, culture, shopping, great rides and see some of the best marine life. The tour takes about six hours by car or taxi. 
While the packages from different operators may vary a little, a standard tour starts with a visit to
Eagle Square
in Kuah Town. This is where stands a gigantic structure of a golden brown eagle on a 19 acres waterfront area posing to take a flight. Golden brown eagle is the main symbol of Langkawi and therefore this is one of the most important landmarks in the island. You also get wonderful view of the water area around the Jetty and see boats sailing by. 
Eagle Square Langkawi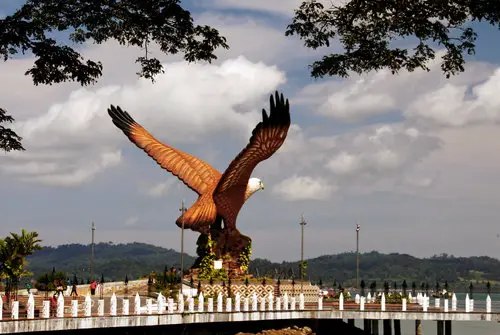 Next is a visit to Jetty Point shopping Complex next to Kuah Jetty and couple of other duty free shopping complexes like Langkawi Fair Mall in Kuah. The malls here are full of gifts & souvenir items, accessories, sunglasses, bags, clothes, cosmetics, electronics, liquor & tobacco and many other items. One of the great souvenirs to take back home is a small model of Golden Brown Eagle. 
Next stop is
Galeria Perdana
, a museum dedicated to the amazing personal collections of the 4th Prime Minister of Malaysia and his wife. The entire collection comprises of gifts, awards and souvenirs that he received during his tenure of service and there are more 9,000 such exhibits including silver & copper make items, weaponry, textiles, paintings, artwork and even motor cars & bicycles that were all given to him and his wife by foreign ambassadors & leaders, as well as Malaysians. 
Galeria Perdana, Langkawi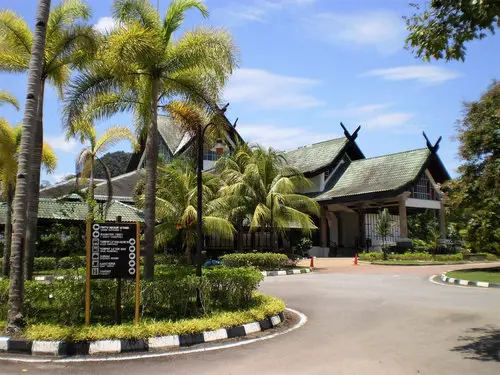 After that you visit Oriental Village and take the famous
Cable Car Ride
to the summit of Mount Mat Cincang and get a wonderful view of the dense rainforest, its bird life, Seven Wells waterfalls and a panoramic view of the islands on Andaman sea. If open, you will also have the opportunity to walk on one of the highest suspended bridges of the world,
The Sky Bridge
which is installed near the summit of Mount Mat Cincang. The bridge however sometimes remains closed for regular maintenance.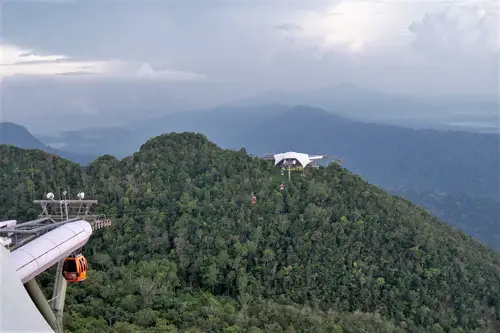 The final visit is at the
Underwater World
in Pantai Cenang where you get to experience a myriad of fish & marine creatures in large aqua tanks as well as amazing array of birds and other animal life from many parts of the world. Some of the key attractions here include the Rock Hopper Penguins, Fur Seal show & feeding session, a walk through tunnel tank full of amazing sea life including sharks, sting rays, moray eels and lot more. 
Usual Tour Schedule: 10am - 4pm (6 hours) 
Indicative Operator Rate: RM80 per adult (includes guide, but no food or entry fees) 
How to take the Discovery Tour
The easiest and cheapest way to take this tour is by hiring a taxi by the hour from any taxi stand. The usual taxi hire rate is RM25-30 per hour. If you are in a group larger than four persons, you can take a van taxi which can accommodate up to seven persons... the rate in that case can be a little higher. 
There are also plenty of good
Land Tour Operators
in the island. You can book a tour through them as well. Most hotels also organize these tours. However the rates would be higher for these. but you are likely to get an experienced and knowledgeable guide or driver if you go through a well known operator or a hotel. Not all taxi drivers are good guides and most can't speak English. There are numerous travel stalls along the road of Pantai Cenang who too offer such tours. 
Pick up and drop service by an operator from/to your hotel depends on the hotel where you are staying. Usually such service is not offered to hotels in remote areas like Datai Bay. 
If you are a foreigner and going through an operator, always check out if the guide or the driver can speak English. The tours do not usually include food and admission fees. 
Related Articles
Visitors' Reviews/Comments
Share your experience.