Langkawi Eagle Square - Dataran Lang
Located in Kuah Town and next to the Kuah jetty, Eagle Square is the place that reflects origin of Langkawi's name. The square is marked by a massive 12-meter sculpture of a reddish brown eagle which is poised to take off. Langkawi's name has been derived from reddish brown eagle, because in old Malay language 'Helang' means Eagle, and 'Kawi' stands for reddish brown. 
So this manmade statue of the eagle placed on a huge star shaped concrete platform has been created to reflect this background of the island where an eagle is the symbol of Langkawi. 
Eagle Square Langkawi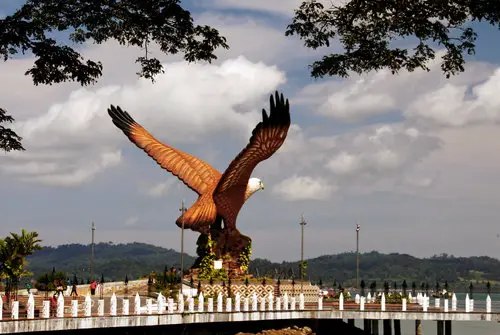 Eagle Square is located on the right side of
Kuah Jetty
and within a short walking distance from there. The square covers a landscaped area of about 19-acres that has covered terraces, beautiful small pond, fountains, footbridges, and covered pavilions where events are held. 
A highlight of Eagle Square is its awesome view of the bay that opens out to the sea with the backdrop of mountains. From Eagle Square, you can see the ferries plying across the bay. You can stand on the platform and soak in the view for a long time. And if you are arriving at Kuah town by a ferry, you will sea this gigantic eagle statue facing the water and greeting you as you approach the jetty.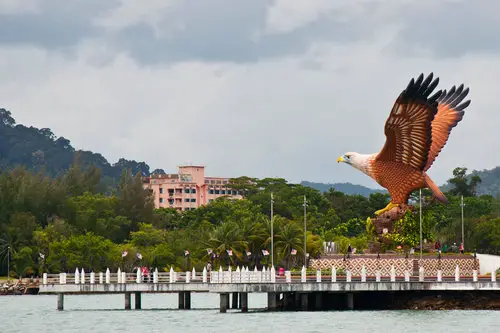 Photo: mynikfoto, flickr, cc by 2.0 
Note that it can be really hot here during the mid day. The bare concrete floor of the square reflects heat and it can be quite difficult to stand here under the scorching sun. So try to plan a trip either early in the morning or in the evening hours to walk around and really appreciate the place. The view of the sunset from Eagle Square is simply awesome... the sun sets across the bay and far away behind the mountains. After dark, the square and even the eagle sculpture are illuminated with lights and the place really looks gorgeous. 
What's nearby?
There are several tourists around the Eagle Square selling souvenirs and gift items, and there are small eateries as well selling snacks... you can get good ice creams too.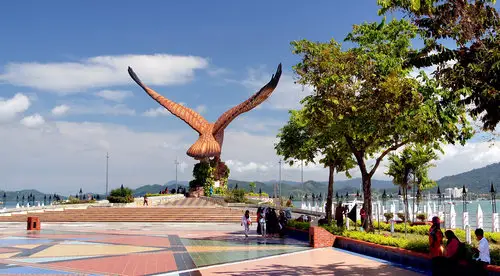 Lagenda Park
is an easy short walk away from Eagle Square. In Fact, if you are visiting by a car, then you can park it at Lagenda Park and walk down to Eagle Square. Lagenda Park is an excellent park with manicured gardens, different types of vegetation, nice walkways and is ideal for families with kids. 
If you want to do some duty free shopping, the visit Jetty Point Mall which is located at the entrance to Kuah Jetty and is a short walk from Eagile Square... the mall is great for buying chocolates, perfumes, liquor etc. 
Open Hours
The complex is open 24 hours everyday. Admission is free. 
It can get crowded during the public holidays. 
Location & Contacts
Eagle Square is located at the south eastern end of Langkawi in Kuah Town, and close to the Kuah Jetty. You can take a taxi or rental car to reach this place. It is also covered as part of several island tours. There is a Tourist Information Center close to it (No. +604 966 7789). 
Map location of Langkawi Eagle Square 
Related Articles
3)
Kuah Guide
: All about Kuah including activities, shopping, hotels, restaurants etc. 
Visitors' Reviews/Comments
Share your experience.