Culture & History Tour Operators in Langkawi
Following are my select list of operators who offer passionate tours covering Langkawi's history, culture and heritage with great attention on details. They have specialized tour guides who are very knowledgeable about different aspects of Langkawi that relate to the people, religion, languages and culture, and how they have evolved over time. 
These tours will let you explore many facets of the island that are otherwise not visible to the common tourists. They include visiting villages and walking the village lanes, meeting up locals and making friends to understand their culture and life, seeing traditional Malay houses and how the architecture has evolved over time, knowing many medicinal plants & their household use in cooking, visiting places of worships and understanding the different religions & faiths, having homemade food and lot more. 
The tour operators listed below are well reputed, have experienced guides of their own who are friendly and speak good English. 
1) Dev's Adventure Tourism
The company was formed in 2006 an has been since rated as one of the top ones conducting nature tours in Langkawi. Their main strength is their very well experienced and friendly nature guides who can also speak good English. The guides also tell you a lot about the island, its history and heritage as you take the tours. They follow Eco tourism practices and their tours do not therefore harm the nature in anyway. 
While they offer several nature tours, one of their unique offerings is
Old Langkawi Charm Tour
, a package designed to let you explore the traditional food and culture of Langkawi. The trip takes you to a wooden village house in a forest where the members welcome you with a traditional drink. 
Traditional Village House, Langkawi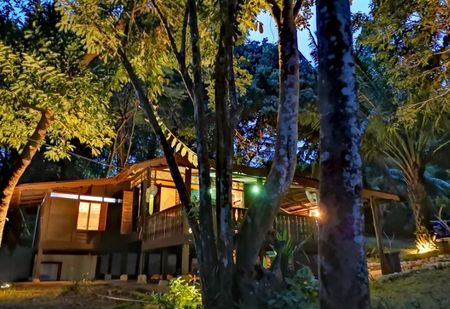 Photo: Dev's Adventure Tours 
Along the way you will see paddy fields, eaglets and water buffaloes. Once there, you will explore the village house and all its traditional furniture and decorative items, walk out to paddy fields and explore the village and then come back to participate in cooking traditional Malay food (if you want). Finally the food is served on the veranda surrounded by nature. 
Contact information 
Dev's Adventure Tours 
Address: Rumah Kedai No. 1, Tingkat 3, Lot 1556, Tanjung Mali, Pantai Cenang, Langkawi (near Underwater World, 2nd floor above Papadam Ria restaurant) 
Website: www.langkawi-nature.com 
2) Rimbawi Geo Discovery
Othman Ayeb is a well known Malaysian naturalist with over 20 years of experience and has established this tour agency. While he himself acts as the guide for many nature tours offered by his company, there are other experienced local guides who will accompany you for the history and culture tours of Langkawi. 
Offering: Langkawi Historical & Heritage Tour 
Highlights of the tour includes visits to Ancient Tomb, Hindu Temple, Buddhist Temple, Taoist Temple, Traditional Malay Architecture - House & Surau, Night Market etc. 
10.30am – 02.30pm - Tuesday & Saturday. 
Indicative rate: RM175 per adult, RM100 per child (max 3 persons in a group) 
Offering: Lifestyle & Legacy Tour 
Highlights of the tour includes visits to Rubber Plantation, Fishing Village, Paddy Fields, Buffalo Park - A Dairy Farm, Kota Mahsuri (Traditional Malay Village) etc. 
4pm - 8pm - Sunday & Friday. 
Indicative rate: RM175 per adult, RM100 per child (max 3 persons in a group) 
Contact information for booking & inquiry 
No 1a, Jalan Simpang Datai, Mukim Ayer Hangat, 07000 Langkawi, Malaysia. 
Mobile: +6019 59 35 338 
Website: www.rimbawi-langkawi.com 
Related Articles
Visitors' Reviews/Comments
Share your experience.