Romantic Sail Away Cruises in Langkawi
What to expect
If you are planning a romantic vacation or honeymoon in Langkawi, a sail away cruise should be your first target to fulfil. Why? Because there can be nothing more romantic than taking a 4 to 6 hour cruise along the turquoise blue water of Andaman Sea with your partner or fiancée, soaking in the wonderful views of the scattered southern islands of Langkawi archipelago. 
As you sail along, you can see the island beaches fringed with palms & forests, magnificent rocky formations, many amazing bird & marine life like flying golden brown eagles & dolphins, and more.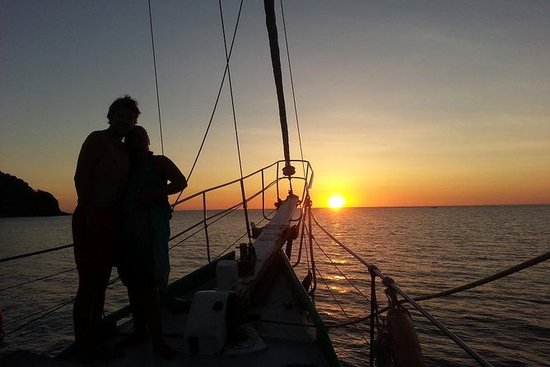 Image by Viator 
Finally you can expect to reach a desolate island with a beautiful tiny beach to your own where you can swim or relax and take a barbecue meal. On your way back, enjoy a spectacular sun set. 
Sounds interesting? It must be... because although I'm married for many years now, my wife & I still think that this is one of the best ways of spending a day whenever we are in Langkawi. 
So how do you go about this romantic sailing cruise in a charming yacht? There are couple of ways. If you really want to make it exclusive and want the sailing boat just to yourself with only the captain and crew on board, then you will need to charter a yacht. The rate starts from RM2,800 upwards depending on the type of yacht and time you like to spend. 
There is another way... one of the well known cruise operators Blue Water Star Sailing offers a romantic cruise on shared basis but they take only up to 4 couples. Which means that the cost gets shared while you enjoy fair bit of privacy and exclusivity. In fact they even go a step forward and prepare food separately as per individual choice of the couples. The rate in this cruise is RM750 per person and it requires minimum two couples for the cruise. They also offer 10% discount if two couples book together. 
Cruise Highlights
Let's take a look into the key highlights of a typical romantic sail away cruise in Langkawi: 
1) If you charter the boat just for yourself you can start any time. Otherwise a 6 hours cruise typically starts at 2pm. 
2) The yacht will sail through some of the southern islands of Langkawi. You will be able to see eagles diving down for their catch on the water, flying fish and even dolphins on the way. As you soak in the views, you can take drinks from the free flowing bar that remains open all through the cruise serving wine, beer, spirits and non-alcoholic beverages of your choice. 
While booking the trip, you can mention any drink that you would like to be served. There may be extra charges if you are asking for special drinks like premier French wine. Snacks like canapes, nuts etc are served all the time with drinks. 
3) After about one and half hours of sail, you will reach an uninhabited island with a beautiful desolate beach. If the cruise leaves from Kuah (Blue Water Star Sailing), then this beach is usually the one behind the rocky island of Pulau Timun. 
4) At the beach you can take a refreshing swim, or kayak to explore the nearby water areas and marine life, or even take a motorized dinghy to go around, or just relax at the beach to enjoy the far reaching views of the water. 
5) At the beach the operator will serve a barbecue meal. The beach crew prepare the meal right in front of you. The meal comprises of several kinds of salads and dishes including chicken, fish, prawn, meet and vegetables served with rice, noodles etc. So it is a sumptuous hearty meal that you will relish. If you want, you can tell the operator in advance about your specific choice of dishes and they will try to entertain that. 
6) From here the yacht will sail back towards the Bass Harbor in Kuah where you will watch the stunning sunset over the western mountains of Gunung Raya. And then there will be slow sail back to the departure point. 
7) Apart from the above cruises, there are also several romantic sunset cruises that offer wonderful sunset views on Andaman sea, serve barbecue dinner onboard, unlimited alcoholic and non-alcoholic beverages from the open bar. These cruises usually last for 3.5 to 4 hours and include hotel pick up and drop. 
How to book
For sunset cruises, check out
this Viator site
for several options along with rates and cruise descriptions. You can choose one you like and book. 
If you want to avail the sharing romantic cruise with few other couples, then one of the best cruise is offered by Blue Water Star Sailing which departs from Royal Langkawi Yacht Club marina in Kuah. 
Otherwise you can also exclusively charter a yacht from Crystal Yacht Holidays and be on your own with similar itinerary. Crystal Yacht departs from Awan Porto Malai Dock located at the southern end of Pantai Tengah. So the island you reach would be different but will offer similar experience. 
Related Articles
Visitors' Reviews/Comments
Share your experience.