Buffalo Park Langkawi
Located at a remote end of Padang Matsirat amidst lush greenery and rubber plantations with wonderful backdrop of mountains, the Buffalo Park is nestled in a scenic setting. It is an active dairy farm which also promotes Agro Tourism. 
So if you like nature, far stretching green paddy fields and buffaloes, then you should not miss out on this. Another great reason to come here is to get Mozzarella cheese. This is the only place in the whole of Malaysia where you get Mozzarella Cheese freshly made from buffalo milk. You don't have to go all the way to Italy for that any longer. 
Buffalo Park Langkawi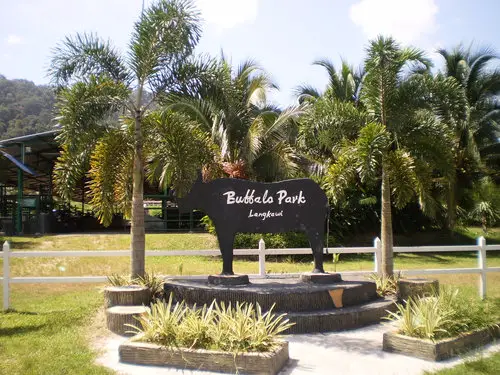 The Buffalo Park was opened in 2006 when several farmers agreed to contribute their farm lands (paddy fields) to create this dairy farm in a natural surrounding of mountains and rainforests. Since then it has grown in stature and now some 100 water buffaloes (which are the premier milking buffaloes) are kept here for making organic fertilizers and milk products. 
The milk produced in the farm is used for making milk based products such as cheese, yogurt, ice creams and flavored milk of different types. All these products are made right there at the farm. 
Buffaloes at Buffalo Park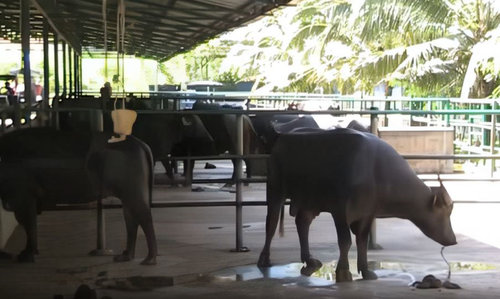 The farm is an ideal place for children to enjoy and learn about buffaloes and how the milk is used to make such products. As a visitor, you can participate in several activities in the farm. You can go to the place where the buffaloes are kept under the shades and hand feed them with grass. Baby buffaloes can be fed with milk from bottles. You can even milk the buffaloes. And of course you can take lots of pictures with the buffaloes. 
You can also see the making of Mozzarella and other types of cheese in the farm. However note that these activities have specific timings and you need to be present during such time to take part in it. The farm also offers rides like buffalo rides (RM20), buffalo pulled cart rides (RM35), anok rides (RM25) etc. 
Cart at Buffalo Park, Langkawi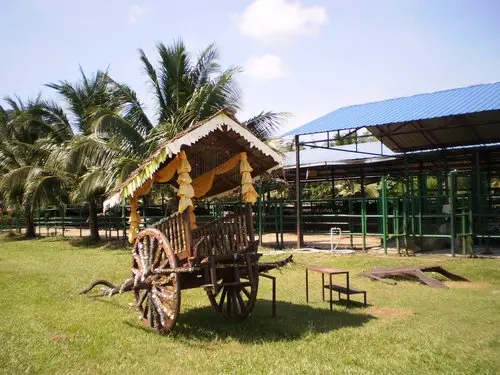 There is a cafe at the entrance of the dairy farm. It's open from the sides and offers a nice friendly and casual ambience. You can plan to take your lunch here. One of the best items here is the steak made out of buffalo meat and served with mashed potato and sauce. It costs RM15 per plate. However, order that in advance since they take time (about 20 minutes) to prepare that. 
You will also get all the milk products in the cafe that are prepared in the farm. There are ice creams of different flavors made out of buffalo milk. Costs RM2 for three scoops. Found them a little sweet and melting quickly, but quite nice though. There are at least five to six flavors at any time. Mango lassi was really great and refreshing. 
Other great milk products include the famous Mozzarella Cheese (RM12 per 100gm) and Ricotta Cheese (light & creamy, RM6 per 100gm), buffalo milk (RM3), Yogurt (RM3) and flavored curd (RM2). At the cafe you can order for bread with Mozzarella cheese. 
You can also buy raw buffalo meat here. All these products are mainly supplied to local restaurants, hotels and stores. However, you may not always find milk products to buy and take away, but usually the cafe serves them for you to have there. 
Cafe, Buffalo Park Langkawi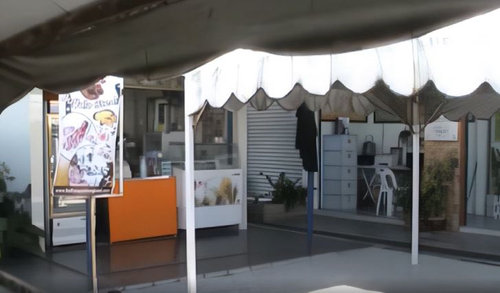 To add to the overall ambience, often a soft local music is played at the cafe which can be heard from almost all corners of the farm. 
Admission Fee 
Adult: RM3 for locals (with MyKad), RM5 for visitors from other countries. 
Rides are charged separately. 
Open Hours 
Saturday to Thursday: 10am to 5pm 
Closed on Fridays 
Location 
Buffalo farm is located in Padang Matsirat area in a somewhat remote location (a village area). It's better to take a taxi by the hour and visit the farm. It may be difficult to find the place on your own. The approach road to the farm is quite narrow. It takes about 30 minutes from Kuah town and 10 minutes from the airport by car. 
Address: 
Jalan Nyior Chabang, Kampung Nyior Cabang, Langkawi 07100. 
Map location of Buffalo Park Langkawi 
Related Articles
Visitors' Reviews/Comments
Share your experience.